Indoctrinate the Little Children.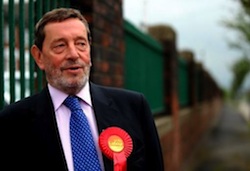 Like Marley's ghost, rattling the chains of Old Labour, the spectre of David Blunkett hove into view this morning.
He is giving 'delivering a pamphlet' – an upmarket version of writing a blog post, except that his has a forward by Ed Miliband. It's not a lot different to the excellent qwighim site where you can have hours of fun learning the thoughts of Chairman Blunkett. I had assumed that when Blunkett announced that he was donating his brain to medical science he had planned on hanging onto it until he popped his clogs. Maybe not.
Naturally the Guardian has been given advance sight of this revolutionary pamphlet. It is called 'In Defence of Politics'. It will show us the way forward, to re-engage the voters. Or at least, those voters that Mr Blunkett wishes to re-engage. The sort that still believe in the Tooth Fairy and the Money Tree.
It seems that right-wing politics is too authoritarian. Keep a straight face. He wishes to deliver a 'stinging rebuke' to 'dangerous overbearing German Imperialism'. It is apparently Merkel trying to 'veto the voters', and without the German austerity measures, the crisis in Greece and Spain 'would never have happened'. Remind me, Blunkett, if Blair had listened to the voters, would we have had the Iraqi war? Merkel didn't veto the voters, she just refused to give Greece any more money unless they reined in their spending. In Blunkett's world she should have just handed over the money – and she is too authoritarian?
How do we re-engage voters to ensure that in future people with money just hand it over without imposing any restrictions on what you do with it? By educating the next generation, otherwise known as indoctrinating the children. The left are so selective as to what they think children should be taught.
He suggests enlisting the support of the school governors and charities such as 'Make Poverty History'. Had he suggested teaching them simple economics I might have had more sympathy. Poverty used to mean 'not having enough', but these days it means 'not having as much as the next man'. *Sigh*. An entire generation brought up to believe that politics means mugging anyone who looks as though they have more than you.
Or 'people will turn to the politics of grievance offered by extremists'. Yikes, from one of the exponents of the politics of grievance no less!
What they are taught in school might not matter so much, were it not for the fact that in the next breath, he suggests, wait for it. A tax on Google. An 'information tax' no less.
He proposes a tax on search engines, such as Google, recycling journalism. "If proper journalism goes down the pan, we are all doomed", he said. Why not a tax on Encyclopedia, David? Have you thought how you will go about taxing an American company?
By proper journalism, he means those newspapers that haven't been harried out of existence by the concerted efforts of Tom Watson and Co. He's worried about their commercial future. Why not go the whole hog Blunkett, and pay the Guardian out of taxpayers money, it's damn near kept afloat by civil service advertising?
He also warns that greater transparency about the lives of elected politicians has increased rather than decreased voter scepticism. "More is known about our professional politicians than in the whole of our history". Yes, and Google is our friend, quickly reminding us that Blunkett still takes the Murdoch shilling, still has his retainer from the discredited A4E, and was part of Blair's government which engaged in a fair amount of dangerous overbearing imperialism in its time.
Blunkett forgets that voters love voting. Catch up with the ghastly 'Big Brother' – they will actually pay to vote if given the chance. Pay attention to any of those 'Does Pasta come from a) Nigeria b) Iceland c) Italy – if you think you know the answer add another five quid to your phone bill and you could go on an all expenses paid Hen party to Slovakia…..' adverts.
It's waffling politicians they can't be bothered to vote for.
Does Blunkett come from:
a) Outer Space
b) The cupboard where Blair keeps all his bad ideas.
c) Miliband's new Think-tank.
Go on, vote. You could win a 'pay all your own expenses holiday' in the Raccoon caravan.
September 18, 2012 at 12:19




September 18, 2012 at 12:13







September 17, 2012 at 21:42







September 17, 2012 at 22:28







September 18, 2012 at 09:03




September 17, 2012 at 22:30




September 17, 2012 at 19:54







September 18, 2012 at
03:33





September 18, 2012 at
15:55





September 17, 2012 at 19:53




September 17, 2012 at 18:37




September 17, 2012 at 18:34







September 17, 2012 at 23:00










September 17, 2012 at 13:14










September 17, 2012 at 13:07




September 17, 2012 at 12:46










September 17, 2012 at 13:04







September 17, 2012 at 19:12







September 17, 2012 at 19:54




September 17, 2012 at 11:02