A 'Right' Royal Tit – and a Previously 'Left' One.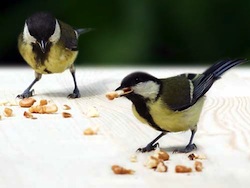 What a prize pair of tits we have on display this morning. The Duchess of Cambridge for engaging in the 'oh so fashionable' mindset of "I have every right to behave as I want, where I want, when I want, how I want, and there should be laws to stop me suffering any consequences" and Richard Desmond, the gift that never stops giving, previous owner of such edifying titles as Asian Babes, Big Ones, Eros, Forum, Horny Housewives, Only 18 and Mothers-in-Law, professing himself so shocked at the sight of a pair of tits in a newspaper that he part owns that he is taking steps to throw 100 journalists out of work.
Truly this pair deserve each other.
The Feminists are out in force mouthing such choice phrases as 'rape culture', 'bodily exploitation of un-consenting women', 'seedy, dreggy voyeurism' and 'policing femininity'; and the media are right behind them with a selection of reminders that it was Richard Desmond and the Daily Express which sounded the death knell, still ringing in our ears, of the PCC by withdrawing his four national papers from its self-regulating ambit.
Gawd love 'em both. Introspection be neither of their middle names.
Should the Duchess of Cambridge be entitled to the privacy she claims? Well, there is a reason the rest of us put on clothes to do the gardening in 40 degrees of heat; it is not fear of a sudden burst of cold air. It is that we chose not to display our bodies to whoever might peek over the garden fence. (For some of us that is out of consideration for their sensitivities!) Is there any difference between the farmer next door peeking over the fence, or the paparazzi? None that I can see logically. You could argue that the Duchess has no problem with the royal bodyguards seeing her tits, nor the various slaves and servants that attend her, but conveying that image to the hoi poloi is what offends.
With Desmond it seems the view is from the other end of the spectrum. He has no problem, and a financial stake, with the hoi poloi displaying their Asian breasts, but is afflicted by a fit of the Murdoch's at the idea of anyone making money out of shots of the Royal mammary glands.
I find I cannot sympathise with either of them.
There is no conceivable public interest in inspecting the feeding mechanism for the next batch of Royals, any more than there was in inspecting Prince Harry's collection of the crown jewels. Nor, incidentally, the breasts of the young lady he was fondling – she didn't take the pictures, she was in them! I didn't hear Desmond complaining about the invasion of her privacy. Does that mean that the Duchess is entitled to behave as she wishes and use the law to punish those who portray her as an ordinary person? Despite being a supporter of the monarchy, I would say no. It is a position of peculiar privilege, and with that privilege comes responsibility. You get the use of Viscount Linley's magnificent Provence estate before jetting off to Malaysia to be fetted on all sides, you don't get the right to display your breasts in view of a public road and then howl 'invasion of privacy'. In fact you only get the right to behave as the rest of us do – either find yourself somewhere exceptionally private in which to strip off, or accept that the hoi poloi might get a glimpse of yer tits.
There is an argument that those who appear in, for instance, Horney Housewives, have chosen to take their clothes off, chosen to so display themselves. For my money, so has the Duchess. The presence of a camera and subsequent publication, doesn't morally detract from the decision to so display yourself. I'll grant you the end result is more embarrassing.
As for Desmond; previously a magnanimous Labour supporter, who managed to avoid the retribution visited on Murdoch's head, by resorting to a little private arm twisting in telling Tony Blair that Labour would lose the support of his newspaper empire if Gordon Brown succeeded him, rather than blazing it from the front pages, now dines with David Cameron and has turned the Express into a viciously right wing organ. Previously such a supporter of free speech and the free press (except in the libel courts) that he chose to remove himself from the one, albeit toothless, organisation that did occasionally slap press wrists, now thinks that it is reasonable to, not slap the wrist of an editor he considers has gone too far, but to napalm the entire edifice.
Utter hypocrites, the pair of them.
Celebrity rules these days. The press are allowed to publicise grief, humiliation, embarrassment, so long as they restrict themselves to those of no account. Immigrants, benefit cheats, erring husbands. Do the same to an MP, a Royal, a 'C' list celebrity, and suddenly there is no 'public interest'.
What public interest is there in knowing that some poor blighters met their maker in a Hillsborough slurry pit?
September 18, 2012 at 12:28




September 18, 2012 at 11:51







September 18, 2012 at 10:28




September 18, 2012 at 09:32










September 18, 2012 at 07:33




September 17, 2012 at 12:36







September 17, 2012 at 08:17







September 17, 2012 at 07:36




September 17, 2012 at 06:38




September 17, 2012 at 04:10




September 17, 2012 at 02:23




September 17, 2012 at 00:27




September 17, 2012 at 00:22




September 16, 2012 at 22:09







September 16, 2012 at 21:23




September 16, 2012 at 20:18







September 16, 2012 at 23:01







September 17, 2012 at 10:20




September 16, 2012 at 19:36







September 16, 2012 at 18:33







September 16, 2012 at 19:01




September 16, 2012 at 15:06




September 16, 2012 at 15:06




September 16, 2012 at 14:26










September 16, 2012 at 14:09







September 16, 2012 at 14:14




September 16, 2012 at 13:41










September 16, 2012 at 12:34












September 16, 2012 at 12:26




September 16, 2012 at 12:23







September 16, 2012 at 11:36




September 16, 2012 at 11:31







September 16, 2012 at 11:22







September 16, 2012 at 11:18












September 16, 2012 at 11:00




September 16, 2012 at 10:41