Liverpool Expects This Day – Sick Justice!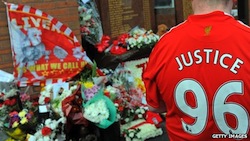 My regular readers will be well aware that I am a Scouse. Born, bred and married in that peculiar sub-culture of Liverpool known as either 'bitterly deprived', by the legion of North London champagne socialist journalists who pontificate on these matters, or 'innocents' in the eyes of the prevailing Catholic Church methodology which is happy to overlook fornication with your younger sister or beating fifty shades of grey out of 'er indoors' on a Saturday night so long as you knit a regular Novena at St Mary's on a Sunday morning. It is fair to say that I have a less rosy coloured view of my ex-fellow residents.
The prevailing culture of these areas is obsessive drinking, by men and to a lesser extent the women. Not for nothing is money referred to as drinking vouchers. The law was changed many years ago to allow women to claim child benefit directly, in order to ensure that children got something more nourishing than a packet of crisps whilst they waited for Dad outside the Pub. Saturdays are special. Every able-bodied man is in the pub. It is either: compensation for having been unfairly worked half to death by 'the man' all week, or compensation for having been unfairly deprived of a decent weeks work by 'the man'. It is not 'choice', it is forced upon them by the miserable existence they endure. The women are out shopping with a vengeance, trying to obtain a weeks worth of food before 'im indoors' drinks it all. The kids wait patiently outside the pub for this battle of wills to come to an end. Nothing has changed in those sprawling post war estates over the last 50 years – except that a higher proportion of the men are now drinking as compensation for having been 'unfairly' deprived of a job. That is not to say that there are not areas of Liverpool that contain decent hard-working people, of course there are, thankfully my own family were one of them, but we were surrounded by the feckless, the irresponsible, the permanently injured and 'done down' of the Irish diaspora.
This sub-culture of Liverpool is a world of its own, a world the Guardian writers have no understanding of. It is the only City of which I know where you have to pay for your Chinese meal before eating it – and – they still have bouncers on the doors of the Chinese restaurants. It not being 'your' responsibility to remember that you have already paid and have no need to go 'on the lam' half way through the meal. That is the job of the bouncers, they are not there to keep out intruders, but to gently point out to your befuddled brain that there is no need to make a run for it, you could even have another pint of light and bitter if you wish Sir. Liverpool – an entire City where everything is someone else's responsibility, the Priest even, as the person of last resort. It is Marxism personified. Each according to his need. Do you know why all Dockers were once nicknamed 'Diesel' – from the phrase on all their lips 'Dese'all'do'our'kid' as they helped themselves to anything that was lying around!
After Beer, the next obsession, pausing only to land a right hander on the old woman, is Football. Football has a better attendance record than St Mary's even. Every right thinking Scouser has his football kit, his scarf, and, used to be, his rattle too. I swear they give the babies rattles in their pram to prepare them for life later on. They get their first football kit at six weeks old. Off they go, half to the Kop, half to Anfield, but 23 years ago to the terraces of Sheffield Wednesday, the infamous 'Hillsborough'.
Drunk, as The Sun once unwisely suggested? Good Lord No! 12 pints of beer don't make a Scouser drunk – to suggest such a thing is to impune their very manhood! At some point that Beer has to make its way into the big wide world, and if 'the man' hasn't cleared a path to a clearly marked toilet, well, that's his fault. If it means that you urinate over an ambulance man, more fool him for getting in your way. If 'the man' hasn't laid on enough burly souls to keep order, well, that's his fault too. To suggest that any responsibility lands on the head of these poor benighted souls is to invite opprobrium.
23 years ago, thousands of men, not drunk, but in their 'rightful condition' attempted to pour into the Hillsborough stadium. Men used to everything being some one else's responsibility. Men with a clearly defined sense of grievance for anything and everything. Many used to receiving absolution for whatever.
Disaster followed. 95 of them lay dead in a short space of time. A true tragedy. The 96th person to die was a patient of mine. Tony Bland. Whose death only came after a long battle to prove that it was not murder if a Doctor starved or dehydrated a patient when a judge said it was OK. A case which resonates to this day. Judges have so ruled that it is not murder in hundreds of cases since – but no one remembers those 'victims' of the Liverpool fans that day. They are true innocents.
The rest of the country has spent 23 years funding a search for 'Justice'. Justice for a Scouser means absolution. It wasn't his fault. Today, we will be allowed to paw over thousands of documents, any one of which could contain a sentence taken out of context which will prove that it 'wasn't the Scousers fault'. Hopefully. For nothing less than proving that it was all 'the man's' fault will bring peace to these benighted souls. It is what they are used to. What Liverpool expects this day.
"They should take ownership of their actions that day, there needs to be some kind of accountability for their actions."
A quote from the Mother of one of the dead. She doesn't mean the fans of course. No one is even suggesting that they take ownership of their actions. No, it must be 'the man'.
It is a sick sort of Justice of course. The sort that starts with an inquiry into why the Police weren't better equipped to handle these lost souls doing just what they are entitled to do. Perish the thought that anyone might have enquired into just what the Police were expected to deal with that day, and every other Saturday in the Kop.
But that wouldn't be Justice, not Liverpool style.
No, what we need is a cringing apology from Cameron, taking personal responsibility for events that occurred before he was out of short trousers; an acknowledgement that Thatcher should never have been in Government, double dole money for all of Scotland Road, and please could you throw in the severed heads of half a dozen Chief Constables?
Then, grudgingly, Liverpool might be persuaded to forgive you. For now. There'll be another whinge next week.
Even fellow Scousers have lost patience.
September 22, 2012 at 18:45










September 21, 2012 at 09:53




September 19, 2012 at 17:21




September 18, 2012 at 19:46




September 17, 2012 at 21:43




September 17, 2012 at 03:47




September 16, 2012 at 22:51




September 16, 2012 at 20:31




September 16, 2012 at 14:19




September 16, 2012 at 13:39







September 16, 2012 at 12:12




September 16, 2012 at 06:48




September 16, 2012 at 03:39







September 15, 2012 at 22:33










September 16, 2012 at 20:27




September 15, 2012 at 19:31










September 15, 2012 at 10:17




September 15, 2012 at 09:03







September 15, 2012 at 10:18







September 15, 2012 at
11:37





September 15, 2012 at 14:50







September 15, 2012 at
16:11





September 15, 2012 at 18:09




September 15, 2012 at 19:12







September 15, 2012 at
19:37


September 15, 2012 at 21:30




September 15, 2012 at 11:56










September 15, 2012 at 05:47




September 15, 2012 at 00:29







September 15, 2012 at 10:17




September 15, 2012 at 00:10




September 14, 2012 at 23:05




September 14, 2012 at 21:10




September 14, 2012 at 21:00







September 15, 2012 at 00:33







September 14, 2012 at 20:05




September 14, 2012 at 17:42







September 14, 2012 at 18:04







September 14, 2012 at 17:00







September 14, 2012 at 17:58







September 15, 2012 at 09:23




September 15, 2012 at 09:24




September 14, 2012 at 17:59







September 14, 2012 at
18:23


September 14, 2012 at 16:59




September 14, 2012 at 16:54







September 14, 2012 at 15:49




September 14, 2012 at 15:32







September 14, 2012 at 13:35







September 14, 2012 at 12:32




September 14, 2012 at 11:03







September 14, 2012 at 11:16




September 14, 2012 at 11:45









September 14, 2012 at 14:37







September 14, 2012 at 10:22




September 14, 2012 at 09:21




September 14, 2012 at 03:41




September 13, 2012 at 21:27







September 13, 2012 at 22:07







September 13, 2012 at 22:08







September 14, 2012 at 00:22




September 14, 2012 at 10:07







September 14, 2012 at 16:43







September 14, 2012 at 17:12










September 14, 2012 at 19:50




September 13, 2012 at 19:34










September 14, 2012 at 08:51







September 15, 2012 at 00:05







September 13, 2012 at 16:55










September 13, 2012 at 17:00




September 13, 2012 at 15:10







September 13, 2012 at 16:38




September 13, 2012 at 14:29







September 13, 2012 at 14:37







September 13, 2012 at 18:06







September 14, 2012 at 01:58







September 14, 2012 at 09:22




September 13, 2012 at 14:04




September 13, 2012 at 13:19







September 13, 2012 at 12:40




September 13, 2012 at 12:16







September 13, 2012 at 12:03







September 13, 2012 at 12:21




September 13, 2012 at 12:38







September 13, 2012 at 13:05




September 13, 2012 at 12:55




September 13, 2012 at 13:15




September 14, 2012 at 00:12




September 13, 2012 at 11:17




September 13, 2012 at 11:08




September 13, 2012 at 11:06




September 13, 2012 at 10:36




September 13, 2012 at 10:29




September 13, 2012 at 10:11




September 13, 2012 at 09:57







September 13, 2012 at 09:48




September 13, 2012 at 09:46




September 13, 2012 at 09:35







September 19, 2012 at 10:55







September 13, 2012 at 09:26







September 13, 2012 at 09:21




September 13, 2012 at 09:19




September 13, 2012 at 09:14




September 13, 2012 at 09:13







September 13, 2012 at 08:57







September 13, 2012 at 08:33




September 13, 2012 at 08:10




September 13, 2012 at 08:09







September 13, 2012 at 05:27







September 13, 2012 at 09:23




September 13, 2012 at 01:03







September 13, 2012 at 09:01










September 15, 2012 at 09:37




September 13, 2012 at 00:12










September 12, 2012 at 22:49







September 12, 2012 at 21:51







September 12, 2012 at 23:01







September 12, 2012 at 23:29







September 12, 2012 at 20:57




September 12, 2012 at 20:53







September 12, 2012 at 22:49










September 12, 2012 at 23:43









September 13, 2012 at 21:37




September 12, 2012 at 20:21







September 12, 2012 at 20:13







September 12, 2012 at 18:43










September 15, 2012 at 09:13







September 12, 2012 at 18:04







September 12, 2012 at 22:00







September 13, 2012 at 18:26




September 12, 2012 at 17:41







September 12, 2012 at 17:52







September 12, 2012 at 21:55




September 12, 2012 at 17:16










September 12, 2012 at 17:48










September 14, 2012 at 20:50















September 12, 2012 at 14:32







September 12, 2012 at 13:56









September 12, 2012 at 13:03















September 14, 2012 at 12:21




September 13, 2012 at 09:07




September 12, 2012 at 11:59







September 12, 2012 at 11:51







September 12, 2012 at 11:48







September 12, 2012 at 11:28







September 12, 2012 at 10:34




September 16, 2012 at 09:28