Industrial chugging on behalf of the disabled.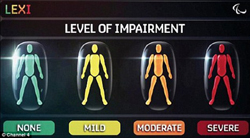 We need one of those endles adverts – the 'just two pounds a week would save' variety. In this case 'just two pounds a week to the Treasury would cut the debt mountain more effectively than the coalition' is what I have in mind. Imagine, 62 million people giving £2 a week, not to starving donkeys in Romania, or lame pigeons in South Africa, but to our own government for the express purpose of cutting the national debt! It seems, according the The Centre for Policy Studies, that almost half the population is under the impression that 'the cuts, the cuts, the damn cuts' as reported by the BBC, are cutting the debt mountain by £600 billion. A mere 10% were correct in their belief that the coalition are actually increasing our national debt by £600 billion!
In this week of the Paralympics, that orgy of delight that those who are disabled can achieve mighty feats, the disability activists are out in force in the media. The main object for their ire is Atos, the organisation charged with discovering whether being sick or having suffered an injury is actually sufficient to prevent you from doing any work, ever again. Under normal circumstances, a Doctor telling you that you are not as sick as you feared you were would be a cause for celebration. Where 'benefits' are concerned, it turns the Doctor into a 'Nazi monster'. To say nothing of the 'national disgrace' in Atos being allowed to sponsor the Paralympics.
So this week we have the curious spectacle of, on the one hand, documentaries on television showing how losing your legs doesn't prevent you from climbing Everest, and on the other hand, we are told of the inhuman treatment of a man with depression claiming that he was at risk of committing suicide because henceforth he would only receive unemployment benefit not a lifetime gold card to the national handbag. Am I alone is seeing the anomaly in this?
There is a vast army out there of people who are determined to continue the lie that having some sort of disability means not that you should adapt your lifestyle, but that the fully able bodied should support you for life. It is 'chugging' on an industrial scale.
The Independent has a fine example of this PR exercise this morning. They quote a Pete Whitehead, who complains that he has lost most of his sight. A tragedy for anyone. I am sure it does prevent him from doing the job he did before – but any job? Sean Dilley does a fine job as a political lobby correspondent though registered blind. Not everybody can be a lobby journalist, but being blind is not a bar to doing any work. It makes it more difficult, you may need retraining for some specialist tasks, but to complain as Mr Whitehead did, to the Atos representative, that you cannot work 'because you might get run over in the traffic on your way to work' – and cite as evidence that you have had several near misses in traffic in recent times as you go out and about 'because you don't want to lose your independence' is to demand that gold card to the national handbag at the expense of all those who do struggle to support themselves despite disability.
They go on to quote a Lesley Roberts. Lesley had recently had a 'breast cancer scare' – as do thousands of working women every week, popping in to the local hospital for a scan in their lunch hour. Scare by definition implies that she didn't have breast cancer – and should have been celebrating. She also suffers from a condition where tumours grow on her nerve ends. For sure we would have been told if these were malignant tumours – which doesn't mean that they can't be painful of course. Allegedly at the time of her examination by Atos, she had 25 such lumps on her legs – and the nurse couldn't find them and declared her fit for work. Nine months later that decision was reversed – whether because the 25 lumps were now apparent, or her condition had deteriorated in some other way we are not told. We are told that she doesn't get disability benefits because her partner 'earns too much', but she is still appalled at not being allowed to draw money from the working population! Still cited as an example of the heartlessness of Atos.
DPAC ('Disabled pople against cuts') go further and cite in evidence that 32 people a week are dying as a direct result of having been called in to see an Atos Doctor. This claim is based on a Daily Mirror Freedom of Information request which found that 1,600 people had died before their assessment had been completed – and thus before they could have been found fit for work! The Mirror article in turn is illustrated by an ex-miner, Tony Groves, who had very wisely been told to give up his physically demanding job after a series of strokes and a heart attack. He got himself in such a state at the prospect of having to complete a 'work capability' test that, as his widow said, he died of a stress related heart attack. Why would the notion that you might be considered fit to do a desk bound job reduce someone to such stress that they have a heart attack?
Paralympian swimmer Giles Long is being lauded for having designed the graphic above which grades Paralympians according to their ability – when Atos do it, it is called 'nothing short of premeditated murder!
If the Paralympics are to mean anything, then they should be a national celebration of the fact that having a disability is life changing, not working life ending. Let's hear more from the people who have a disability and manage to still contribute to society. Let's celebrate the Sean Dilley's and those who overcome trials and tribulations.
Cuts? What cuts?
September 3, 2012 at 19:51




September 1, 2012 at 23:26




September 1, 2012 at 10:31




September 1, 2012 at 09:47







September 1, 2012 at 10:03




September 1, 2012 at 00:10




August 31, 2012 at 20:54




August 31, 2012 at 20:21




August 31, 2012 at 12:45




August 31, 2012 at 10:59




August 31, 2012 at 09:01










August 30, 2012 at 04:57







August 30, 2012 at 03:23







August 30, 2012 at 10:05










August 30, 2012 at 10:34







August 30, 2012 at 10:50










August 31, 2012 at 09:17







August 30, 2012 at 20:46










August 31, 2012 at 09:30







September 1, 2012 at 13:10







September 2, 2012 at 08:39







September 2, 2012 at 10:39







September 2, 2012 at 11:12







September 2, 2012 at 11:35







September 2, 2012 at 15:38







September 2, 2012 at 16:19







September 2, 2012 at 18:12




August 30, 2012 at 21:30




August 30, 2012 at 10:43







August 30, 2012 at 10:44




August 30, 2012 at
10:49





August 30, 2012 at 20:58







August 30, 2012 at 01:58




August 29, 2012 at 21:50







August 29, 2012 at 21:44







August 29, 2012 at 21:31




August 29, 2012 at 20:49







August 31, 2012 at 09:28







August 29, 2012 at 18:51









August 29, 2012 at 16:29










August 29, 2012 at 16:56










August 29, 2012 at 17:05




August 30, 2012 at 20:36




August 29, 2012 at 16:17










August 29, 2012 at 18:01










August 29, 2012 at 20:11




August 29, 2012 at 14:54










August 29, 2012 at 15:37







August
29, 2012 at 16:30








August 29, 2012 at 17:38







September 4, 2012 at 14:16







August 29, 2012 at 16:53







August 29, 2012 at 17:42







August 29, 2012 at 18:44










August 29, 2012 at 19:36







August 31, 2012 at 09:13







August 31, 2012 at 21:22







September 1, 2012 at 09:05




September 4, 2012 at 23:14




August 29, 2012 at 13:34







August 29, 2012 at 22:23







August 30, 2012 at 20:24










September 4, 2012 at 13:30







August 29, 2012 at 12:53







August 29, 2012 at 12:14







August 29, 2012 at 11:55




August 29, 2012 at 11:52




August 29, 2012 at 10:42







August 29, 2012 at 10:33










August 29, 2012 at 10:55










September 1, 2012 at 22:41










September 3, 2012 at 20:22










September 3, 2012 at 20:35







September 3, 2012 at 22:55







September 4, 2012 at 07:50




September 1, 2012 at 23:21







September 2, 2012 at 00:24










September 3, 2012 at 20:42










September 3, 2012 at 22:38







September 4, 2012 at 07:45