London Underground – Shearing the Olympic Sheep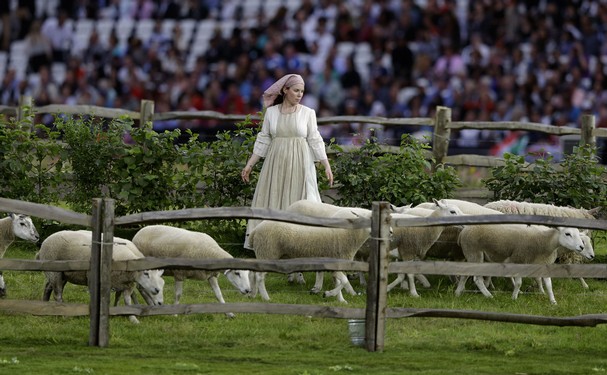 I find myself – unusually – travelling the London Underground, from St Pancras to Waterloo; coincidentally during the height of the Olympic boom.
According to Transport for London, there will be an extra 855,000 "Olympics related" journeys each day:
While many Londoners take holiday in August, there are still 3.4 million users on rail and London Underground services, and 5.8 million use buses each day. With an extra 855,000 people making Games related trips on the busiest days, any additional capacity will be taken up. which comes to
And according to Deloitte, there will be 20 million extra Tube Journeys:
The big worry with the games is that no one will turn up. How Deloitte is helping businesses around the UK to prepare for the challenges they may face during the London 2012 Olympics.
Nearly 12 million people will flood to the Olympic and Paralympic Games over 29 days. In London alone there will be 20 million extra tube journeys.
Generally, there seems to be excellent management of the extra people.
But … what is this at the Ticket Office at St Pancras?
It is the Olympic Sheep Shearing competition; four visitors in a row being sold single tickets at £4.30, rather than being advised that an Oyster Card will allow them to do the same journey for £2.00, and they will get back the £5.00 they spend on the card anyway.
You may remember that the higher single fairs were introduced to pressure everyone to buy Oyster cards some years ago. That is still in place: I make that £2.30 extra revenue per Zone 1 journey and less as they leave the centre of London; almost an extra £10 in the 2 minutes I was waiting in the queue.
That is quite a nice little earner that adds more than 100% on top of the Oyster Fare even if it applies to only a few per cent of those extra 20 million journeys. Yes, I know that people get a free travelcard for the day of their Olympic Ticket, but most visitors from abroad will be here for at least another 2 days.
A major scandal?
No, but a significant discourtesy to visitors to London, and perhaps a slightly cynical wheeze to obtain a few million extra from unsuspecting visitors.
Visitors should at least be offered the cheapest fare.
All that cash would keep Boris Johnson in erotic silk undies for his mistresses for some time, and may even cover part of those bonuses which the Trades Unions extracted from their employers.
Perhaps they could also budget for a reward to the first person to impale Ken Livingstone on the top of the Shard for sins against architecture.
On the other hand, Stagecoach – for a reason best known to themselves – seem to be handing out free lollipops. Cool. August 10, 2012 at 19:32







August 10, 2012 at 09:46







August 10, 2012 at 09:01







August 10, 2012 at 10:57