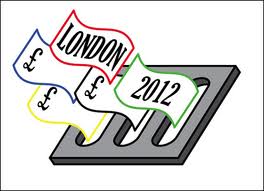 I've just turned on the news to see 'the best of Britain' to quote our glorious leader…
Shot of a grey leaden sky over the Olympic stadium, cut to a grubby Union Jack fluttering somewhere in London. Some athlete jumped up and down three times holding the Olympic torch (sooo exciting) and then boarding the Gloriana – voice over tells us that '90 year olds' have been found to row the Gloriana down the river, cheered on by two dozens school kids standing ankle deep in muddy water on the riverside. Cut to a desultory straggle of people arriving for the opening ceremony. Gloriana 'rang her bell' (whoa!) an event answered by Big Ben ringing its bell for a whole three minutes.
Dame Kelly Homes is overwhelmed by the whole thing, apparently.
Now we are off to Stratford Station to witness the cleaning crews jumping aboard the train the very second it empties in order to clean it before it goes back to central London…..
And a 'senior manager' from the tube company is standing by to direct commuters…..it is, apparently, 'a great honour, a wonderful privilege' to be doing so….
Cut to shot of Buckingham Palace, flunky steps forward to open car door of visiting dignitary foisted upon our much maligned Monarch for dinner – dignitary promptly gets out of other side of car, missing red carpet all together and totally baffling flunky….
Jeremy Hunt's bell end flies off, leaving him holding his knob…
Gad, I may fall asleep before it even starts.
July 29, 2012 at 02:01







July 29, 2012 at 00:55




July 28, 2012 at 22:45







July 28, 2012 at 22:53










July 29, 2012 at 00:36




July 30, 2012 at 09:07







July 28, 2012 at 10:03










July 28, 2012 at 10:05




July 28, 2012 at 10:10




July 29, 2012 at 01:57




July 28, 2012 at 09:59




July 28, 2012 at 09:23




July 27, 2012 at 22:53







July 27, 2012 at 20:51










July 27, 2012 at 20:16







July 27, 2012 at 19:58







July 28, 2012 at 20:31




July 30, 2012 at 10:36




July 27, 2012 at 19:41




July 27, 2012 at 17:55







July 27, 2012 at 17:46