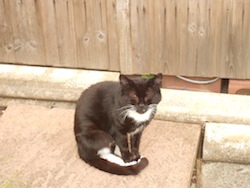 About three years ago I had the misfortune to run into some financial problems. The details don't matter. All I would like to say is that it was not a case of me being improvident or greedy – a person whom I had trusted and loved turned out to be a very rotten apple, and by a combination of their theft and deceit and my illness your once comfortably off writer (who had always been of the "can't have it if I can't afford it brigade") was reduced in early middle age to penury and worse, debt. That is all I would like to say by way of introduction to the matter. The full horror is not something I want to think about any more.
I was also effectively made homeless. I managed to find refuge in what was basically a "bedsit" but it had its own kitchen, and it did have a little garden with a little shed. And one day the cat came into this garden. I found him curled up on the roof of the shed on a summer's day, soaking up the sun, and soon I noticed that he came there quite often. He was not exactly a mangy thing, but he was thin, under nourished and battered looking, and clearly had problems with his eyes. He was a little black and white tomcat.
He started to mooch about in the little garden regularly, but would spook and run away or instantly retreat to his eyrie if anyone came into view He was clearly wild, and he was extremely suspicious and nervous. I like animals, and I was concerned about him. One day on a whim I went out and got some cat food and put it out on a saucer for him. Even though he was palpably very hungry he would not come near it at all at first, although after a few days he would descend and lap it up, provided he thought there was no one around. Even with the lure of food he would spook at the slightest sudden move or approach.
The cat became my project. For weeks he would not let me come near him, but gradually he seemed to understand that I was not going to attack him. I got into a routine of feeding him in the morning and the evening. He would always eat anything, but showed a ferocious love of raw chicken livers.
After some time he would allow me to come near when he was eating and not just run away. He would certainly not allow me to touch him, and he seemed to have a fear of anything above him. I formed the distinct impression that someone had horribly abused him, perhaps stamping on him or some such. In bad weather I constructed a sort of hutch for him to have shelter from the wind and rain, but he seemed suspicious again, and would not go in. I think he was afraid of being trapped. Another clue, perhaps.
Ever so slowly he began to get more trusting. He actually came into the little kitchen porch to eat. After a bit of drama he eventually allowed me to touch him very gently when he was eating, though he would slink off as soon as he had finished. He would tuck himself up at night in a make shift shelter I made out of a dustbin laid on its side and filled with straw. He was totally silent – he never uttered a sound.
Come Christmas day I presented him with some still warm turkey pieces. He tried them and instantly fled in panic. He had never experienced "hot" food.
Over past couple of years, ever so slowly, things have changed. There came the day when a little black and white shape padded silently into the kitchen, and looked carefully and suspiciously around the place where this curious human lived. It seemed not too disagreeable. He came in more often. I purchased a special cat bed and put it in the corner out of the way and he curled up in it at once.
Slowly he grew more trusting. He started to come in and loiter in the flat proper. One day, when he was plainly hungry and I was being a bit slow getting him some food, quite out of the blue he looked up at me and made a croaky, inexpert "miaow". The first sound I had heard him make in maybe a year or more. He started to get the idea that being touched was actually nice, and developed a fondness for rubbing his head on my feet in woolly socks as I watched TV. But traces of some trauma remained. Sometimes he would still lash out quite unexpectedly with his paw as if some sore nerve had been touched, and would draw blood at first, but it was more of a reflex than anything. Slowly, that too is going. It has not happened for a long while now.
He has even learned to purr. He makes a sort of "throatie" gurgling effort at it and bares his not inconsiderable teeth in what is clearly a cheesy grin. Once he got the idea that petting was a good thing, I decided to try something more radical. It is only last Christmas that I bought him a little brush, and this was a new trauma. Even the sight of it clearly spooked him. Perhaps he thought it was something that would be used to hit him. However, gradually he has learned that it is a pleasant experience, and now will stand stock still, and make his content gurgling noise as he gets a proper brush all over. He is a vain little thing! He loves to sleep in safe places like the poof by the TV, or under tables – anywhere were he is safe from stamping feet, it seems to me.
He is still not fully domesticated. Even now I can't pick him up, and he does not sit on my lap. But he is clearly a very intelligent, incredibly clean little chap. His instincts are all good. There have only been one or two incidents when he has soiled in the house, and those I put down to him being poorly and unable to get out. The little sod eats like a king! He puts up with cat food, but I am afraid I have spoiled him, and he has become an epicure. As mentioned above, chicken livers are a favourite, but he loves raw prawns and salmon and all sorts of things. He gets his healthy biscuits and cat milk too. He has been wormed and "flee-ed". He still has a problem with his eyes, but I will get a vet onto that soon. They seem glassy and often weepy with mucus. In the morning I clean them with a soft tissue and he gurgles and grins with delight. I think an animal letting you clean its eyes is the height of trust. I haven't taken him to the vet because I still don't think he would react well to being picked up and locked in a box – I think it could re-traumatize him. I will get a vet out to him soon though, and see what can be done. In the meantime he is very well fed and safe.
I have still never given him a name. I just call him "cat". He needed a home and food, and some affection, not a name. Perhaps I should just call him "Clint" – the Cat With No Name. But he is too small for that to be appropriate.
I have no idea what he thinks of me. But he comes to greet me now when I come in, and rubs around my legs and gurgles his funny purr. Probably he just wants more food. I do not know what happened to him, or how he survived in the wild, or for how long. I can only surmise some wicked cruelty by someone to make him so suspicious and afraid. He has a terror of tin foil, but whether that is a clue of not, I do not know.
Slowly, over the past two and a half years, he has recovered from the brink, and now prospers, even though he is still a bit suspicious. Apart from the eyes he is in glorious condition.
And why have I done this for this animal? I suppose there seemed no reason not to do it. It just seemed a good thing to do. I was at the appropriate place at the appropriate time, and perhaps that is all there is to it. He is a dear little thing who had been horribly treated. And perhaps, as other have observed, he seemed a little bit like me.
Gildas The Monk
July 26, 2012 at 20:44







July 23, 2012 at 14:05










July 23, 2012 at 13:52










July 23, 2012 at 14:12







July 23, 2012 at 09:00




July 23, 2012 at 00:50










July 23, 2012 at 09:08




July 22, 2012 at 20:27










July 22, 2012 at 21:19




July 23, 2012 at 09:21




July 22, 2012 at 20:21







July 22, 2012 at 19:07










July 22, 2012 at 19:16







July 22, 2012 at 18:56







July 22, 2012 at 14:32










July 22, 2012 at 14:50







July 22, 2012 at 19:44







July 22, 2012 at 14:28




July 22, 2012 at 14:24




July 22, 2012 at 13:25







July 22, 2012 at 13:11




July 22, 2012 at 12:49







July 22, 2012 at 09:27







July 22, 2012 at 09:26







July 22, 2012 at 07:51







July 22, 2012 at 20:46




July 22, 2012 at 07:31










July 22, 2012 at 09:06







July 22, 2012 at 07:08