Bring Me the Head of PC Simon Harwood on a Platter!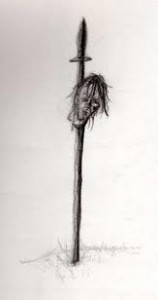 If they desire a thing they declare that it is true. If they desire it not, though that were Death itself, they cry aloud, 'It has never been.' Thus their talk is the talk of children, and like children they snatch at what they covet.
Rudyard Kipling
If the Social Media 'mob' had its way, the head of PC Simon Harwood would this morning be gracing a spike at the gateway to the Blogosphere. We haven't yet descended into mob violence, though the forces that wish we were, were massing outside Scotland Yard last night.
There is no uglier sight than the vigilante force denied their victim, no more illogical thought process than that dictated by 140 character snippets of prose taken out of context.
Welcome to the world of trial by twitter.
The world of the Guardian reader, where Ian Tomlinson was a 'kindly man who loved Dandelion and Burdock', a devoted family man, who through no fault of his own, driven by circumstances, and the forces of a cruel, cruel, world, was reduced to sleeping rough on the streets, sipping alcohol from a paper cup, and making his shambling, shy, smiling, way home is driven into the path of a man who embodies true evil, no extenuating circumstances, does not bear too close examination. Perhaps that is why its adherents prefer to be limited to 140 characters.
140 characters just leaves room to declare that all police are 'mindless thugs', without the space to afford PC Simon Harwood any excuses for his behaviour. Perhaps there are no excuses; there are certainly extenuating circumstances though – and you do not have to go to the lengths of describing a life time alcoholic as a 'lover of Dandelion and Burdock'.
The 'mindless thugs' of popular lore are expected to have a resilience over and above that of the man in the street. One minute they are just another man on the street, the next minute, after hours of diversity training, how 'to spot a racist on Twitter' training, the correct way to address a half dressed slattern who has been playing strip poker with four strangers all night and now complains that although she agreed to share a bed with two of them, she didn't agree to sex; is expected to turn into a paragon of even temper that you can spit at, throw your hypodermic needle at, lob petrol bombs at, scream at, and in Ian Tomlinson's case, grin and gurn at as you slowly amble in front of a line of police dogs in the middle of a riot. Strangely enough, all that diversity training does little to prepare a man for finding that when a brick lands on his head, half the crowd will yell with delight – 'Pig down'! Nor did the 'Twitter training' prevent Simon Harwood from losing his temper that day.
He was wrong to do so, undoubtedly; it was against regulations, obviously. But 'mindless thug', a 'murderer' who has escaped justice through the combined forces of the illuminati, a judge with lizard like tendencies, an example of the conspiracy effected by 'the elite' against decent working class men…I don't think so.
The fact that so many people do think so is evidence of the powerful forces within our society who wish to ensure that the State, and only the State, takes all and provides what it chooses after helping itself to whatever the 'new elite' consider is their due recompense.
Consider first of all, that a Police Officer is not a 'servant of the people', a phrase I see constantly repeated, nor is he a State employee. He is a servant of the Crown, a subtle difference. One that gets right up the noses of the Guardianistas. His duty is to uphold the law of the land, of the Crown, not the whims of the mob. Nor of the Guardian republicans.It explains why the likes of Vera Baird are so keen to ease themselves into position whereby they decide the priorities of their local police force. Expect to see the Police in Northumberland spending most of their time listening, with a kindly expression on their face, to the 'Facebook' tale of woe of the woman called slag by the Father of two of her six children , etc. etc. and a bare minimum of time ensuring that the local bank manager (evil bastard) (Boo!) manages to get to work past the combined marching force of the GMB out on strike yet again.
Consider also, that Simon Harwood was not found 'not guilty' of Manslaughter, not by the other 'mindless thugs', most of whom would join me in condemning his loss of self control, nor by the Masonic influences of the establishment/illuminati/judiciary – but by twelve men and women plucked from the street, people just like Ian Tomlinson! Guardian readers even, who had heard ALL the evidence, not just a 15 minute YouTube clip, considered ALL the factors, and, Family Fortunes style, the top answer was "NO", not guilty of Manslaughter.
Who knows what the verdict might have been had they been asked to consider whether he should have lost his temper, been employed in the first place, or should have been out catching Facebook defamers? That isn't what they were asked. That does appear to be what Simon Harwood is being tried for in the media now.
The 'I' for Independent, IPCC, was straight out of the trap last night, with a cleverly worded statement which suggested that they will support the family in its attempts to have a third bite at the Harwood cherry.
Deborah Glass, Deputy Chair of the IPCC said:
"While the jury has today acquitted PC Simon Harwood of manslaughter, it is clear that significant questions remain in connection with his actions on the day Ian Tomlinson died. Whether or not those actions were reasonable will be tested further at a misconduct hearing in September, which I have directed will be held in public.
"Our investigation painstakingly assembled a huge amount of evidence, and concluded that PC Harwood had a case to answer for unlawful use of force. We first concluded this in July 2009 and I understand – and indeed share – the frustrations of Mr Tomlinson's family and others at how long the case has taken to come before a court."
'Quite right too', says Social Media. 'Didn't the Inquest find him guilty'? Actually, NO they didn't. The inquest was specifically prohibited by law from any such finding.
'Yeah', says Social Media, 'but he was a bastard, have you heard about all his previous convictions'? Well, no I haven't actually. I have heard, thanks to the BBC, of all the previous unproven allegations that were made against him. Police Officers attract 'allegations' like flies to a corpse. In Harwood's case, only one was proven, that he had misused a police computer to track the driver of a car that was involved in an incident with his ex-wife.
Do you really want a world where every allegation ever made against you is dragged up in court when you stand trial for something? I think not, currently you have a system where not even previous convictions can be mentioned unless you bring them up.
'But he shouldn't have been re-hired in the first place'. Quite possibly not, I'll grant you – but you think the man should have gone to prison for manslaughter because his employers didn't check his credentials closely enough? That is the logical outcome of that argument.
Almost unnoticed, whilst the arguments raged on Twitter, over in Birmingham, another jury of 12 good men and true was finding that driving your car deliberately at a group of men who were merely trying to protect their property wasn't manslaughter either. That they were found not guilty earned one brief line of comment from the BBC, but the fact that a senior police officer had lied about immunity given to witnesses during the trial, an entirely peripheral matter that had NOT led to the judge deciding a fair trial could not take place, earned itself 39 of the 43 lines of comment, resulting in the impression being given that the men had escaped a manslaughter conviction because of the lies of that senior officer. Now why would they want to give that impression?
There is a mood afoot in Social Media, bolstered by the efforts of the BBC and the Guardian to see the police so denigrated that they disband – and be replaced by what? G4S? Most of them won't bother to turn into work on the day that you need their services! Be careful what you wish for.
In the meantime, I say to those who seriously believe that the police are all mindless thugs – next time you get into a row in your local pub as to which of the seven children are really yours, and your mate threatens to settle it with a broken beer glass – do NOT call the police.
You are already in a fraught situation, and the last thing you need to do is invite half a dozen 'mindless thugs' into the fracas, who knows where it will end? Sort it out by yourself. In fact don't bother to call them when you find yourself faced by a drug crazed schizophrenic wielding a Samurai sword in the middle of the High Street, nor when some scroat has smashed the window of your car for messing with his wife.
It'll be good practice for the day when the Police finally go on strike.
July 23, 2012 at 23:38







July 23, 2012 at 15:35




July 21, 2012 at 23:54










July 21, 2012 at 18:57




July 21, 2012 at 13:41




July 21, 2012 at 12:58







July 21, 2012 at 13:25




July 21, 2012 at 11:58







July 21, 2012 at 14:35




July 21, 2012 at 15:10










July 21, 2012 at 15:18










July 21, 2012 at 15:57










July 21, 2012 at 16:00




July 21, 2012 at 22:50




July 21, 2012 at 23:23




July 21, 2012 at 11:42







July 21, 2012 at 00:30







July 21, 2012 at 23:16




July 20, 2012 at 22:45







July 20, 2012 at 22:10







July 20, 2012 at 22:14










July 20, 2012 at 22:41




July 20, 2012 at 20:51










July 20, 2012 at 20:20




July 20, 2012 at 20:11




July 20, 2012 at 20:01




July 20, 2012 at 19:43




July 20, 2012 at 17:36







July 20, 2012 at 19:50










July 20, 2012 at 20:09










July 21, 2012 at 22:51




July 20, 2012 at 22:37







July 20, 2012 at 16:01










July 20, 2012 at 16:01







July 21, 2012 at 22:35







July 21, 2012 at 22:37




July 20, 2012 at 15:40




July 20, 2012 at 15:19










July 20, 2012 at 14:27







July 20, 2012 at 22:31




July 20, 2012 at 13:11







July 20, 2012 at 13:03




July 20, 2012 at 12:58







July 20, 2012 at 12:51










July 20, 2012 at 12:10











July 20, 2012 at 12:34







July 20, 2012 at 23:09







July 20, 2012 at 23:09