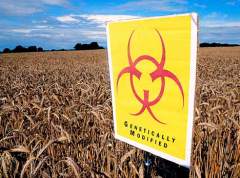 Contemplating protests so widespread in America about genetically modified organisms (G.M.O.s), I'm struck by the facts that Americans to-day, just as peoples around the World, are taller and generally have a greater life expectancy than ever before. (Admittedly the Dutch are taller but that's because much of Holland is below sea level and they have to be or they wouldn't be able to see over the walls.)
Whilst it's true that some parents are burying their children, this is due to a diet of manufactured food heavy in refined sugar, saturated fats and, to a lesser extent, salt — more significantly to an excess of such food. The general population, which ingests G.M.O.s not incidentally, as one might expect of animals, but as part of its diet, appears to be thriving – in America as where ever such products are available.
For a myriad of years we have as farmers been effecting genetic change in both crops and livestock. For most of that time the process has been slow : we could not isolate individual genes and, in any case, had no understanding of the precise mechanism that brought about the traits we sought. What the agrochemical industry is doing is merely condensing the work of decades, even centuries, in to years.
This is not to say that genetic modification is without risk : that exists whether scientists do it over a decade or farmers over a century ; development, something man is able to achieve at a rate not available to other species, entails risk. We sail the oceans and fly the skies ; occasionally a boat sinks or an aeroplane crashes : even the animals, having developed these skills organically over millennia, sometimes suffer such failure. So what ? Ought we then not to take risk ?
Safety is the management of risk and it's because experience tells us that, left to their own devices, industrial corporations might not tell us about failures in their tests or about failures later in the field that we have the Food and Drug Administration and similar agencies in other countries to keep them, as far as they can, honest.
If we're to feed the World's burgeoning population — and the longer the poor are left in poverty (sc. not allowed to burn their own fuels so that they have reticulated electricity) the more rapidly it will grow — we must find ways of making the land more productive. One way is to increase crops' resistance to pests. We can do this by spraying crops with almost indiscriminate pesticides, inherently risky to wildlife and the environment generally for obvious reasons, but much more efficiently by targeting particular pests with dedicated characteristics of the crops that will eliminate just those pests.
Till we become omniscient, however, we shall not be in a position to avoid risk altogether ; what we must guard against is fear of the unknown. We must get away from regarding science as a system of religious belief, its church the Internet, and return to science based on honest research, clear thought and scrupulous peer review — all things sorely lacking in the 'science' on which so much public opinion and policy are now based.
Pericles ΠΞ



July 20, 2012 at 22:18







July 18, 2012 at 04:45







July 18, 2012 at 00:29







July 18, 2012 at 07:26







July 18, 2012 at 10:07




July 17, 2012 at 20:36







July 18, 2012 at 10:37




July 17, 2012 at 18:47




July 17, 2012 at 18:19




July 17, 2012 at 17:35







July 17, 2012 at 18:18










July 18, 2012 at 02:11







July 18, 2012 at 07:25




July 18, 2012 at 02:06