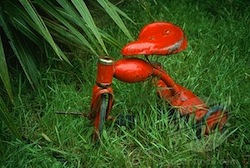 It's only been a few weeks since I posted about the number of RTC's we attend where a major contributory factor to the injuries received is the lack of wearing seat belts.
Yet this in the early hours of this morning, the Chaos shift had to turn out to yet another scene of mangled debris and destruction. This time we were met by the sight that we see far too often, and is so easily avoided.
The driver of the only vehicle involved in this collision was out of his car by the time we arrived. By out, I mean ejected ….. through the windscreen and onto the not so soft, fluffy and forgiving tarmacadam surface of the carriageway.
Sadly, there was nothing that could be done for this guy – he was dead by the time we arrived; probably (and hopefully) he'd died instantly and without too much suffering. But there would be suffering; the dead person was only in his thirties – somewhere this guy would most likely still have a mom and dad around, possibly a partner, maybe even kids. Whatever the make-up of this man's personal circumstance, someone will suffer the consequences of his actions for a very, very long time.
I mean YES the guy was travelling far too quickly (witnesses told us that straight away), YES he was on an unlit country road (but you should still drive to the conditions, speed limits are exactly that, a limit not a target), YES he probably was late home and YES the whole sequence of events was most likely his own fault – but that is no comfort to those left behind; and even less comfort will be the fact, and it will come out at the inquest if not before, that if he'd spent two or three seconds fastening his seat belt, the whole outcome would 99% guaranteed have been a different matter.
With the scene contained, and the Road Collision Team in place to begin the investigation proper, it was down to myself and our Sarge to break the news to the family. Thankfully, the chap had ID on him and it matched the keeper details of the car, which came back to an address less than a mile from where we were.
We arrived at the address within a couple of minutes. Lights were still on downstairs. You need to have been in the position we now found ourselves in to understand the thoughts and feelings that were going through our minds. There was no need for the Sarge or I to converse on the matter any more; as experienced coppers we both knew what lay ahead.
I suddenly remembered watching one of those TV Cops on Camera type shows – it may have been Traffic Cops or Road Wars, I can't recall, but I clearly recalled at this point a scene where a traffic officer had to go and tell a family their daughter had been killed outright; crushed by a lorry driver who it later turned out had been on his mobile phone. He referred to this point as 'The Longest Walk' and he was right – there were two of us there but it was one of the loneliest places you would ever want to be.
The knotted sick feeling in our stomachs was only compounded walking down the short garden path as we realised, around us were the signs of children; a skateboard; a bike just left propped against the wall; a toy JCB on the grass – these were things that despite the hours of darkness, just shone straight at us as if illuminated by an arc lamp. It really doesn't matter how long you've been in the job, this is one task that will never get easier.
Standing at the front door, we could see the TV on in the front room, but on knocking it seemed to take forever to get a response. After what seemed like eternity, but was probably only a few seconds, the door was answered by a pretty young lady, tucked up in her pyjama's, of somewhere around the same age as our victim. "May we come in a moment" Sarge asked in somewhat of a low voice (which in itself was unheard of for him). "Of course" was the reply "is it my husband you're here to see, he's not home yet, due any minute if you don't mind waiting". Deep breath time.
"Shall we sit down" I said, trying to be as calm and reassuring as possible, but that was it – instantly, call it woman's intuition if you like, but instantly she knew something was wrong, and it was bad. "What's happened, where's MIke, is he okay, has he been arrested" all blurted out in about half a second. "I'm afraid there's been an acci…" what about as far as the Sergeant got before the poor lady in front of us realised where this was going and simply collapsed into a screaming heap on the floor in front of us.
Almost immediately, the children appeared in he doorway behind us and came running over to mummy; crying and screaming although at this point they knew not why – just that mummy was very upset herself. It was horrendous. I've been around the block and back a few times, seen and dealt with almost everything the great British public could throw at me, but right then I'd rather be anywhere else in the world. But I couldn't be; that's the job we do, and just another of those things that gets forgotten about when the number crunchers are dreaming up ways to further reduce our numbers and capabilities.
"Is there anyone else, family, we can call to come round and be with you ?" I asked. Through the sobs we established the nearest relatives were Mike's parents, 30 plus miles away. We needed them here … and now. Sarge left the room quickly to radio the control room and get them on the case – we needed officers at their door pronto; and them transporting over here even quicker. The traffic department were great – there was no way we would let the parents drive themselves after receiving news like that and given the circumstances it was decided they would be 'blue-lighted' here to support the family. Even then, time stood still whilst we waited their arrival. There is simply no level of training (especially these days) that can prepare any officer for a scenario like this; only time and experience. And sadly this was by no means the first, nor will it be the last time yours truly was in this position.
Once mum and dad had arrived, we gave them all the information we had, excluding the seat belt knowledge; that could wait for another time. We explained what would happen next and that a Family Liaison Officer was already allocated and on the way. Once the FLO arrived, we said our goodbyes, offered our sympathies and left the family to grieve in piece. We had been there a little over an hour, but it felt like all night. I don't think a word was said on the whole drive back to the station nor for the rest of the shift, which thankfully was very quiet.
It's very rare that I take my work home with me, but this was one of those times when it was unavoidable. My house was all quiet when I got home. Mrs Chaos and the Chaos kids were all still fast asleep in bed. I sat in silence on our sofa, and am not ashamed to say the tears rolled down my cheeks. Not for the dead guy, not really; but for the wife and children, and his parents, left behind to deal with the aftermath, all because he couldn't be bothered to put a seat belt on.
I also knew, that within a couple of days, I would be stopping another motorist for a seat belt offence, and I knew that without a doubt I would be on he receiving end of a tirade of abuse, demanding to know why I "haven't got anything better to do'" and why I'm always "persecuting the innocent motorist". Personally I would like to look at it as saving your life, but there's no need to thank me.
And one random image keeps coming back into my mind – nothing to do with the mangled car, or the shattered windscreen, or the casualty lying in a mangled heap in the carriageway – no; it's the sight of a small yellow plastic toy JCB lying on the grass by the victims front door.
July 10, 2012 at 22:11







July 11, 2012 at 08:24










July 11, 2012 at 10:29










July 11, 2012 at 11:02




July 10, 2012 at 19:12




July 10, 2012 at 18:55







July 11, 2012 at 08:16







July 11, 2012 at 23:15










July 12, 2012 at 11:26




July 10, 2012 at 18:16




July 10, 2012 at 16:16




July 10, 2012 at 13:03







July 12, 2012 at 10:08







July 10, 2012 at 12:56







July 10, 2012 at 11:35




July 10, 2012 at 11:14










July 10, 2012 at 15:28




July 10, 2012 at 16:30




July 10, 2012 at 17:51




July 11, 2012 at 11:18




July 10, 2012 at 11:10







July 10, 2012 at 11:10







July 10, 2012 at 12:31