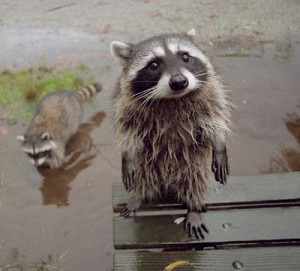 It is 30 degrees already today, predicted to be 36/38 by the afternoon and every day til Friday.
Ms Raccoon finds that her level of interest in whether gay Peers can call their 'wife' Madame or Lady; or whether Willie Wobbler holds a referendum or not, or whether disgraced Solicitor General Vera Baird is appointed Commissioner of Police, has wilted with the heat.
She is quite sure that you will continue to care desperately about these matters, but she has pi**ed off to the beach at Oleron with a pitcher of ice cold rose´, her most flattering swimming cozzie, and a big pan to cook the moules in…
It is quite likely that she will enjoy this style of life so much that she won't be back before Thursday…
She might have worked up some interest in Vera's shameless pursuit of tax payer funded employment by then.
July 4, 2012 at 22:02







July 3, 2012 at 12:52










July 3, 2012 at 13:02










July 3, 2012 at 20:21







July 3, 2012 at 20:49







July 4, 2012 at 20:49







July 4, 2012 at
22:16





July 2, 2012 at 23:24




July 2, 2012 at 23:23







July 2, 2012 at 21:06







July 3, 2012 at 01:42







July 2, 2012 at 20:33







July 2, 2012 at 22:24







July 3, 2012 at 13:11










July 3, 2012 at 20:20







July 3, 2012 at 20:43




July 2, 2012 at 19:11










July 2, 2012 at 19:18










July 2, 2012 at 20:08







July 5, 2012 at 12:39




July 2, 2012 at 17:17




July 2, 2012 at 16:54







July 2, 2012 at 15:38










July 2, 2012 at 17:31







July 2, 2012 at 13:05




July 2, 2012 at 12:31







July 2, 2012 at 14:17










July 2, 2012 at 15:02







July 2, 2012 at 16:53




July 2, 2012 at 17:14







July 2, 2012 at 17:58




July 2, 2012 at 20:42




July 2, 2012 at 20:58







July 2, 2012 at 21:00










July 3, 2012 at 11:21










July 3, 2012 at 16:05







July
4, 2012 at 15:48





July 3, 2012 at 15:52







July 5, 2012 at 21:54







July 2, 2012 at 12:13







July 2, 2012 at 12:08




July 2, 2012 at 11:52







July 2, 2012 at 11:25










July 2, 2012 at 18:07