Welcome to both regulars and those new to The Raccoon Arms. Pick a pint of your favourite tipple (unless that happens to be wine or single malt in which case that might be a tad over the top) and pull up a seat in our virtual Snug or Saloon bar.
This is a cosmopolitan place, and as our landlady has put down her roots in semi rural France, I feel it is only right and proper that I open our dialogue by me drinking to the utter chaos that is the Euro Zone with a glass of light, cold and refreshing bière à la pression such as one finds in a classic French bar or café.
Apparently we have had the 20th Euro Summit since the Euro crisis began this week. I am a bit lost with all the different crises (which event goes in which crisis box? I dunno, all these crises look alike to me…)
Thank God we didn't join, though the PIGS may pull us down with them in the end. And am I alone in finding the whole thing a horrific farce? One currency means one government, one tax regime, one state. And that was the purpose of the Euro, or so I assumed. And so now Europe faces a choice: a centrally imposed Super State without any democratic authority, or the break up of the zone. Isn't it that simple, or am I missing something? Please put me right if you know better. This is a pub, and in the pub people should discuss these matters…
And what other earth shattering events will catch the attention of the customers this weekend?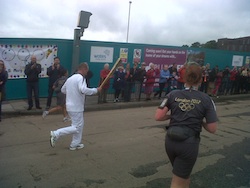 How about the Olympic Torch? Last Sunday I had a chance encounter with it. I did not mean this to happen. I was heading off in pursuit of a decent latte and pain au chocololat when it turned out that the route passed but 500 yards from the my home and I was entangled in the so called "celebrations" like a fly in a spider's web.
Now, you may have spotted that this lack of awareness indicates a certain disengagement with the Olympics and the hoopla that goes with it, but nevertheless I decided I might as well see what all the fuss was about, and so I waited alongside a dreary "A" road for the spectacle our Lords and Masters had put on for us, together with lots of chavvy little Units of Consumption (forgive me Lord, for being a snob. But I am so good at it).
It was late, of course, and it was preceded by a rather naff cavalcade of buses or tarted up lorries blasting out "music" and advertising the wares of the various "sponsors". There was one from McDonalds of course, which as others have observed seems ironic. I thought it gloriously appropriate given the obese state of many of the lumpenproletariat gathered to worship the Torch and the Flame.
Do you know who invented the concept of the Olympic Torch by the way? I understand it was the Nazis, for the 1936 Olympics. Just throwing that out there, you know.
Anyway, the next "float" to come along was from Lloyds bank, which got me quite excited because that was the bank that tried to screw me with about £500 worth of unjustified interest charges a couple of years ago. So if any of the "dancing" PR girls on the float should by some chance of fortune read this, you know that bloke amid the cheering throng who was shouting "bastards!" and giving you the traditional two fingered salute? Yes, that was me. Sorry. Actually, no I'm not…
It was corporate whoredom at its worst.
Eventually a man in rubbish shell suit carrying a gold stick jogged past. Was that it? Apparently so. I can't wait for the "Hunger Games" to begin….!
Speaking of which, did you see that film by the way? "The Hunger Games", I mean. I thought it was excellent. If you haven't, then I would recommend it when it comes out on DVD. It is very derivative of one or two films, notably The Running Man, Lord of the Flies and also a Japanese film called Battle Royale, but with deft acting from a strong cast, in particular Woody Harrelson and Stanley Tucci, who has always been one of America's finest actors. But crucially there is a stand out performance from the leading young actress whom I think is called Jennifer Lawrence. At times it is compelling and moving stuff. For example, there is one bit where the young heroine Katniss Everdine (Lawrence) simply completely looses it, and breaks down in tears of grief, shock, frustration and rage, and for good reason. I cried with her. I saw it twice, and I cried the second time too.
But back to banks. It has not been a good week for banks' publicity, what with NatWest's computer system breaking down leaving goodness knows how many thousands with no money and not able to eat or pay their bills, and Barclays being fined just shy of £300 million for rigging the markets and creating a little cartel over interest rates – which affects all our mortgages. And word is there is more of this to come. There are 19 more banks under investigation. But no surprise there to see that they are exposed as (a) incompetent and (b) bent as nine pound notes.
I thought one of the most pity and appropriate comments on the scandal was (inevitably) on Twitter. I draw your attention to my tweet of the week, a pithy one from "post cromwell ‏@houseofcromwell". It was as follows:
"#Barclays made my life hell in 2007-8 with charges. Even though I was earning very good money, I was made poor to the point of hunger."
Short and sweet, poignant and somehow neatly summing up the lack of equity between these huge and rapacious corporations on the one hand, and we, the humble serfs on the other. And what is to become of this fine, I wonder? Passed on as charges to someone, I shouldn't wonder.
And my own views? The prevailing culture is of greedy young men making vast amounts of money by gambling using large amounts of other people's money. Our money, probably. And rigging the market to boot. I will leave the macro economic structural issues to others, but the banks may have gone too far. I will add only one observation, a very personal one. I had the joys of working in the City for a little while post Big Bang.
As to the traders, I did not know many. But the ones I did know struck me as follows. On the plus side, they were full of energy, and possessed the ability to get to their desks early in the morning and take pressure in the sense of working at speed, with some basic mathematical skill, like your average bookie can.
Apart from that I found them greedy, facile, intellectually and spiritually vacant, amoral, sexually aggressive, arrogant, shallow, self obsessed, loud, and utterly dull. You know who you are, Tim. I have waited 20 years to say that. It felt good….
That such people indirectly rule our lives is as much a sad commentary on our foolishness as their chronic want of redeeming qualities.
The only thing one can do with corporations like this is to take one's business away. But that is easier said than done. Where can one put one's money which is sensible and ethical? Under the bed?
It is not part of my brief to advertise anyone, but I use the Co-Op Bank and have found their service pretty decent. So far they seem not to have been caught up in the general shenanigans of the banking crisis, perhaps because I understand they operate an ethical investment policy, and perhaps because they come from a more prudent, more principled background than the Oxbridge and Ivy League educated spivs, con men and thieves in the City. Any other suggestions? Maybe local credit unions?
Apparently, cooperatives of all forms are one of the few really growing areas of the economy, and this has to be a good thing, wresting control away from the faceless corporations and back to local support networks.
And what else diverted nation this week? Naturally, those two staples of conversation, sport and the weather!
Ok, Ok, I know. Now I am not going to go on at length about the Euros now England have been rightly bundled out – I know a lot of our readers don't care about them anyway, but I offer you three statistics about Ing-Er-Land's exit at the hands of The Borgias (a.k.a the Italian national team).
First, England had 32 per cent of possession, and The Borgias had 68 per cent.
Second, Steven Gerrard, England's best player by a country mile, completed 32 passes. The Borgias' playmaker Andrea Pirlo made 131.
Finally, the most effective pass for England statistically was the goal keeper Joe Hart to the centre forward who came on as a substitute, Andy Carroll.
In those three statistics is proof of England's technical inferiority.
More interesting, and much less predictable, has been Wimbledon, whereat some guy nobody has ever heard of overpowered one of the odds on favourites, Rafa Nadal, on Thursday night. My Twitter time line lit up with ladies united in grief at the loss of further sightings of Nadal's incredibly toned and muscled torso! I found it quite hilarious. I am above such things, of course. But speaking of sport, I have a new crush! She is Australian! She has hair black as night, big wide expressive eyes, and the longest legs you can ever have seen. Some say she is not beautiful, but I think she is. It has to be admitted that she does have rather a big arse. And quite big teeth too. But they suit her.
According to her official website her hobbies include going to the beach and swimming, and she enjoys a boiled egg every day. She has a huge following on Facebook. Some people say she is a bit fast….and she is. Very.
She is, of course, Black Caviar (stable name "Nellie"), the Australian filly who may well be the fastest horse in the world. She is unusually big (16.2 hands is not a huge height for a horse but she is very heavily built for flat racer – she is more than 700 kg I think, and is heavier than the champion steeplechaser Denman) and in particular she has unusually long rear legs which give her an incredibly powerful stride pattern. She has won all twenty two of her races so far. She was flown over from Oz for Ascot and duly won her race last Saturday by just a nose, partly because she was out of sorts with jet lag and partly because her jockey wrongly eased off in the final furlong and had to ask her "go" again, which I think meant she tore some muscles. Brave girl.
And as to weather, the drought continues with heavy rain and flash floods, and a man being drowned in the Midlands. Roads and rail lines have been blocked and thousands left without power as torrential rain flooded parts of the UK. Two storms, which began in Wales, grew stronger with one heading across the Midlands, the other heading northwards to Newcastle and into Scotland. The Environment Agency has 10 flood warnings and 47 alerts in place. Both main rail lines between Scotland and England were blocked by landslides.
Thursday evening was particular fun, and at one point it seemed that Newcastle was likely to be entirely washed or blasted away by the rain and lightning. I will leave it to our regular correspondents to debate whether this would be a good thing or not. I couldn't possibly comment (over to you, Saul).
Round my neck of the woods the big story has been a tragic one of a huge blast in a house in Shaw, Oldham, which killed one poor toddler aged two and badly injured a man in his thirties. Gas seems to be the cause, but whether there has been foul play or not is unclear.
Now, tragic as the death of the poor toddler is, the usual "shrine" has started to grow up with Teddy bears and stuffed giraffes and flowers and general tawdry "tat" being left at the scene. I cannot understand this behaviour, which I regard as mawkish and a tad weird. On the other hand, since penning the original draft of this blog, I have seen the grieving parents of the little mite visiting the scene and they seemed genuinely moved the flowers and tributes, so perhaps in that sense they provide a function?
Still, there have been various lampoons about this form of behaviour on the internet in the past along the line of "Port-a-Shrine" and "Port-a-Grief". I found this one from "The Daily Mash":
"A BRITISH inventor has developed an all-in-one council estate tragedy shrine that can be erected within seconds of something 'sad' happening. Sympathise with strangers using wax and tin. The "Portagrief" weighs just two kilograms and comes pre-loaded with decaying tulips, a poorly-composed sympathy poem and a tatty-looking teddy bear.
Inventor, Martin Bishop, said: "Within moments of something happening to somebody you've never met, you can share your fake sadness with friends, neighbours and the audience of Sky News. It's the indispensable item for the childish, mal-educated grief-vampire who wants to appear really upset in as public a way as possible."
The Portagrief will be offered in three basic models – the Executed Gangsta, the Teenage Traffic Accident and the Little Angel, which will include a card with the message 'yoos in hevin now'.
Bishop added: "I was watching a Sky News reporter standing outside some council estate sh*t-igloo and the question suddenly occurred to me – where would the average ghoul in the street get their hands on an elaborate tea light holder at four o'clock in the morning?"
Nikki Hollis, a grade six untermensch from Carlisle, said: "When that toddler went missing from down the road, I had my Portagrief Little Angel outside the family's door before the police had turned up.
"Unfortunately they found her the next day so she's not in hevin, which is a shame for her.""
And on that not particularly PC note, I finish my glass and bid you a good weekend! I am off for a proper ramble for real!
Gildas the Monk
July 5, 2012 at 00:02




July 2, 2012 at 08:13







July 2, 2012 at 08:46










July 2, 2012 at 09:51




July 1, 2012 at 20:24




July 1, 2012 at 19:11










July 1, 2012 at 19:41







July 1, 2012 at 20:06







July
1, 2012 at 21:35


July 1, 2012 at 18:25




July 1, 2012 at 14:25










July 1, 2012 at 17:08







July 1, 2012 at 14:09










July 1, 2012 at 13:21




July 1, 2012 at 09:13