Feed me, feed me not, feed me, feed me not…!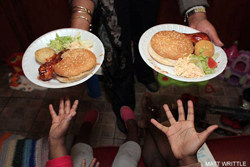 What havoc is wrought by the readers of the Evening Standard? Forgive them, they know not what they do!
A brief three months ago, their hearts bled as they read of children with:
"shrunken faces, sallow skin, dark rings around their eyes and rotting teeth."
Yeah! Starving children, not in some third world booming economy, bloated with EU grants, but in first world, deprived, London town. Only the wallets of the generous Evening Standard readers stood between this 'silent epidemic of hunger' and the hamburgers and fried chicken ladled out by the charity Kids Company. £2 a week and you could relieve those waifs of "constantly feeling sick, your belly's hurting, your head's hurting, you can't concentrate." The accompanying photograph showed small brown hands reaching out for the fast food that Evening Standard readers could/should provide for them…it was their moral duty, surely?
"We have a collective responsibility to make sure every child in London always has enough to eat. This is a basic human need and a basic human right. And it is something we can solve as a society, if we want to."
The Royal College of General Practitioners weighed in to tell us of the increase in rickets. Dig deep, behind the sofa, hand over your spare change…
The collective power of the media, eh? Barely three months later, another charity is patrolling those same streets and reports (Evening Standard again, with not a hint of irony!) that:
One in 10 deprived inner-city children visits a fast food outlet every day, research suggests.
Researchers found that half of schoolchildren living in poor urban areas may be consuming fast food twice a week.
Once more action is required:
"These schoolchildren are exposed to an environment that is likely to cause obesity, and it is not surprising that in this situation, many of these children are already overweight or obese and will likely become obese as adults.
"Clearly, actions need to be taken to either limit the ability of these children to access fast food outlets or to change the foods they purchased at these outlets."
Three months and those sallow faced and shrunken eyed kids have been transformed into fat little gits that will need another hand-out to slim them down again…
Now the Evening Standard readers are being exhorted to 'snatch a hamburger' from the mouth of a deprived kiddywink. You couldn't make it up. Does the right hand press release never talk to the left hand press release?



June 28, 2012 at 15:45







June 28, 2012 at 11:26




June 28, 2012 at 09:38







June 28, 2012 at 10:55







June 28, 2012 at 07:22




June 27, 2012 at 21:27










June 27, 2012 at 16:34







June 27, 2012 at 13:16







June 27, 2012 at 22:52




June 27, 2012 at 13:16







June 28, 2012 at 11:07




June 27, 2012 at 12:41




June 27, 2012 at 11:03




June 27, 2012 at 10:50




June 27, 2012 at 10:36




June 27, 2012 at 09:40







June 27, 2012 at 10:08







June 27, 2012 at 10:11




June 27, 2012 at 09:29







June 27, 2012 at 08:38