How are you going to vote?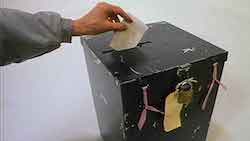 So today is the day of the local elections and the London Mayoral elections.
How are you going to (or did) vote? Considering that many of the customers of the Raccoon Arms are libertarian in leaning (don't lean too far you might fall over) are you going to vote for None of the Above or just not bother because the choices available aren't suitable. Or will you make do with UKIP as the best of a bad bunch.
Have the local elections left you cold and apathetic that politicians will actually do anything to change your life. Or do you think politicians are a pox on the earth because they do too much to change your life with so many new laws and regulations.
Me? I'm going to vote NoA by placing my ballot straight into the ballot box without even bothering to go to the cubicle to pretend that I'm actually voting.
SBML

2



May 3, 2012 at 07:55


4



May 4, 2012 at 05:52


16



May 3, 2012 at 22:16