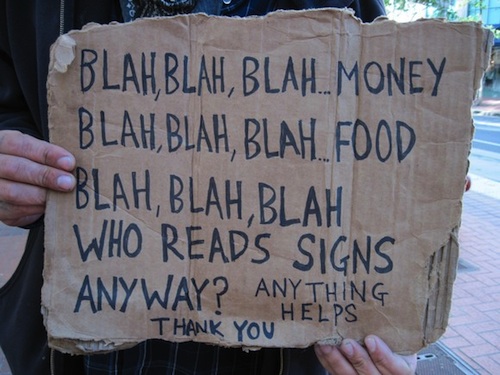 It must be – we have sprouted a new crop of English speaking beggars on the main street in Bergerac.
Impeccably ripped jeans, regulation dreadlocks, and each accompanied by a well fed dog and a large hat for donations.
Have the dogs come from England with them? Did they skimp on the several hundred pound cost of having them chipped and vaccinated so they can go back to England at the end of the season – or is there an agency just south of Calais that has a thriving business in loaning out suitably winsome strays – to be returned at the end of the begging season?
Hark hark the dogs do bark
The beggars are coming to town
Some in rags and some in jags
And one in a velvet gown.
And incredibly early this year – the very first You'd'vethought Bird.
March 25, 2012 at 16:29







March 25, 2012 at 13:25










March 25, 2012 at 15:17







March 27, 2012 at 13:40




March 24, 2012 at 22:49




March 24, 2012 at 22:26







March 24, 2012 at 14:28










March 24, 2012 at 16:18




March 24, 2012 at 22:58







March 26, 2012 at 13:19







March 24, 2012 at 13:12




March 24, 2012 at 12:38