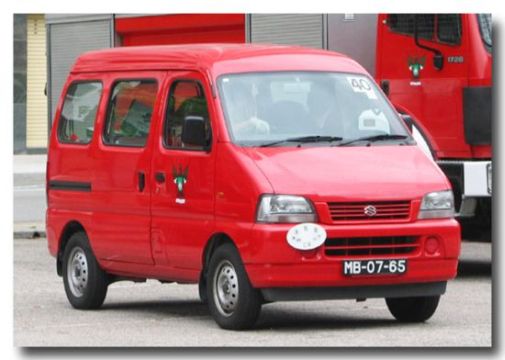 We might be a UK based blog (with the landlady based in France) but I thought you might be interested in hearing the results of the Australian elections in Queensland.
Whats that? You didn't know it was going on. You mean all that coverage on the BBC news and all the other channels about the elections in other parts of the world didn't mention a dicky bird about Australia? I would have thought with the amount of coverage about the US elections that a little bit about what's happening in another ex colony of the UK would also be covered.
Well the results are very interesting. So interesting that they haven't happened previously for 62 years. The closest Labor came to similar levels was in 1974 when they had only 11 seats.
What has happened is that Labor (yes, they spell it that way down under) have lost by a big margin. As has been mentioned elsewhere, Labor have a enough seats to fill a mini-van like the one above. With some recounts still being carried out there is a chance that Labor in Queensland will disappear. They need at least 8 MPs to be an official political party.
If our Labour had had the same kind of results we would have only about 50 of their MPs rather than the 258 we currently have.
Now it is only in Queensland, but bear in mind that Oz only has 7 states. So it's only a local election, but it is an election in what is probably the economic powerhouse of Australia. Queensland also has a quarter of the population of the whole country.
What seems to have happened in Queensland is that the electorate has seen through the lies of the politicians and turfed them out.
Anna Bligh, the premier of Queensland said in 2008 that she would not abolish the petrol subsidy, then just three months after the 2009 election toally scrapped the subidy. Her popularity poll then dropped to an all time low of 33%. The voters have now made their voices heard.
Julia Gillard, the Labor Premier, famously said that there would be no carbon tax in her time, then months later changed her mind. So she broke her pre-election promise. Will her party get the same result at the next national election in 2013?
The only problem is that all politicians are basically the same. So one party has been kicked out, but the same kind of people with a different colour badge and name (Liberal National Party) have been voted in. The LNP will now effectively have no opposition taking 74 seats of the 89 available.
So after all that when do you expect to hear about the Queensland elections in the MSM? It might be some time because they won't want to publish bad results for a left wing party. Maybe it's because it's only a local election, for a quarter of the country though.
SBML



March 27, 2012 at 12:45







March 27, 2012 at 13:45




March 29, 2012 at 10:05




March 27, 2012 at 09:33







March 27, 2012 at 09:05







March 26, 2012 at 22:31







March 27, 2012 at 08:10







March 26, 2012 at 17:54










March 26, 2012 at 20:04







March 27, 2012 at 08:03







March 27, 2012 at 09:04







March 26, 2012 at 13:36







March 25, 2012 at 22:00










March 26, 2012 at 13:34




March 25, 2012 at 21:06




March 25, 2012 at 20:43










March 26, 2012 at 13:28







March 25, 2012 at 16:30







March 25, 2012 at 22:12







March 26, 2012 at 13:11




March 25, 2012 at 14:45




March 25, 2012 at 13:35







March 25, 2012 at 13:35




March 25, 2012 at 09:51







March 25, 2012 at 05:55




March 24, 2012 at 22:57