Rotten Borough? – the Vicious Borough of Hillingdon.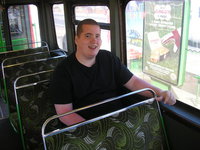 Social Services have long memories, and a messianic distaste for having their noses tweaked by those with more power then they.
Those with equally long memories will remember the case of Stephen Neary that we so successfully championed on this blog.
Steven was the 20 year old autistic lad who, Hillingdon Borough Council, when presented with the opportunity – Steven's father had requested three days respite care whilst he recovered from the flu – contrived to have Steven deprived of his liberty for a full year and incarcerated in their Orwellian 'Positive Behaviour Unit'.
We chronicled Mark Neary's long fight to have Steven returned to the home he knew and loved here and here. It culminated in Mr Justice Peter Jackson, in a historic ruling made public because of the 'extensive social media coverage' that 'Hillingdon Borough Council had acted as if it had the right to make decisions about Steven, and a combination of turning a deaf ear and force majeure, it tried to wear down Mr Neary's resistance stretching its relationship with him almost to breaking point. It relied upon him coming to see things its way, even though, as events have proved, he was right and it was wrong.'
The Judge ordered Steven's release from the 'Positive Behaviour Unit' in time for Christmas 2010. That the mental and financial strain of fighting for Steven's release did not break Mark Neary's spirit is a testament to one man's love for his son. It undoubtedly tired him out.
So a year later, Mark applied to Hillingdon for respite care yet again. He is entitled to it, it is the right of every carer in the country to have some help, paid for by the rest of us, to a break from the onerous duty of full time single parent carer. Hillingdon are in charge of the funds that are allocated for this service in their area. That they do allocate them for many families can be seen HERE. Not for Mr Neary though.
On Saturday night, Mark Neary returned home to a letter from his caring local council informing him that his request for an allocation of £3,900 to pay for 42 nights of a carer staying overnight to ensure that Mark got some beauty sleep – 'was denied'.
"It is not our practice to fund additional respite care elsewhere when the service is already provided and paid for by the local authority".
Where, you might ask, is this 'respite care provided elsewhere by the local authority".
None other than the Orwellian 'Positive Behaviour Unit' that so traumatised Steven and his Father when he was incarcerated there for a year.
Force majeure, as Mr Justice Jackson so perfectly described it – he may have forced Hillingdon to release Steven, but now they say that unless Mark Neary returns him there, he will have no break from caring for his son.
That is one vicious Borough.
March 23, 2012 at 10:39










March 23, 2012 at 18:37










March 23, 2012 at 21:57







March 21, 2012 at 18:02







March 22, 2012 at 20:52










March 22, 2012 at 23:35










March 24, 2012 at 00:33







March 27, 2012 at
00:05


March 28, 2012 at
09:30


March 21, 2012 at 02:44




March 20, 2012 at 23:55







March 20, 2012 at 19:06




March 20, 2012 at 18:50







March 20, 2012 at 17:16







March 22, 2012 at 21:07




March 20, 2012 at 14:38










March 20, 2012 at 13:24










March 20, 2012 at 12:20







March 20, 2012 at 12:17




March 20, 2012 at 12:08




March 20, 2012 at 10:51







March 20, 2012 at 10:49