R.I.P – PC David Rathband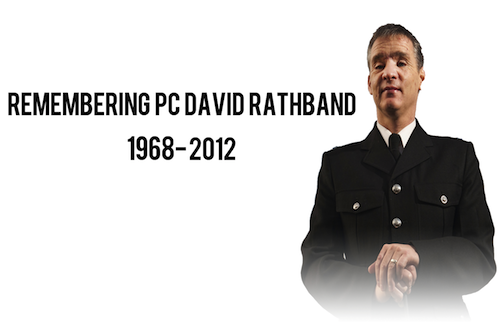 Early last evening, as we all settled down with our families for an evening of relaxation, the blighted life of PC David Rathband drew to a close. He was alone, alone with his thoughts, alone with his disabilities, alone with his last breath.
That he was alone is no surprise, nor any condemnation whatsoever of his many friends and family. It is near impossible to fathom the true thoughts of someone forced to face real disaster in their life. It is human nature to accentuate the positive, to reassure ourselves that 'our visit', 'our friendship', has been useful; to draw out the signs that they are coming to terms with a traumatic event and facing the future with equanimity; to walk away from their house satisfied that when they said they were doing 'fine', then 'fine' is what they are doing.
Despite my long experience of coming face to face with families in just such a terrifying seizure of malevolent events conspiring to ruin normal life, I was as guilty as anyone – I penned an emotive piece on David Rathband's apparent 'manly' response – oiled with his public utterances of courage in the face of unwarranted disaster; then I walked away, back to the world of politics, having dropped a few quid into the collecting box set up by his brother. I had 'heard' what I wanted to hear – he would be 'fine'.
That is the normal response of those who do not know someone personally.
For those who are close friends, or who become close friends subsequently, perhaps as a result of shared tribulations, the process continues – the visits, the outings, the conversations. I do not presume to know the content of those conversations with David, but I suspect that many of his friends this morning will be sadly wondering what more they could have done, could have said, could have listened to.
Sadly, it is a rare friend indeed who will listen to the inner rantings of an individual consumed by despair at their predicament. We tell ourselves that it is not 'good for them' to dwell on the negative; we encourage them to shut these thoughts away in a box marked 'not to be opened in public', where they are free to fester in 3am sessions between self and self, unhindered by the outside world.
For the family, the problem is magnified exponentially. One moment they have a husband, a lover, a father, a brother that they have known all their lives, or at least all their married lives. Someone with whom they have spent years knocking off the sharp edges that are the learning curves of disparate individuals sharing a single household. Then comes the phone call from the hospital, the bright and cheery voice of the nurse you have come to know so well – "Doctor say 'X' can come home tomorrow, isn't that great?" The world, the social world around you, rejoices.
Then comes reality. Too often, the truth is that you might just as well have brought home the patient in the next bed. They may look reasonably like your partner/brother/father, as reasonably as the surgeons can construct, but physically, perhaps mentally, certainly emotionally, they are total strangers. Worse, the emotions that the world would prefer them not to dwell on in their presence, can emerge as anger towards their nearest and dearest, in the privacy of their home.
'In sickness and in health' is an easy phrase to parrot when you hear of a marriage which has broken up in the thrall of tragedy such as David Rathband experienced; 'Stand by your man' a desirable rallying call – we may like to imagine that whatever ill befell our partners, that we would never, ever, abandon them. I have witnessed too often the anguish, the fear, the responsibility for young children, the sheer impossibility of sharing a house with someone that angry, or that depressed, or even that dangerous, to ever condemn a partner who walks away from a marriage where a traumatic 'difference' had been wrought upon a partner.
So could any more have been done for David Rathband? Possibly not, probably not. Except that we could all examine our consciences when such situations occur in our own social world. Did we leave the door open for that person to really talk? Did we allow them to say unpalatable things? To let the savage thoughts out of their head, into the fresh air? To say whatever they wanted to say? Or did we just want to hear what we wanted to hear?
We can belatedly and collectively do one thing for PC David Rathband. That is to retweet this post, your own post, your own thoughts, anything you can lay your hands upon, to #pcdavidrathband.
If there is anything more obscene than the sad lonely death of PC Rathband, it is waking up this morning to find that the Chav icon, symbol of the underbelly of modern Britain, Raoul Moat, is trending on Twitter in response to David's death.
That is something we can deal with. Get #pcdavidrathband trending and knock that overgrown truculent child back into obscurity where he belongs. March 5, 2012 at 01:01




March 3, 2012 at 07:39




March 1, 2012 at 22:35




March 1, 2012 at 18:58







March 1, 2012 at 18:33




March 1, 2012 at 18:12







March 1, 2012 at 18:12




March 1, 2012 at 18:11







March 1, 2012 at 17:59







March 1, 2012 at 18:15







March 1, 2012 at 18:16







March 1, 2012 at 14:34







March 1, 2012 at 14:21










March 1, 2012 at 13:14










March 1, 2012 at 12:48







March 1, 2012 at 12:38










March 1, 2012 at 12:10







March 1, 2012 at 12:14







March 1, 2012 at 19:18










March 1, 2012 at 12:33




March 1, 2012 at 12:10







March 1, 2012 at 12:12




March 1, 2012 at 12:55







March 1, 2012 at 15:08







March 1, 2012 at 18:08










March 1, 2012 at 19:43




March 1, 2012 at 23:02













March 1, 2012 at 10:02










March 1, 2012 at 12:58







March 1, 2012 at 19:33