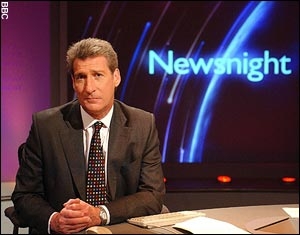 Late last night I finally caught up with the Tuesday night recording of Newsnight. Dobson and Norris had just been convicted and the full Primrose Hill liberal intelligentsia mob was out in self congratulatory force. Diane Abbott, Brian Paddick, Charlie Falconer – eventually I threw my slipper at the screen. Unfortunately it caught on a small stool, hitting the channel change button, and flipped the TV over to BBC1 where Lee Jasper was holding forth….sometimes its best to just give in and go to bed. Before doing so, I made some notes on some of the astounding observations and comments that apparently didn't warrant any challenge from the 'chair'.
Jeremy Paxman, the 'Great Paxo' who surely wants stuffing up the rear end of the nearest Turkey, opened these 'unbiased BBC' proceedings by claiming that the Lawrence affair 'exposed the incompetence and prejudice' of the Metropolitan Police. He was entirely unabashed by this statement being followed by a news clip of Cressida Dick making a formal statement that 'the judgement had depended on previously unavailable scientific knowledge and techniques' – far be it for the BBC to give the Met any credit for their achievement, much better to reinforce the media opinion that it was the Met's fault that Dobson and Norris weren't convicted 18 years ago.
Diane Abbott was quick to weigh in – "I know Doreen Lawrence quite well, I have supported her from the very beginning when this wasn't a fashionable cause" – apart from the reinforcement of yesterday's Imran Khan quote, that this is a fashionable cause – Dianne must have been mighty quick off the mark in befriending Mrs Lawrence. Lets face it, the Chairman of the Commission for Racial Equality was on the phone to the Met Commissioner in the early hours of the following morning, Nelson Mandela was inviting her to tea 14 days later, and her husband – who had recently finished some building work on the house of a journalist- Nick Schoon of the Independent – was giving an interview to that paper a mere 12 hours after his son's death. From which I deduce that Diane must have been befriending Mrs Lawrence less than 12 hours after her's son's tragic demise, in the middle of the night, to have got in 'before it became a fashionable cause'.
Incidentally, Nick Schoon went on to claim later that the family were 'law abiding, unpolitical and had nothing to do with race matters'. By that afternoon, 18 hours after the murder, they had the Action Against Racial Attacks camped out in their home controlling access to them. Pity young Nick was in such a rush to file his copy that morning – he might have witnessed the change in personnel from 'friends and family supporting the grieving family' to professional agitators.
Diane was full of smarm – an ingratiating glance at Brian Paddick who preened himself to hear that 'these days senior policeman are a lot more sophisticated and clever' – a bit of a mystery that one. According to our Brian, the 'canteen culture' of bigoted policemen was alive and well when he entered the force – fair enough. According to him, it is alive and well today, too. Yet somehow 'senior policemen' have managed to escape these influences? Is it only those senior police that have been fast-tracked into the service via the opinion pages of the Guardian and a dog eared copy of a 1970s sociology manual that can be trusted to police 'fairly'?
Full of smarm, but full of bile too. 'One of the allegations that has always swirled around this case, the father of one of the defendant's was a big gang land figure and one of the … is corruption of the police -but that is just an allegation' (In case anyone sues me etc…..) Martin Bashir smartly stepped in, "the point Diane Abbott made about David Norris is well made (er, Diane hadn't said which defendant….!) – Clifford Norris is a career criminal who has spent time in jail. This young man grew up amidst endemic criminality – in some way […] some kind of discrete relationship between him, his father, and the Met and nobody is disputing the existence of that and its effect on the enquiry".
Really Martin? Nobody is disputing the effect this had on the enquiry? I am. I've heard the allegations too, I want you to show me the evidence you have because the IPCC have refuted these claims – which surfaced in another BBC programme and have been exhaustively investigated.
IPCC officials found no evidence to support the potentially explosive allegation that Mr Davidson was in the pay of Clifford Norris.
Investigators found there may have been confusion between Clifford Norris' son and a second David Norris who acted as an informant and was murdered in 1991.
Still the mendacious Diane banged on with her image of the lone family, supported only by her close interest in them – 'all credit to the Lawrences ; there were years when no one was interested in this case, if they hadn't campaigned' etc, etc, right up to her parting comment invoking the spirit of the recent Salford murder and saying she 'hoped it doesn't take 18 years to find the killer'.
Diane, petal, it didn't take the police 18 years to find the Lawrence killers. It took them two weeks to have them all under arrest. The forensic service wasn't sufficiently sophisticated to come up with the results which later convicted Dobson and Norris in those days – remember Cressida Dick's statement? These were microscopic traces of blood remember?
But Martin Bashir was back in the fray again. '26 separate individuals went to the police'
Indeed, they received many tip offs. Tip offs? Not according to Paxo – "it is astonishing the evidence that the police were given"
A tip off is not evidence you manipulative dork! You want everyone removed from the scene on the basis of tip offs? That will do for you as evidence?
The slipper was off my foot and squarely aimed at the TV by now, but there was a final indignity to come.
Charlie Falconer. Ex flat mate of Tony Blair. Made a Lord so he could bring him into Government without any troublesome procedures like encouraging anyone to vote for him, and then elevated to the highest legal position in the land…would he challenge this new definition of evidence? Would he Hell!
'Had they gone into the house within 24 hours, they could have got search warrants, they could have got gallons of forensic evidence'.
Tell me it isn't so! Tell me that our ex-Lord Chancellor doesn't really believe that an anonymous tip off is sufficient to persuade a magistrate to issue a search warrant? Tell me what evidence he has that there were 'gallons' of forensic evidence available, that magically disappeared – it is mere supposition on his part. I expect that sort of comment under a Daily Mail article, knee jerk rhetoric, but from a former Lord Chancellor?
Still he droned on 'the way they were treated, they felt that as victims, was appalling'. Let's take that one apart shall we? It was after all comprehensively investigated by the Kent Police.
One of Mrs Lawrence's main complaints concerned the actions of DC Linda Holden. A hat and some gloves had been found near the scene. It was important to establish who they belonged to. Were they Stephen's or could they contain valuable forensic evidence belonging to one of the killers? What would you have done? I would have done exactly as DC Holden did, ask the parents! How racist of me. I would have been failing to understand the cultural sensitivities of Mrs Lawrence. Being shown the hat and gloves and asked whether they were Stephen's translated into 'because Stephen was black, he therefore must be a criminal'. Nobody had even suggested that the hat and gloves had any connection to any criminal activity (unless possibly belonging to the attacker and that criminal activity) , that was her interpretation and later became the subject of yet another whinge to Macpherson.
The female police officers dealing with this investigation didn't have an easy ride. After the off duty police officer stopped at the scene, the next two to arrive were PC Linda Bethel and PC Gleason. They were greeted by the words of Duwayne Brooks, Stephen's friend. 'Who called you fucking cunts anyway – pigs! I only called the ambulance'. Brooke's later agreed that he was 'anti-police' and wanted to punish them for arriving four minutes before the ambulance.
'Who can tell', asks Macpherson, 'whether or not proper respect and concern for Mr Brooke's status as victim would have help to lead to evidence'?
Who can tell, ask I, whether proper respect and concern for the difficult task of the police might have led to the early conviction of Dobson and Norris?
If I thought Charlie Falconer was the last word in manipulative spin I was mistaken. Brian Paddick had a treat in store for me. He thinks relations with the police are still strained. That is why:
When Nick Clegg was giving the Scarman Lecture, I advised him to say that relations between the police and the black community were much better than they were in 1981. He was advised by the organisers not to say that as he would be seen to be out of touch with the local community! That is a very serious indictment of where we are today.
Can anybody tell me what Nick Clegg decided to say in the end? I don't have a copy to hand. I want to know whether he took the professional advice of an ex-senior police officer and mayoral candidate, or whether he pandered to local prejudice. It's always helpful to have an idea where he's coming from……



January 8, 2012 at 07:20







January 8, 2012 at 07:18







January 6, 2012 at 14:24







January 6, 2012 at 00:30




January 5, 2012 at 23:42




January 5, 2012 at 23:32







January 5, 2012 at 20:34







January 5, 2012 at 20:06







January 5, 2012 at 20:21







January 5, 2012 at 19:15







January 5, 2012 at 18:40




January 5, 2012 at 18:17




January 5, 2012 at 16:12













January 6, 2012 at 10:11







January 5, 2012 at 14:37










January 5, 2012 at 14:44







January 8, 2012 at 16:59




January 5, 2012 at 15:01










January 5, 2012 at 14:11










January 5, 2012 at 13:55







January 5, 2012 at 14:10










January 5, 2012 at 14:18







January 5, 2012 at 14:20













January 5, 2012 at 13:52







January 6, 2012 at 04:04










January 5, 2012 at 13:20







January 5, 2012 at 13:05










January 5, 2012 at 11:55