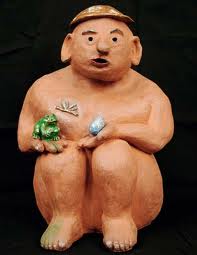 I heard news of my (thankfully, very thankfully) ex-brother in law this afternoon. The youngest of the clan.
He was 19 when I first knew him. 4 years younger than me. A gilded youth with long flowing blonde locks, and an arrogant stride. You might have thought he was an aspiring rock star if you met him in the street.
He had never held a job; apparently this was because he had had the 'misfortune' to grow up in Liverpool, where it was 'impossible' to get a job. Others managed, but not he.
Now he had arrived in London to join his elder brothers in the family enterprise. They had established a thriving business in South London, just this side of legal. They were Scousers after all.
He was the youngest of the family, by some ten years. An afterthought, as they say oop North. The 'baby' brother, who had to be 'looked after'.
This took the form of not minding when he didn't get into work until 11.30 or so. After all, hadn't they all been out drinking the night before? Somehow others managed to stagger in with a hangover, but not Wee Willie. He would make a coffee or two, lean on a broom for support, and not come to life until the doors shut at midday and we all went off to the local cafe for lunch. There was a tab kept in the cafe, so no need for Willie to put his hand in his pocket. The 'brothers Grimm' took care of that at the end of the week.
He might borrow his brother's car in the afternoon, go and collect spares, or some similar light employment, but he was never in the 'thick of it'. He was always the first to go back to the house.
Took great pride in his appearance did Wee Willie. Had to have the first bath, always wore fresh clothes every day. I soon learned that there was no point in me refusing to wait on his laundry requirements hand and foot – he merely borrowed one of his brother's best shirt and jeans if I refused to mother him. Nobody but me seemed to mind.
He would arrive back in the cafe for his evening meal long before his brothers. On their tab of course. Since he had finished eating, he might as well wait for them in the pub, natch? The pub ran a tab as well. It is a Liverpool tradition that the first round is written down on a beer mat, and merely repeated each time 'someone' had finished their drink. Guess who always finished first? You settle up at the end of the evening. Or at least, the Brothers Grimm did. Wee Willie never seemed to have any money left from his 'wages'.
He managed about eighteen months of this existence. His very first job. Then he was done for drinking and driving – for the second time. Three months in Wormwood Scrubs beckoned. His long locks were cut off, and he wept. A meeting was arranged with the prison psychiatrist. There he explained that he had never had a proper job because of his long hair. He had the long hair because his ears stuck out. (I kid you not).
He was (and I'm still spitting tacks 40 years later!) transferred to the local hospital, during his jail spell, where plastic surgery was performed on his precious little ears. I would cheerfully have pinned them back for him, but the NHS did it instead.
When he was released, he was in a huff with his brothers; they should have got him a better solicitor apparently, all their fault that he had landed up in jail. He stalked off to live with one of his many girlfriends. She had a good job and a flat. He had his unemployment benefit. He never did work again. Never.
After a few years, a few more girlfriends supporting him, a few more years on the dole, he acquired his own council flat. A job 'on the black' as a part time potman in return for free beer, and incredibly, Disability Living Allowance, since he was now officially an alcoholic. Latterly, this has been a the rate of £120 a week. 40 years worth.
He is now 58. Never had a proper job – and just been captured by the Independent Tribunals which are deciding who can work and who cannot.
They, I am utterly delighted to say, have decided that being an alcoholic is no bar to employment in his case, and cut his allowance down to £68 a week. He is so frightened that they might find him a job that he has fled back to Liverpool, where he is quite sure that no employment can be found for a 58 year old, fat as a Tick, bone idle, Scouse, even with his ears pinned back.
He has moved in with his single older, older, brother, (he's no longer so attractive to the ladies – God knows how many kids he's fathered over the years) got his name on the rent book, and will, average life spans being what they are, shortly inherit a three bedroomed council house in Liverpool. There he will wait out the 7 years until he gets his pension – one of the advantages of having never had a job is that he has a full record of credited contributions and will get a full pension; and housing benefit; and heating allowance, and all the other things that a compassionate populace pay for our elderly impoverished pensioners.
At least the nation is £50 a week better off as a result of one of these 'totally unfair' tribunals. Nothing else has ever impeded his progress through life as a Slice of Pond Life.
He actually thought I might 'help him out' for old times sake – on account of 'it's awright for you, you've always been so lucky'.
Yep, that's the difference Wee Willie, luck, bucket loads of it. In fact I'm the luckiest person I know.
How many 'Wee Willie's' are out there, do you think? Solution?
December 2, 2011 at 11:51










December 2, 2011 at 08:25







December 2, 2011 at 08:21




December 2, 2011 at 07:30










December 2, 2011 at 01:46




December 2, 2011 at 00:17




December 1, 2011 at 21:15







December 1, 2011 at 20:16










December 1, 2011 at 20:10




December 1, 2011 at 19:31












December 1, 2011 at 19:17







December 1, 2011 at 18:39









December 1, 2011 at 17:24




December 1, 2011 at 17:23




December 1, 2011 at 16:47