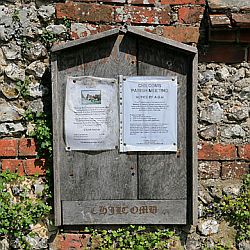 Apologies for the last week, folks. I have had the week from Hell!
My computer welcomed me back from my last stay in Hospital by rolling on its back, kicking its legs in the air and shouting 'stuff you, Missus' at the top of its voice. It then comprehensively and terminally died. Ungrateful sod.
My back up failed, my hard drive failed. Apparently the inner power supply was delivering voltage where it shouldn't have been and not where it should.
If you have e-mailed me in the last few weeks and wonder why I haven't replied – it's because I no longer have your e-mail, er, or your address, er, or any of my photographs, nay, not even the one of Old Holborn being potty trained which was going to fund my pension one day; nor do I have any of my passwords, or anything really. Gone and not remembered.
The only person I trust within a mile of my computer, given the number of ex-widget makers from Walsall who have reinvented themselves as expensive computer technicians in the Dordogne, lives 500 miles south of here. Thus it was that I set off last Thursday morning with computer under arm, to Cathar country.
Fabulous journey, worth every penny I ended up paying for it. Soaring up and down mountains in the winter sun, overtaking hovering hawks, spying distant Cathar fortresses perched on crags, just the tonic I needed after weeks of hospitalisation. Loved it. Unfortunately it didn't love me.
By the time we reached our destination I was unwell again; little Ms Anna 'thinks she can run before she can walk' Raccoon – Mr G had a nightmare 500 mile journey with a very sick moi getting me back to the hospital again – and I have spent the past five days back in the Brig once more.
So, sick Anna, sick computer; made the mistake of paying the bar staff their Christmas bonus before I went = no posts. Apologies etc.
Since I now have to start from scratch with everything, I am going to take the liberty of making a few changes around here – and if there are any graphic artists out there willing to assist with a new header, since I have also lost the address of the man who was going to do it….I would welcome your talented assistance.
Any preferences whilst I am mucking about with the appearance of the site? I think we need a fresh coat of paint to go with this fresh start……the bar is looking mouldy and stale.
Whilst you think about it, I shall see if I can rebuild my RSS feed – and see what has been happening in the world the last few days.
We will not be beaten!