Inflation/deflation conundrum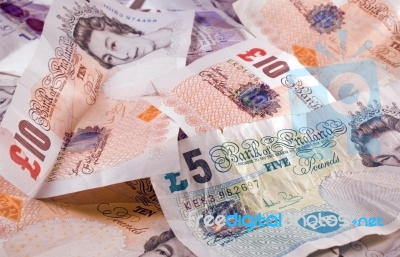 I would be most interested to hear the views of the readers of this blog on whether our future is one of shattering inflation or indeed price deflation.
First let me say, I do not fear deflation; the computer industry has had price deflation and improving products for twenty years, just think what you paid for that laptop with 4MB Ram in the early 1990's It hasn't hurt Apple or Microsoft any. Indeed the only people who need fear deflation are the indebted, and we know who are the most indebted in the UK ~ dear old HM Government.
But I can't see how a fractional reserve, fiat currency is inherently deflationary, particularly when the last government and this one seem to have conjured £275B out of thin air via the QE program. If that's not inflationary, I don't know what is? Sure the velocity of money has slowed as the banks variously hoard cash or loan it back to the government via the 'smoke & mirrors' accounting that passes for sanity in the Treasury these days. But the cash still exists does it not?
I have heard the argument that as bank lending has contracted (to the private sector at least) this contracts the money supply and is this deflationary and there is something to this. But the ongoing price rises in commodities and imported goods seem to have stoked the RPI figure way above target, and HM Government don't seem terribly concerned.
But the real clincher for me which suggest inflation is what is going on with the Euro. Greece could be bailed out more or less as it is tiny. But trying that with Italy, Spain and now apparently France is a non-starter. The remaining sovereigns won't pay much more, nor will the Chinese and the Americans can't. The ECB balance sheet is nowhere near sufficient for the task and so the choice is either:
to let country after country default and smash all their national banks (surely a non-starter),
let the Euro dissolve and go back to national currencies (the right move, but devastating for the EU project as a whole, so I can't see it on a large scale) or,
get the ECB to print.
And thus I think inflation, rampant and long-term as the UK engages in de facto devaluation as we also print to avoid having Sterling "over-valued"
Questions, comments, thoughts?



November 21, 2011 at 09:08




November 20, 2011 at 18:10




November 19, 2011 at 09:29







November 19, 2011 at 09:00







November 19, 2011 at 06:56




November 19, 2011 at 00:14







November 18, 2011 at 20:45




November 18, 2011 at 19:02




November 18, 2011 at 15:33







November 18, 2011 at 18:54




November 18, 2011 at 20:14




November 18, 2011 at 13:25







November 18, 2011 at 19:06




November 19, 2011 at 10:42




November 18, 2011 at 10:31







November 18, 2011 at 12:13










November 18, 2011 at 14:35










November 18, 2011 at 14:40










November 18, 2011 at 15:48







November 18, 2011 at 14:45










November 18, 2011 at 15:50







November 18, 2011 at 09:35




November 17, 2011 at 23:03










November 18, 2011 at 14:40




November 17, 2011 at 22:55







November 18, 2011 at 01:38




November 17, 2011 at 22:48




November 17, 2011 at 22:25




November 17, 2011 at 21:43










November 20, 2011 at 08:56




November 17, 2011 at 20:14







November 17, 2011 at 19:00




November 17, 2011 at 18:59




November 17, 2011 at 16:56




November 17, 2011 at 16:35







November 17, 2011 at 14:54







November 17, 2011 at 11:31




November 17, 2011 at 11:23










November 17, 2011 at 18:44