In the Absence of the Born Leader, Talent Becomes Everything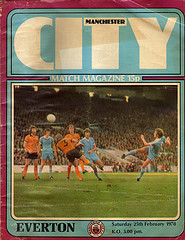 Man City's astonishing demolition of their city rivals at fortress Old Trafford was too significant as both result and statement not to have any lasting meaning. This bunny is by no means a United supporter, although the Eastlands spending spree has gone some way towards removing the club of its status as plucky underdog and default option on derby day. The events the other Sunday, those final few minutes in particular where United simply capitulated, were astonishing listening/viewing and wholly unexpected in terms of scale, but this bunny could not enjoy the experience in the same way as might have been the case but a few years ago. Of course, it could simply not have happened back then…
This may or may not represent a changing of the guard in terms of domestic dominance. It stands to reason that one side capable of strengthening to the extent that City have in recent years is bound to win major trophies before too long, but then a nine month Premier League campaign is an awful long time for a squad of immensely wealthy personnel, some of whose egos require round-the-clock massage, to stick together and pull in the same direction. Were the current season being played out in a computer game, then City might be the only team this bunny would wish to manage minus the benefit of some 'cheat' formation if he wished to actually win something. Back to reality, where keeping all those star players happy until next May will prove awfully difficult, while the Tevez affair appears to have further potential twists.
But if we're realistic, they've gone massive favourites to win the title for the first time for nearly half a century. One of the aspects that has to be factored into an equation is the state of the competition, and what we have seen already this season would indicate that there are further uncontrollables likely to break in their favour over the coming weeks and months. Chelsea, in the midst of a Villas-Boas revolution, appear to be a less than cohesive mish-mash of ageing quality, new additions and potential stars of tomorrow. Their brand of football is a whole lot more exciting and progressive than it has been at any time in the Abramovich era, but a sense of vulnerability in defence is apparent, and it may be two seasons before 'the new Mourinho' establishes 'his team' and they are ready to challenge again.
United have two significant issues. First up, the relative austerity brought about by the Glazer era finally appears to have bitten as their level of strength in depth has dipped somewhat markedly in the last two seasons. A few players missing through injury or suspension, and the opposing team sheet simply does not look as daunting as it otherwise might – while their first eleven is capable of matching pretty much anyone bar the once in a generation team that is Barcelona, possessing a squad capable of sustaining those levels of performance over nine months is an entirely different matter. The manner in which Basel, a middling European side, created scoring opportunities at will when they visited Old Trafford for a Champions League encounter, surely goes a long way towards amplifying this point. Notoriously poor travellers at continental level, they were a matter of seconds from returning to the land of cowbells and toblerones with a famous 2-3 victory.
I'm currently listening to a 5Live piece on Pressure in Sport, and someone has just made what is essentially this bunny's point regarding United's biggest current problem. Previous success has not simply been built on the presence of talented players, but men who acted as extensions of Sir Alex and his matra out on the field of play. Roy Keane, controversial a figure as he was, epitomised this type of player and their significance more than anyone. Not only were his engine, robust tackling and will to win a package capable of substantially stiffening even the most flimsy midfield, but Keane was the type prone to dishing out more than the occasional bollocking and throttling team-mates if standards slipped below the required level (this tendency would of course lead to his eventual departure from Old Trafford).
United were blessed in the 1990s and 2000s with a series of individuals capable of raising the whole to something greater than the sum of its parts. Bryan Robson was the first to fulfil the role of eyes and ears for his boss, and Edwin Van Der Sar may well have been the last. This bunny had a hunch that United would badly miss the retiring gloveman, for reasons that went beyond the immediate – professionals of his ilk are appear to be something of a dying breed in a modern game where absolute hunger is perhaps does not drive the average player through his career like it once did.
As the likes of Keane (who would no doubt have banged a few heads together when the score was 1-3) become more few and far between, elite level football may simply come down to the game of chess between coaches and the quality of the pieces they have to play with. Should the notion of club ethos die, then this can only be United's loss and City's gain. Take care and I'll catch you soon…
Daz Pearce
Original article on OutspokenRabbit
Photo by Smabs Sputzer
November 6, 2011 at 11:40




November 5, 2011 at 13:20