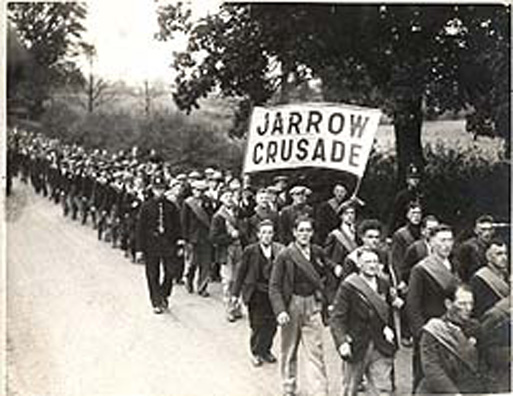 75 years ago, 200 carefully selected men, in strict formation and their Sunday best, accompanied by a barber – lest they give the impression of being unemployable en route – set out to march the 299 miles to Downing Street.
They held their heads high; they looked not for false sympathy, but to bring attention to the fact that the Jarrow ship yards, their town's largest employer, was in dire straits and unable to provide work to feed their families.
Dole money for an entire family was 32 shillings a week, and then means tested. If a family of four owned five cups – they were expected to sell one, absolutely no money so long as they had their basic needs, no free hospital treatment, no incapacity benefit. No work equalled no food for their families. The unemployment rate was 73%. They could not even fall back on the support of their family and friends – they were all in the same boat. Starving.
In 2003 the last of the marchers Cornelius Whalen, died in a Gateshead hospital. He remembered one of the marchers being given a slice of meat to eat by a sympathiser – and promptly putting it in an envelope and posting it back to his family in Jarrow for their tea.
In 2000 Cornelius was 'outraged' at the fuel tax protestors calling for a second 'Jarrow Crusade' – he dismissed this as, "a ridiculous insult… For us it was a question of hardship and hunger, but these people [farmers and hauliers] are well off."
Just as well Cornelius was not around this week.
This week, a rag tag and bobtail 'army' set out to recreate the Jarrow march.
They were complaining that in future they would have to repay their student grants; one, long haired, allegedly the possessor of a first class degree from Cambridge, said that he was marching because the 'government needed to provide him with a job'.
What job flower? Who should employ you looking like an ageing 70s rocker? What do you have to offer? Are there really no jobs left picking carrots in East Anglia, or do you not fancy that?
Another, female this time, apparently with a 2:1 degree said it was 'difficult' to get a job.
All of them well fed, well educated; young people, not supporting families; in good health. They are as far removed from the original Jarrow marchers as it is possible to get.
They can't even march in a straight line – either that or London has moved. They say they walked 330 miles.
Shame on them for daring to call themselves 'Jarrow Marchers'. Callow marchers maybe. November 6, 2011 at 10:00







November 6, 2011 at 07:59




November 6, 2011 at 05:37




November 6, 2011 at 03:53




November 6, 2011 at 01:04




November 5, 2011 at 20:06




November 5, 2011 at 16:17







November 5, 2011 at 15:48







November 5, 2011 at 15:27










November 5, 2011 at 22:34







November 5, 2011 at 23:30







November 6, 2011 at 09:08







November 7, 2011 at 09:21




November 5, 2011 at 15:22







November 5, 2011 at 14:36










November 5, 2011 at 16:50







November 5, 2011 at 22:32







November 6, 2011 at 00:04