Pouring Greece on Troubled Waters.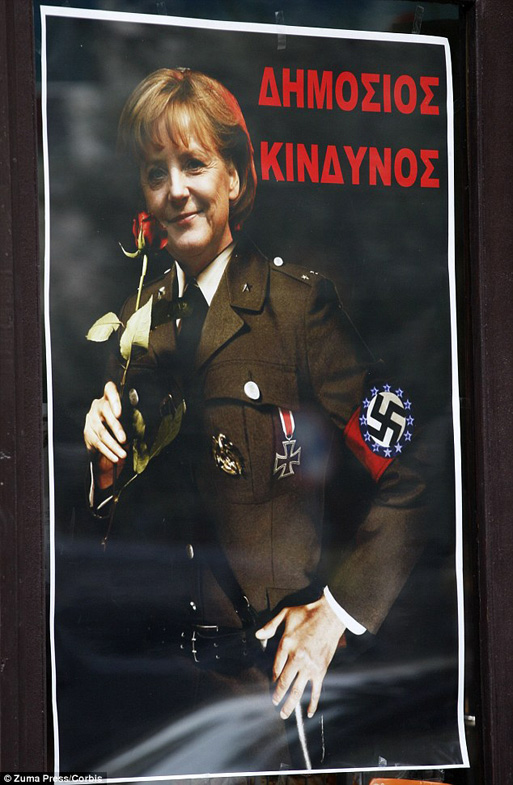 Just when the Bankers and the Politicians thought they had it all sewn up – even Gordon Brown has done a complete about turn from his days of 'British Jobs for British Workers' and called (from the safety of Washington!) for a boycott of 'Protectionism' aka, every man for himself – the Greeks rediscover their ancient talisman of 'democracy' and hold it up before the gathering vultures.
Either way, they will be profoundly skint, but Papandreou has threatened to ask the Greek people whether they would prefer to be free and skint, or skint with a German jackboot up their backside.
Since their reaction to the threat of a property tax accompanied by their electricity being cut off if they didn't pay up – was to rush out and spend the money under their mattresses on generators and an illicit supply of diesel, it hasn't taken a Euro politician too long to work out what the likely result of the referendum is likely to be.
Papandreou has replaced his military chiefs with those who support him, and presumably offered them a safe berth on the new warships that France unaccountably offered him in a 'take now' and 'don't bother to pay anything for five years deal' – you have to wonder (as ever) which side France is on.
The Euro Commissars have reeled away in horror from this outbreak of democracy – 'Ask the people'? 'What do they know'?
The French called the proposal 'irrational and dangerous', Merkel, 'irritating'.
Irritating? Could any single word summon up the complete contempt that both politicians and bankers hold for us, the generators of all their funds.
Irritating! Fleas on a dog are irritating, haemorrhoids are irritating. Now we know – giving the public a say in how their taxes are spent is believed to be 'irritating' by those in power.
Yes, the Greeks have taken full advantage of the riches heaped upon them by the Euro commissars – as has every other nation.
Did you ever hear the Welsh complain as millions were spent in preserving their archaic language – did you ever hear the mention of the word 'Ponzi scheme' as every road sign in the country was changed to multi-lingual? As flyovers appeared to bypass villages that no one had wanted to drive through in years? Did Welsh taxi drivers ever pause to consider that they hadn't 'earned' these riches?
Why then are we seeing a sudden rash of articles complaining of how 'unfair' it all is, that Greek taxi drivers should have known they were living beyond their means? They really should give the money back and live on olives for the rest of their lives!
The whole of Europe has benefitted from the Euro millions, and not one of us has ever paused to wonder whether we have 'earned' it or not. Nor where it came from. We haven't bothered to vote in the Euro elections, we haven't bothered to look at who our representatives in those elections were.
We have rejoiced as we reaped 'unearned' thousands on the housing market, made television programmes explaining how to reap ever more. We have demanded 'flyovers' be built to protect crested newts/frogs/bats trying to cross ancient forest land – did we ask where the money was coming from? Did we heck.
Angela Merkel says that the Greek refusal to accept a jackboot planted on their backside 'threatens the stability of Europe'. I doubt that sentence is complete. I think it threatens the stability of the new rulers of Europe – and we are about to witness the greatest revolution since Bodin postulated the theory of rule by divine right.
Libertarianism might emerge in Greece yet.
November 6, 2011 at 10:13




November 3, 2011 at 19:48




November 3, 2011 at 10:13







November 3, 2011 at 10:16




November 2, 2011 at 23:30




November 2, 2011 at 18:05










November 2, 2011 at 18:46




November 2, 2011 at 17:39




November 2, 2011 at 17:32




November 2, 2011 at 17:17







November 2, 2011 at 16:57







November 4, 2011 at 05:30







November 4, 2011 at 08:06







November 4, 2011 at 09:37







November 4, 2011 at 09:52

November 2, 2011 at 16:16




November 2, 2011 at 16:00




November 2, 2011 at 15:52







November 2, 2011 at 16:00







November 2, 2011 at 16:34










November 2, 2011 at 16:43




November 2, 2011 at 15:34