How To Be Sectioned, Part 2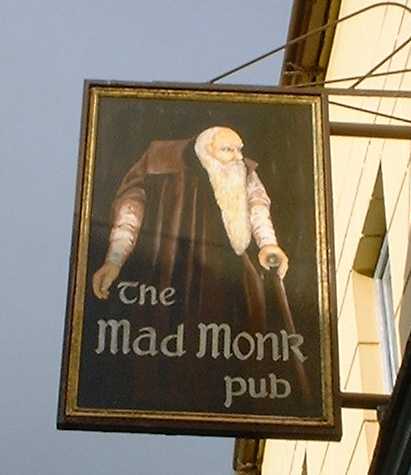 A few weeks ago I wrote an inconsequential piece about a strange experience in which I underwent a so called "peak" experience. My conclusion was that this was a real phenomenon which was created by a potent mix of exercise, joy, excitement and being in a natural environment which created a flood of endorphins and adrenalin. Therefore this "spiritual event" had a purely rational explanation.
I hinted at a follow up which had a less rational explanation.
I have been very nervous about putting one forward, because this piece may well get me sectioned as a fully paid up, card carrying, nut job. I will take the risk.
One evening, some years ago when I was in my early thirties, I was feeling a bit low. I had let someone down over some small thing and felt down and generally a bit tired. As was my wont I attended the local pub in the evening, and had a two or three pints (of beer not scotch). Nothing heavy.
I was walking back home still feeling a bit low and down on myself when suddenly "it" happened.
What "it" was a voice inside my head. That is a very strange thing to happen, at least for me. And it does not quite do the experience justice. It was a voice which seemed to speak directly to my consciousness. It was very clear, very calm, very precise, and it said the same short thing twice:
"You can have anything you want. You can have anything you want."
And then –
Nothing. No sound of an angel flapping its wings as it flew away. No sound of Heaven's door snapping shut. Rather unhelpfully (as I have often reflected afterwards), there was no explanation or instruction as to how this rather wonderful news might be carried into effect.
I remember one extra detail however, that may be significant. I was for the rest of the evening quite energised, as though I had a burst of adrenalin fuelled energy. Indeed, I found it hard to sleep because I felt slightly "electrified".
Since then life has been the usual roller-coaster ride of ups with some quite sharp lows. I have not developed the power to fly, walk on water or turn water into wine. I have not been showered with wealth (far from it) and have generally messed up in various degrees both personal and professional life.
What then, was this strange phenomenon? Was the" message" simply a delusion?
It seems to me that there are four explanations.
One is that I am making it up. I ask you to reject that as irrational because I have nothing to gain and risk ridicule. Also, I don't see what my point would be.
The next is that I suffered from some temporary insanity or was perhaps drunk. In short I imagined it. I have set out my alcohol intake faithfully and I don't feel it was a cause. But why temporary insanity? And what provoked it? Just being a bit gloomy?
The third (perhaps developing the second) is that this was the product of my subconscious mind acting in some was to "kick start" my enthusiasm when I was feeling a bit low, or some such. Okay, more substance to that one I agree. All I can say is that it did not feel like that.
There is a fourth explanation, which is that there is a great deal more to the reality that we experience than might at first meet the eye and the relationship between our thoughts and what I will call in neutral terms "The Universe".
I have often reflected on this message. I have read widely on matters esoteric, and not so esoteric. I think that I am not alone in experiencing some sort of moment of incredible insight. In the seminal work "Cosmic Consciousness" written in 1900, the psychiatrist Richard Bucke (who greatly influenced Jung, I believe) examined and theorized about the potential for a higher consciousness. As I recall, he suggested that many of those whom he takes as case studies for exhibiting this higher form of thought have some momentary intense insight which typically takes place in their early to mid thirties, just as I was.
However, in my own case I can hardly report that I feel I achieved a genuine "Higher Order of Consciousness". In fact, I have often been rather stupid.
What then do I make of this phenomenon? Frankly, I think that it was a "real" experience and that it simply set out a fundamental truth which it was for me to make as much or as little of as I thought fit, although the agency of this message is rather perplexing. A truth which for some unfathomable reason what I call "The Universe" (put whatever name you want on it) prefers to be introduced indirectly. As in this well known poem:
I bargained with Life for a penny,
And Life would pay no more,
However I begged at evening
When I counted my scanty store;
For Life is a just employer,
He gives you what you ask,
But once you have set the wages,
Why, you must bear the task.
I worked for a menial's hire,
Only to learn, dismayed,
That any wage I had asked of Life,
Life would have willingly paid.
Make of it what you will.
Gildas the Monk
(Photo Credit: Mad Monk)
November 1, 2011 at 07:35










November 1, 2011 at 07:48







November 1, 2011 at 09:30




October 31, 2011 at 14:27




October 30, 2011 at 22:51










October 31, 2011 at 07:01




October 30, 2011 at 21:53







October 30, 2011 at 12:21




October 30, 2011 at 11:32










October 30, 2011 at 13:51










October 30, 2011 at 16:24




October 30, 2011 at 10:12







October 30, 2011 at 09:25




October 30, 2011 at 08:58




October 30, 2011 at 08:54




October 30, 2011 at 08:25










October 30, 2011 at 09:26