Anonymous – Hints for Citizens in a Revolution.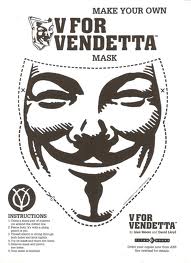 Anonymous, the internet based activist group best known in the UK for its attacks on Amazon, PayPal, Mastercard and Visa in the wake of Wikileak's publication of the US diplomatic cables, has published its definitive volume of advice for those living in a country undergoing revolution.
Reading it makes for an entertaining afternoon. My suspicion is that it was written by a 14 year old hacker in his Mum's back bedroom. It is the world as envisaged by one who has never strayed further from his computer than the local Starbucks – with free wi-fi!
We start on Page 2 – A revolution may be imminent if:
Social networks like Twitter are blocked completely or
The #Hashtag of your country, or name of your political leader is trending worldwide on Twitter.
If it's not on Twitter you just don't have a pucker revolution!
By page 4 we are onto emergency food supplies for the next month like:
High energy foods, including peanut butter, jelly, crackers, granola bars, trail mix, dried rolled oats, wheat, barley and other grains, dried fruit, nuts (ensure nobody is allergic, however).
You may find peanut butter and jelly in short supply, consult your local consulate – that is what they are there for…
Since your country is now undergoing revolution you should not forget your 'take box' containing amongst other gems:
Copies of insurance policies; mortgage information; house and car title; large purchase receipts.
In the midst of revolution, the man from the Pru is bound to be still at his desk…..!
A 'box of tampons' is a helpful addition to your first aid kit – apparently you can use these to plug bullet hole wounds…..you are, however, admonished 'not to try to fight men armed with guns'.
But then if you 'must travel on foot, travel light' – so far you have a small field hospital on your back, the contents of the local grocery store, a salvaged fire extinguisher in case you meet any fires, a box of documents, your survival manual, and, I almost forgot to mention, a saucepan on your head, safety goggles on your eyes, steel toe capped shoes to protect you from broken glass, and spare socks in case your feet get wet…I am not making this up.
If you stagger as far as the first corner, I salute you Sir or Madam.
However, you are not out of danger yet.
There are 'exceptional situations' to deal with.
One of the best ways of avoiding being raped is 'not to wear a skirt' apparently. Someone tell this kid that legions of gays are raped every year that have NEVER worn a skirt…..It gets better, the second best way of avoiding rape is not 'to appear desirable or attractive' – not with that saucepan on your head and the steel toe capped shoes you won't. (Beware passing marauding lumberjacks, they have odd tastes). The final deterrent is to 'wear a wedding ring, even if not married' – gun toting revolutionaries must be greater respecters of the sanctity of the marriage bed than your average city centre rapist is all I can say.
If caught up in a stampede 'avoid falling to the ground' – yep, sound advice. But then:
If you're lucky enough to have a car that you can drive away from the riot, drive quickly and try not to stop for anything until you've reached some place you know is safe.
Never forgetting, whilst driving quickly and not stopping for anything:
Driving towards Police lines can be interpreted by the Police as a preparation to use the car as a weapon against them. Police are trained and prepared to protect themselves against deadly threats meaning that you may be shot at if they think you are going to run them down with a car.
And who can blame them if the lunatic with the saucepan on his head drives straight at them?
We still have more exceptional situations to deal with, Tear Gas for one…
Diving masks hold off a lot.
Especially when accompanied by the saucepan on the head. He isn't finished yet…how to protect yourself against rubber bullets and riot cops:
Either a motorcycle helmet or best of all 'use adult diapers and plastic boxes to protect genitals and chest'.
Yep, Granny's incontinence pads came in handy after all – aren't you glad you stashed them in the SAS defying load on your back?
Hang on – just got to page 12 – you need an Old Holborn style V for Vendetta mask over your previous attire 'to avoid being identified' which could result in 'repression imprisonment or even death' – he doesn't mention being 'sectioned' in this list, I would have thought it a more likely fate if you've followed all the advice so far.
There follows a check list of what you should be carrying – best read in full, but includes; pre-addressed stamped postcards (you never know when you might want to send a 'wish you were here' card to your nearest and dearest), a birth supply kit (who knows, you might pass a fellow revolutionary about to drop one) a snake bite kit (ignore this if you are caught up in an Irish uprising, they haven't got any snakes) and any 'stocks and bonds' in a waterproof container (those Greek sovereign bonds might have some value when the revolution is over).
'Hey, let's be careful out there' – if the UK is on the verge of revolution, you need to know how to avoid those who have followed 'Anonymous's' advice.
Hours of innocent fun. You can download your very own copy HERE.
October 29, 2011 at 12:47




October 29, 2011 at 12:23




October 29, 2011 at 08:45




October 29, 2011 at 01:21




October 28, 2011 at 23:31




October 28, 2011 at 22:43










October 29, 2011 at 08:46










October 29, 2011 at 11:57




October 29, 2011 at 10:45







October 29, 2011 at 11:52




October 28, 2011 at 22:29







October 28, 2011 at 19:26




October 28, 2011 at 19:15







October 28, 2011 at 18:39







October 28, 2011 at 18:24




October 28, 2011 at 17:47




October 28, 2011 at 17:41