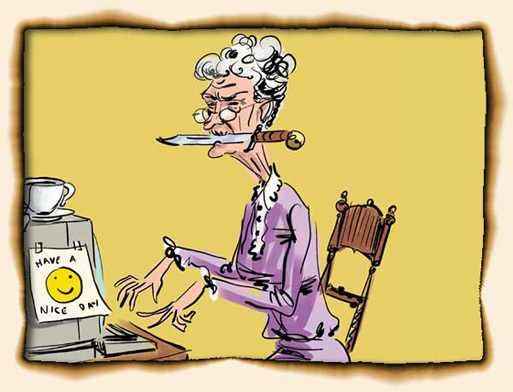 What a week to miss in politics!
Liam Fox resigns to spend more time with his exotic extended 'family'. While we wait with scarcely baited breath to find out which 'wing' of his family he will be spending more time with in future, those of us who are interested that is; eeny meeny miney mo, Jesme, Adam or anuvver foe? – I am left pondering the imponderable – why did he resign?
Was it that the latest revelations were news to him also? In which case why didn't he contest the revelations?
Were the latest revelations simply untrue? In which case why didn't he contest the revelations?
Or were the latest revelations merely 'previously unknown' to the media – in which case what happened to 'putting nation before self' – he knew he had done all these things, but felt he was entitled to remain in office so long as the media – and us – didn't know? What venal hypocrisy! Self serving sanctimony – from a man charged with bringing the 'British' version of democracy to other nations!
Who grassed him up to the Media? Who knew where all the bodies were buried? Well Adam did…but then again, who knows what the mysterious Jesme knew…
I have been winding myself up all week reading Alan Clark's 'Early Years' biography. One long navel gazing whinge from a man born into unimaginable privilege and bounty, now up to his ears in debt, fornicating with everything with or without a pulse, monitoring his own pulse with terminal introspection, and glowering with indignation that he wasn't presented with higher office, the better to impose his values on the rest of us.
What was wrong with Clark? Didn't he have a boyfriend? Didn't they think he could balance trussed up on a table with his black silk stockings and an orange in his mouth? Had he never been admitted to St Mary's for repairs to his rear end? Hadn't he ever blatantly lied about his dedication to his family? All those fast cars, surely he must have persuaded at least one person to take speeding penalties for him? What kept him out of office for so long?
I despair really – is there anyone who wants to be a politician who is actually fit for purpose? Or is the notion an oxymoron – here I go again, sliding into the anarchist's camp….
Talking of anarchists, at least the media version of 'anarchists' and other assorted activists. I see the one political tribe who haven't changed their uniform in 30 years – Bankers now go to work in Chino's, no longer in bowler hats; the working man would be seen dead in anything less than the latest Manchester United strip; Foreign Office Ministers have forsaken their gold watch chains for the latest Rolex and an open neck shirt – but the activists cling to their fair isle bobble hats with floppy knitted goats ears….and are currently to be found parked on what is in effect the front lawn of the richest property owner in Britain, the one that undoubtedly pays the least in taxes, one who employs some of the most retarded, spineless and stupid lawyers (I'll leave you to guess who is closely related to one of this insipid specialist breed!) to defend their hereditary rights and privileges – and the activists and anti-globalists are delighted to be there – are they pointing their guns in the direction of their hosts?
No, of course not; not the cuddly, clappy, church of sanctuary – their guns are pointed outwards towards anyone and everyone not fully employed by a union but none the less mysteriously producing the wherewithal that allows them to give up more than half of the value of their honest labour to feed and clothe this motley crew.
Talking of fully employed union 'pilgrims', since I have been away, the postman has been kind enough to deliver a copy of the bills the French Government has paid on my behalf to the French Health Service. It has, so far, cost the French Government a stunning 27,200 Euros to at least keep this blogger's fingers tapping away, even if not much else is currently in working order. Still look on the bright side, according to the prognosis of a scant few weeks ago, I should have been dead by now. That I'm not is solely down to the excellence of the French Health Service.
Her Majesty's Britannic Government is pleased to contribute the sum of 2,500 pounds a year to that monstrous bill on account of how I've paid my Taxes and National Insurance payments for 42 years – they'd be able to contribute more but they have to pay (I'm indebted to bineo in the comments) for approximately 1 in 10 homes in Britain to be inhabited by a member of the NHS service, many of those full time union employees.
So the French Government gets to pay to keep me alive, and the British taxpayer gets to pay for more whingers moaning about their pension contributions, the price of Gas, whether they should get extra pay for correctly filling in the form saying how many patients they've managed to give MRSA to this week, and can they please have Saturday off to get on the free coach down to London to join the 'knitted ear' ones and scream about the swinging cuts to the NHS…
How many pilgrims do you get for 25,000 Euros?
Not even half a one I'll wager. And there are hundreds of them.
More pent up rants when I wake up again. A whole week reading Alan Clark, I deserve a medal.



October 19, 2011 at 09:49




October 18, 2011 at 21:38




October 18, 2011 at 21:27




October 18, 2011 at 20:39




October 18, 2011 at 19:39







October 20, 2011 at 12:34




October 18, 2011 at 19:05




October 18, 2011 at 18:59




October 18, 2011 at 17:47







October 18, 2011 at 18:58




October 18, 2011 at 17:26