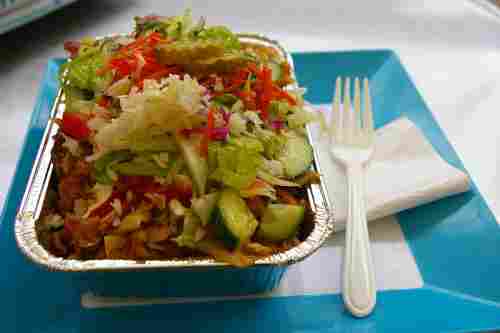 I bet you're wondering who or what or where a Kapsalon is?
The clue is in the picture above. It's a type of food. The name is Dutch and literally means Babershop. This is because it was invented by a barber in 2003 who put all his favourite ingredients into one dish.
The Kapsalon might even replace the traditional British after pub meal of donor kebab. It too it is made of donor meat and so is not a million miles away from the kebab.
It's made of chips, garlic sauce, doner or shawarma meat, cheese, and for the healthy bit some lettuce and green peppers.
To make it put the chips in a tray (the kind used to hold a curry or chinese are ideal), drizzle with some garlic sauce to taste though chilli sauce should work too, and then place the meat on top of that. Cover with cheese, Gouda is a good one to use, and grill till the cheese has melted. Remove from the grill and cover with your choice of salad greens.
Tuck in!
H/t El Reg
SBML