You Can't Go Back, Mr Union Jack!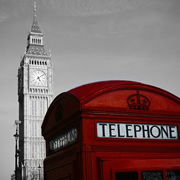 The political and economic crisis in Europe has ignited a spark of doubt in the European Union project across The Old Continent.
The United Kingdom always leads the crowd when those kind of doubts come to the surface. It's no secret that the British are not crazy about European integration and that their society has issues in developing the European sub identity of this great nation. That's not something unexpected because in my part of Europe they are known as cocky little puritans who see themselves on a pedestal and the rest of us as their subordinates, so it would be illusory to assume that they would make a real sacrifice for this project to work.
Britain is not part of the EU because it thinks it belongs there but because it needs the EU. That's something the Brits will never admit, either to themselves or to others.
The British have been constantly losing their power and geopolitical influence for decades, but they sure can't get over it.
Today's Britain has lost its importance and plays a secondary role in the global politics, far behind the United States, China, Russia and the Berlin-Paris axis which carries the European Union. The reasons for such a situation are not just historical but also economic and political. United Kingdom wasn't subordinated to the European project from the start and, metaphorically speaking, it's more like a Trojan horse of the United Europe than anything else. Brits pursue exclusively their own interests trying to limit German influence on Europe in every possible way. That's just not the way to build the strong Europe and there is no strong Britain without a stable Europe. Although many Brits would like to move away from those beyond their shores I reckon it's not even an option for British politicians. And if Britain's departure is ever going to happen, it surely won't while David Cameron and the Tories are at the helm. The best party to compare Cameron and his Conservative Party with is definitely our HDZ (Croatian Democratic Union). From their voters' perspective, once they realise it, they are just a bunch of frauds with no beliefs or ideology, pragmatic opportunists who protect national sovereignty and traditional values only by mouth. Just like former Croatian Prime Minister Ivo Sanader, one who also fits the above-mentioned characteristics, but couldn't match deceased Franjo Tudjman at the helm of the HDZ nor the country, David Cameron can't match Margaret Thatcher. His and William Hague's "euro scepticism" is somewhere near Delboy Trotter's sophistication, pretty much non-existent or just imaginary. On the other hand, Delboy is an undisputed legend and these two are, just like the former Croatian Prime Minister, politicians led by publicity, marketing, polls, opinion makers' words and apparently ruled by the media and, eventually, the EU itself. In the future, by my predictions, Britain won't be even one inch farther from Brussels than it is at the moment. It can just be closer. Despite the Conservatives' affection for the United States, as America will progressively lose its power and global influence, Britain will bring itself closer to Berlin and Moscow. Making friends in Russia has already taken place for quite some time now and strengthening the bonds with Berlin is also inevitable if London wants to retain influence on global politics. But first, the British must resolve some of their inner issues, issues concerning pride and facing the reality. If you put populism and the Royal Wedding aside, there's nothing left of the mighty British Empire. Decade by decade it's getting smaller and less influential although the cockiness is still there.
But you can't go back Mr. Union Jack, there's no Empire any more, there's no British supremacy, we entered the new Era in which either you'll be a team player or you'll go down to Third Division.
Lose your cockiness or your significance. The choice is all yours.
Edited by Anna to make it easier to read – for English is not Donatus' first language.
(Interesting to see how others see us, is it not?)



October 6, 2011 at 22:13







October 6, 2011 at 16:43




October 6, 2011 at 13:16







October 6, 2011 at 20:38







October 6, 2011 at 13:01










October 6, 2011 at 12:56







October 6, 2011 at 10:11







October 6, 2011 at 08:58




October 5, 2011 at 23:45




October 5, 2011 at 22:16







October 5, 2011 at 22:49










October 6, 2011 at 03:02







October 6, 2011 at 08:38










October 6, 2011 at 18:05









October 5, 2011 at 20:40




October 5, 2011 at 20:19







October 5, 2011 at 19:40







October 5, 2011 at 18:30




October 5, 2011 at 17:53







October 5, 2011 at 17:25