Pussy Talk and Conference Balls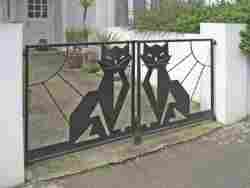 I quite like Theresa May. It may be because I am an inveterate flirt and quite like posh women with fancy tastes in shoes. I don't know. And when she makes a serious point that the legal system is being abused by a motley collection – nay, army – of thieves, murderers, drug dealers and malefactors who make hay in the United Kingdom by virtue of the "Yuman Rights" Act, she should be on solid ground with me.
The "Yuman Rights" Act, by the way, is an Act of Parliament which says that if you are a law abiding citizen of this country you are not allowed to complain if some Somali pirate with a penchant for knife crime stabs someone in the neck and we cannot throw him out of the country, back into the nasty pit whence he crawled. Provided, that is, he has managed to sire some offspring with one of his crack whores first, in which case he has a "right to family life" and is entitled to remain here. Usually at public expense.
This has been a little gravy train for lawyers of all levels and reputations for ages, and one of the few areas of civil law where what used to be known as Legal Aid has not been withdrawn. I don't know why, but isn't that right, Cherie?
So what has Mrs May done to vex me? Well, complaining about a Bolivian asylum seeker being allowed to stay because he has a cat.
La May has defended herself claiming that the cat was a material factor in the court's reasoning.
It is funny, by the way, how many asylum seekers find girlfriends and produce offspring with such alacrity. Odd, that. How does that happen? Dunno.
Perhaps she has a point. I wouldn't put it past the Orwellian Ministry Of Justice to start the "spin" which is the main activity of public sector interests these days and defend what was the usual judicial insanity.
The net result, however, is that the debate has been skewed by the Usual Suspects (activists broadly pro the invasion of the United Kingdom by gangsters, rapists and thieves and the like) poo pooing La May's claims as the usual "Daily Fail" rubbish.
That is slightly irritating. She could have done so, so much better.
Why can't politicians get their speeches to back up what they are saying with hard fact? As I leafed through the Sunday Times a couple of days ago, for example, I noticed an article on page 20 which detailed the systematic abuse of Human Rights law to avoid extradition by Albanian criminals found guilty in their absence of crimes, including murder using a sub machine gun (at a cost of millions to the tax payer).
And the case of a Mr Siraj Yassin Abdullah Ali. Mr Ali was sentenced to nine years for helping the 21/7 bombers who killed more than fifty innocent people and maimed and seriously injured many more, but he can't be deported because he might face "inhuman treatment" in his native Eritrea. Which begs some questions. Why was he here in first place? How was he allowed in? How did he get here? What will happen when, not if, he is released? Presumably he will vote Tory and join a golf club? Maybe not…
I am a great believer in the maxim that if you are going to do something, you had better do it well. If you are going to put the boot into the lunatic Human Rights industry, take a good long run up, and put that boot in properly and hard, right where it hurts. Get your facts rigorously right. If you wish to complain about the bloody cat, quote the judgement, quote the words, set the context…
Be relentless, merciless, dry, and to the point. Find the best examples. Spell them out in soulless, cold, unremitting and accurate detail. Tell us the costs of the fiasco in lawyers fees. The case is crying out to be made.
Don't exaggerate! If anything, understate the litany of abuse which the legal system heaps upon the poor, hapless citizens of this nation. Do it more in sorrow than anger for a while. Then let rip with venom. Any decent advocate will tell you how to do it.
And this leads me to a wider point. I am bound to say if I found almost all the speeches at all the conferences largely, banal, sloppy, ridden with clichés, and utterly bereft of insight or empathy. I make a special and honourable exception for Ed Balls, who was exciting but only in the sense that he is so patently both utterly and completely insane and nasty that he did give quite an illicit thrill. It was a bit like watching "Henry, Portrait Of A Serial Killer", or perhaps more ironically "Last House on the Left" (which is really nasty, by the way).
Somewhere, in an office block in Central South London with air con and smoked glass, intense young men and women who have never experienced anything other than university, advertising and politics have been busily writing phrases on white boards and in their Powerpoint charts. Phrases such as:
"We have to do better..!" (yawn)
"We have all made mistakes….." (yeah sure)
"We feel your pain…" (Right)
"We are not afraid to make hard decisions….!" (snigger of derision)
"We are all in this together….." (Expletives deleted!)
They have been very excited by these buzz phrases. They have consumed their Perrier water and tofu, before retiring to Muswell Hill for a small glass of Chablis and a shag with a similarly privileged and equally amoral paramour.
What does this tell us about the people who purport to lead? iDave, Clegg the Bland, and Milibandias, King of Kings? Balls the Mad?
I think it tells us they are average, without imagination, without rigour, without guts, without experience. Intellectually sloppy and entirely unable to really engage with real life, other than that they can manage a sound bite and make no particular mistakes. A tweeter made a good point this week. From memory @RealPengy wrote something like:
"Give me an alcoholic, anything, not these bland chinless wonders".
I think he meant that these are people who have never really descended into the arena in any sense that matters. They have never faced and dealt with failure. They have never faced a situation in which they could fail. Not really. They have never risked all founding and losing a business, for example. They have never risked their lives on the battle field. They have never taken a risk other than risking a place at the cabinet table. They do not smoke much or drink much.
They are Bland leading the Blind.
They are uninteresting and unremarkable in all but their pursuit of office. Balls excels them all in that, and is totally insane. I am not joking about that.
Poor, poor Britain. I suppose we get the politicians we deserve.
Gildas the Monk
Photo by Passante of Passante's World



October 6, 2011 at 15:04







October 6, 2011 at 15:02




October 5, 2011 at 20:24




October 5, 2011 at 17:55







October 6, 2011 at 10:01




October 5, 2011 at 12:55




October 5, 2011 at 11:28







October 5, 2011 at 13:21




October 5, 2011 at 10:55







October 5, 2011 at 11:22




October 5, 2011 at 10:43







October 5, 2011 at 09:41




October 5, 2011 at 09:08







October 5, 2011 at 08:29










October 5, 2011 at 09:02