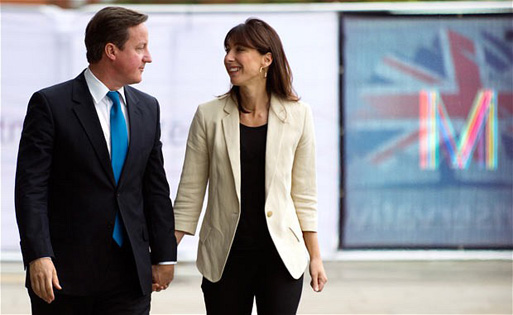 It was this photograph that tipped me over the edge.
Mr and Mrs Marks and Spencer modelling the conference 'limited edition' special.
The Halfords' Area Manager arriving for the Chairman's annual garden party.
Just about any middle of the road, desperately trying to fit in, don't want to frighten the horses, 'we had our local GP for dinner last week' aspiring suburbanite.
Enough already!
Britain is a country on the edge of disaster. It matters not one jot whose fault that is, should we, shouldn't we be in Europe? It is as relevant as discussing the impoverished background of Archduke Franz Ferdinand's assassin. It has happened, we are there now, and the guns are trained on us.
What we need now is a Winston Churchill. A leader. A character. A personality. Someone the cartoonists can get their teeth into. Someone to make stirring speeches on the radio – persuade us to give up our iron railings so they can be buried in a field in Bletchely, but at least make us feel that we can do something, not sit like tethered goats waiting for the doodle banking bomb to land on our heads.
Politics? I can't see that it matters a jot whether they come from the left or the right of the great ideological divide – the only difference between them is when one or other is out of office and then they can spout rhetorical nonsense as to what they would do if in power – once in power, their hands are tied – they can only do what is necessary regardless of their political background.
The EU? We are in the bloody thing and nothing is going to change that for now, discussion is fringe theatre. They do have the unelected power over us, they do force most of our law making – the whys and the wherefores are for a later date. Whoever is in power is not going to change that right now.
What we need right now is leadership – a bloody great charismatic, persuasive, inclusive, leadership. A larger than life figure who can lecture us on sharing baths and growing turnips; distract us, entertain us, talk to us, lecture us, encourage us, demand of us, that we all pull together to survive the greatest economic upheaval we will ever experience.
Ed Miliband? Whinging, whinnying, adenoidal, divisive, Ed, who sees a class struggle round every corner? Not in a month of Sundays.
David Blanderon and his simpering wife? The corporate 'I am doing something really, but behind closed doors'? Nowhere near good enough.
I'd vote for Boris Johnson. Not for his politics, not for his EU stance, but for sheer force of personality.
Yes, flawed Boris, 'don't I know he was unfaithful to his wife', 'haven't I heard he once threw a flower pot through a restaurant window' Johnson.
That one.
Give the man a cigar and a felt trilby. Make him Mayor and Prime Minister of the whole country. It's not unknown here in France, Alain Juppe was Prime Minister and Mayor of Bordeaux, Chirac was Prime Minister and Mayor; I believe that I am correct in saying that Ken Livingstone was an MP and Mayor of London. If you can be an MP, you can be Prime Minister.
Send him out round the factories and call centres. Talking to people. Put him on telly every Friday night instead of X-Factor or whatever. Let the Buffoon knock a few heads together, and tell us about it.
At least we wouldn't feel helpless in the face of the coming fire fight. We'd be out there double digging the turnip patch for Victory; and clutching our BoJo mojo for good luck.
Have you a better suggestion?
Edited to add: Whilst dripping anger over my keyboard writing this, Gildas has burst forth with this piece in a similar vein.
October 7, 2011 at 05:10







October 7, 2011 at 07:11










October 7, 2011 at 08:41




October 6, 2011 at 22:49










October 6, 2011 at 23:23










October 6, 2011 at 23:28




October 6, 2011 at 22:37







October 6, 2011 at 07:49




October 6, 2011 at 07:21







October 6, 2011 at 06:44







October 5, 2011 at 21:39




October 5, 2011 at 20:35







October 5, 2011 at 14:41







October 5, 2011 at 17:11




October 5, 2011 at 14:01










October 5, 2011 at 14:16







October 7, 2011 at 00:17







October 5, 2011 at 13:47










October 5, 2011 at 16:23




October 5, 2011 at 13:42




October 5, 2011 at 13:26







October 5, 2011 at 19:27







October 5, 2011 at 20:46




October 5, 2011 at 19:59







October 5, 2011 at 20:43










October 5, 2011 at 21:41







October 6, 2011 at
06:29





October 5, 2011 at 12:45




October 5, 2011 at 12:42