A genuine question. Or two.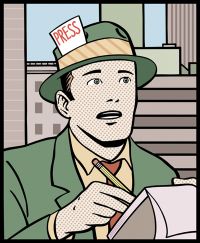 I have often railed against the behaviour of "the left" when it comes to confusing intentions with outcome. I have on occasion even said that I really don't care how heartless or cruel the motive is, as long as the outcome is good.
It seems to me that "the left" will adopt any stupid, dangerous, illiberal or nasty idea as long as the intent behind it is a good one. The latest stupidity is that journalists should be licensed and belong to a regulatory body, so that they can be struck off and barred from their chosen career. This is presumably in response to the nastiness of the Evil Murdoch Empire and blatantly ignores two things: 1) politicians of all stripes have been cosying up to Murdoch forever and 2) he wouldn't care less if his journalists got struck off and he'd just buy more.
But worse than that, it is a profoundly dangerous mechanism that would place a lot of power in the hands of the regulator for less powerful media interests, who would be cowed into printing only things that made the regulator happy. And yet, there will be hundreds of grassroots Labour supporters who will cheer and applaud this authoritarian suggestion as eagerly as they would further human rights legislation.
So my questions are: why are people on the "the left" so entirely uncritical of the consequences of their policies, simply because they have noble intentions?
And why is Labour, ostensibly the party of human rights, always so keen to grasp at unpleasant, authoritarian measures?
September 27, 2011 at 20:33




September 27, 2011 at 19:55




September 27, 2011 at 19:02




September 27, 2011 at 18:12










September 27, 2011 at 19:45




September 27, 2011 at 17:07







September 27, 2011 at 16:45










September 28, 2011 at 11:10




September 27, 2011 at 15:44







September 27, 2011 at 16:57




September 27, 2011 at 15:33




September 27, 2011 at 14:47




September 27, 2011 at 14:13




September 27, 2011 at 14:06




September 27, 2011 at 14:00







September 27, 2011 at 13:54







September 27, 2011 at 13:57




September 27, 2011 at 17:12




September 27, 2011 at 13:48







September 27, 2011 at 13:16




September 27, 2011 at 13:15









September 27, 2011 at 14:12







September 27, 2011 at 12:53










September 27, 2011 at 12:55