The Only Way is Downton Abbey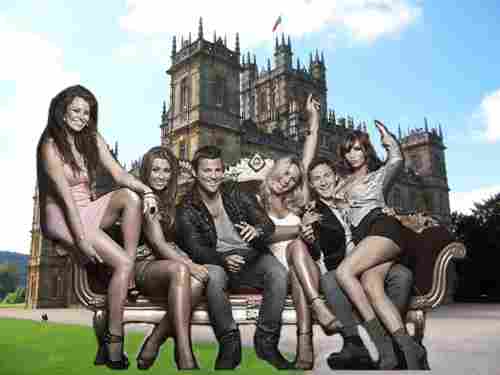 Well done The ITV!
How clever of you to find some way of making the turgid new series of 'The Only Way Is Downton Abbey" actually watchable by cleverly cutting to the gripping tale of "Gary The Aviva Biker" during what I think you'll find we all expected to be run-of-the-mill ad breaks!
As the billed hour-and-a-quarter broadcast of 'TOWIDA 'progressed, I realised that The ITV had pulled a clever trick and was catering for two audiences at the same time – and getting paid a handsome, prime-time fee to boot! Experts at The ITV must have known that throughout Britain there'd be legions of middle-aged men just busting their expanding guts to settle down of a Sunday night to watch the love lives of a few hoity-toity-bygone-age types played out on their bedroom telly, much to the annoyance of their lardy-midriffed wives who, as any fule kno, can't stand that kind of telly!
A genious stroke, then, The ITV to interweave the tale of 'Gary', his bike accident, his hospital stay, his delayed return to work and – genious stroke – his salvation by Aviva thanks to him having paid some accident insurance premium!
Terrific stuff and I can tell you it's the only thing that kept me sane between 21.00 and 22.15 hrs! The juxtaposition of Gary's story (every 7 minutes or so!) was so cleverly woven in that Mr Smudd – a sucker for th0se dreary J. Fellowes 'period pieces – almost didn't notice the parallel tales being told! Even I, who was 'with' "Gary The Aviva Biker" every step of the way, wasn't sure at times which production had been the subject of several pages in the TV Times!
So, The ITV, keep up the good work and make sure that less than one hour of 'TOWIDA' continues to occupy 75 Sunday-night minutes and that discerning viewers can, as the series drags on and on, watch a decent bit of drama – that of "Gary The Aviva Biker" and his salvation by a benevolent insurance company – without it causing 'terse words' in the bedroom!
I shall continue to tune in each and every Sunday night to watch as the tale of Gary unfolds. At last, intelligent broadcasting. Hurrah for The ITV.
SBML: Blatently nicked from a comment by Gloria Smud in a previous post.