101 Uses for the Victim Surcharge Fund – A prickly subject.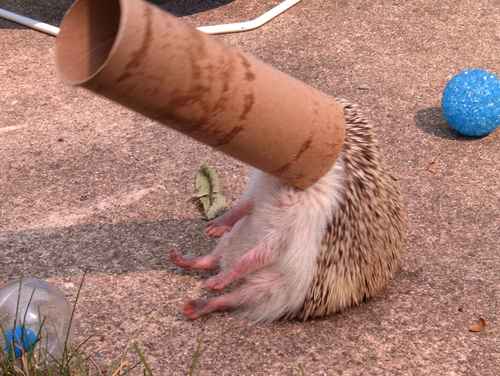 Hedgehog redesigned as toilet roll holder.
Victor Ford has many problems in life. He's an alcoholic paranoid schizophrenic.
Ambling along Balmoral Avenue in Spalding, he was seized by a desire to make a profound post modern deconstructive comment on the prevailing architecture – or something like that.
He dropped his trousers.
Around the corner came PC Plod in his little Plodmobile. There were no rioters in Spalding that afternoon, no battered housewives, no bank robbers, not even an errant gardener lighting his barbecue. He devoted his full attention to the mentally ill Victor Ford and his dropped trousers.
Over his shoulder, PC Plod could see a housewife standing near her window – she might have been able to see Victor squatting on the grass verge, we don't know, she wasn't called to give evidence. It was PC Plod's considered view that she 'could have'.
Glancing right, PC Plod could see a woman approaching with a child in a pram. She also – and the child, don't let us forget the child – might have been able to see Victor with his trousers round his knees. We don't know, she wasn't called to give evidence either. Again, it was PC Plod's considered view that she 'could have' seen Victor.
PC Plod moved in to interrogate Victor. 'What are you doing'?
'When a man's got to go, a man's got to go' replied Victor.
PC Plod, not being a slapdash policeman, moved closer, the better to ascertain whether this statement was true or not.
There, beneath Victor's bottom was indeed a pile of faeces. Game, set and match you might think.
PC Plod, having nothing better to do, closely inspected the faeces. He poked it, he prodded it. He turned it over.
Underneath it, he discovered a hedgehog. Not just any old hedgehog, a dead hedgehog. A potential dinner-for-one now thoroughly ruined by Victor's well aimed whatever.
Which is how Victor came to be charged with 'outraging public decency' by crapping on a dead hedgehog.
And was fined £100 with £85 costs – and £15 Victim Surcharge for the maligned dead hedgehog. What use is £15 to a dead hedgehog, pray tell?
Let us not forget – Victor was also banned from going to Scotland for three days – not, you understand that Victor had ever been to Scotland nor expressed a wish to do so. Must be something to do with protecting the dead hedgehogs of Scotland…..
Just wait until the Chief Constable of Lincolnshire argues for additional funds in order to police Lincolnshire effectively…..
Dead Hedgehogs have 'Uman Rites too you know. I trust the Community Victim Support Officer has filled in all the required diversity forms on behalf of our prickly friend.
Over to you Woman on a Raft – follow that!
[Update: Scene of Crime added]



September 14, 2011 at 21:43




September 14, 2011 at 17:45







September 14, 2011 at 17:41







September 14, 2011 at 16:19




September 14, 2011 at 16:15







September 14, 2011 at 16:05




September 14, 2011 at 16:00