A Tale of Two Welfare Checks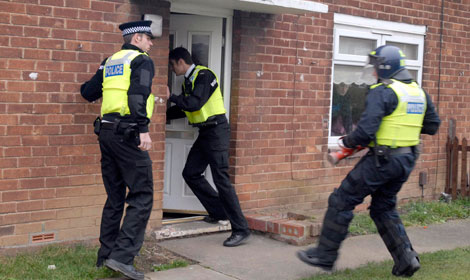 Recently I've heard two stories of unexpected and dramatic visits from police, entirely separate from the admirably rapid follow-ups to alleged offences based during the recent mayhem on our streets.
A Welfare Check is when the police act on a report of someone being unwell or unsafe in any way. And the attitude adopted on arrival can vary widely.
I picked up the term from a Landlord Forum where police have been known to knock down doors to check on problems, and sometimes make mistakes.
The Bad Welfare Check
The first is this, picked up via a Guest Post by Solicitor Iain Gould at the blog (OK – blawg in law blogger private argot) of CharonQC. Iain Gould is a solicitor who specialises in actions for complainants against the police.
'Mrs M' had made a comment in passing on the phone to Trading Standards that they had interpreted as a threat of suicide. Trading Standards felt obliged to call the police, who turned up at Mrs M's house and eventually arrested her for Breach of the Peace. The police have admitted liability for wrongful arrest, false imprisonment and assault. This extract is Iain Gould's account of what happened after Ms M came off the phone.
Ms M got herself ready to go shopping and, as she was about to leave home, heard a female voice call out her name from the hall. Surprised, Ms M went to the hallway to find 3 police officers standing on her new beige carpets with their boots on. When she asked what the police were doing in her home, they told her that Trading Standards had called them saying that Ms M had threatened to kill herself.
Ms M was shocked that her off- the- cuff remark had been taken so seriously and told the police that she had no such intention, that it was said at an unguarded moment, and at a time of great stress. She politely asked the officers to leave.
Ignoring her, the police officers started asking questions, rifling through her personal possessions and searching her home generally without explanation or cause.
Ms M refused to assist them with this unwarranted invasion of her privacy and was told, "we can do this the easy way or the hard way. You either comply with us and answer questions or we're taking you in".
Ms M refused to be intimidated by such threats and was then told that she was under arrest for breach of the peace.
Ms M, a slight figured, middle-aged, disabled woman, was forcibly handcuffed and escorted from her home by the officers in full view of her neighbours, at least 10 of whom had come outside to see what was happening.
She was taken to the local police station and detained for 9 hours during which time the police arranged for her to be examined by a nurse and then a doctor before releasing Ms M without charge in the early hours of the morning.
Charon QC has the full account, which I recommend.
The Good Welfare Check
My second account is an acquaintance who lives in a village in the Midlands.
After an early night and several hours sleep, the acquaintance was awoken by "a loud knocking and banging on my front door." He made his way downstairs and saw a face looking through the glass panel in my inner porch door. On opening the door, he was faced by two policemen complete with protective shield and firearm.
The explanation "We have had a report of someone shooting themself here".
The police checked the house – finding nothing. And apologised, realising that there was no problem beyond armed police in the house. And off they went to try to find where they were supposed to be.
Reflections
So what are the questions here?
I don't mind "Welfare Checks", occasionally nosy neighbours, curtain-twitchers and dog-walkers looking over the fence. That is part of living in a community.
It has an upside as well as a downside, and as someone with a chronic illness (Diabetes Type I) that can put me in a coma if I manage it wrongly one day my life might be saved by one of them one day.
I'd identify a problem with over-zealousness by police – whether it is the Case of the Too Tall Terrorist, the Comedian Loitering without Intent, or overreaction in 'child in danger' cases.
These are my first reflections.
a) Police seem to be a bit keen and quick in breaking down doors, rather than giving people a real chance to answer.
b) The range of discretion available has perhaps been reduced because there is now a greater (perceived to be greater?) risk of legal action when somebody when the police could have intervened but chose not to do so.
c) Intermediaries – such as Trading Standards in the case above, also don't like taking responsibility for inaction.
d) How far should police intervention be pushed, and what notice should be paid to the person on the receiving end of the Welfare Check?
Your thoughts?



September 8, 2011 at 15:04







September 6, 2011 at 10:47










September 6, 2011 at 15:38




September 6, 2011 at 10:33







September 6, 2011 at 02:00




September 6, 2011 at 01:34




September 5, 2011 at 23:24










September 5, 2011 at 23:26




September 5, 2011 at 20:56










September 5, 2011 at 21:13




September 5, 2011 at 19:58




September 5, 2011 at 19:39




September 5, 2011 at 18:53