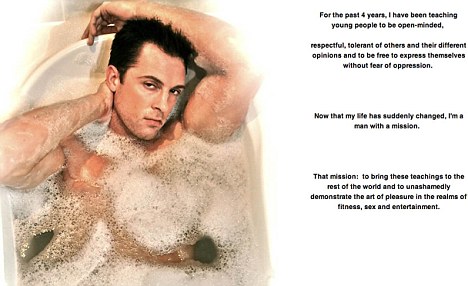 I dare say you saw the story yesterday about Benedict Garrett, good looking, hunky, talented young teacher, who was found guilty of 'unacceptable professional conduct'.
Benedict's crime was that he didn't just stand in front of his class of year ten teenagers in a shirt and suit, teaching them sex education – he also, in his spare time, 'unashamedly demonstrated the art of pleasure in the realms of fitness, sex and entertainment'.
Naturally we can't have teachers going round telling impressionable young minds that sex is not all about getting shagged by five boys on the sopping wet floor of the local abandoned garage can we? Whatever is the world coming to when men such as Benedict can openly espouse the idea that sex might be sensual, a world of soft lighting, luxurious beds and beautiful people?
One of his young charges recognised Benedict when he was watching a 'trailer for a porn movie' – am I naïve to believe that the only place you would see a trailer for a porn movie would be at the start of another porn movie?
Still, ignore the circumstances, the game was up for young Benedict, no longer to be trusted to stand in front of vulnerable children in his suit and tie, now forced to recant his belief that he had done nothing illegal in order to continue his desire to be a 'role model' within a school community.
I have discovered a curious back story to the tale of Benedict Garrett, which appears to have been allowed to lie in silence, untroubled by the prurience of the main stream media.
At the same time that Benedict stood accused of being unfit to stand fully dressed behind a desk, merely talking to vulnerable pupils – another branch of Fabianista land, Hackney Social Services, had judged him fit to share his home 24 hours a day with a vulnerable young man, taking charge of his upbringing. How very odd. Even odder that no one thought to mention this.
A local schoolboy had apparently been sent on what he believed was a two week stay to a Madrassa, one of the Islamic schools in Pakistan. Once there he discovered he had been signed up for a two YEAR stay.
Horrified, and not expecting any help from his family, he contacted his trusted teacher, who promptly paid his air fare, enabling him to return to England.
Benedict met the young boy at the airport and allowed him to stay at his home, where he remains to this day. An arrangement which is apparently sanctioned by Hackney Social Services. No reason why not, I am sure he is an admirable 'foster parent'.
Benedict continues to work as a 'naked butler', 'stripping policeman' and adult film star.
Why would the General Teaching Council be more concerned about off-campus activity than Hackney Social Services? Is there really more possibility of perverting young minds during school-days with many other adults around than there is during evening, nights and week-ends at home? Is a higher standard of probity demanded of teachers than 'foster parents'?
Why have the main stream media not mentioned these facts?
There is more than meets the eye to this story.