Mine's a Guinness – and put a Shamrock on that, won't you?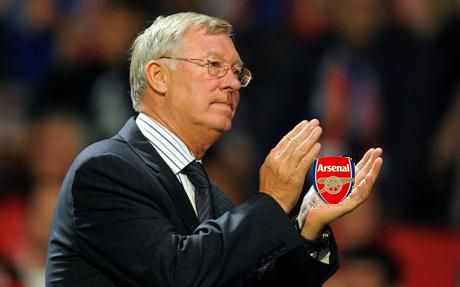 I decided not to comment on the biggest football story of the last seven days until the weekend was over, just to make sure that it actually was.
[Editorial Note: For cricket and other people who didn't or wouldn't notice, Manchester United beat Arsenal 8-2 at Old Trafford – probably a record.]
What developed on Sunday afternoon was certainly food for thought, as Manchester performed something of a demolition job on North London.
First up, Spurs were hit for five by City, as Edin Dzeko's transformation from misfiring dud into a striker who might actually resemble £27 million well spent continued – yes, City look like genuine contenders this time. Then the decline of Arsenal into a gutless shambles reached what Gunners supporters can only hope was the ultimate nadir. You know the situation is pretty bleak when the opposition's rather hefty tally has to be spelled out on the vidiprinter for confirmation. Conceding eight (yes, E I G H T) in a single game, even to Manchester United, is the dismal stuff of which truly dire teams are made.
Having taken in a bit of 606 post match, those Arsenal supporters who expressed concern along the lines of "oh my god – we're definitely not good enough to crack the top four" are balls-on accurate in their analysis, but somewhat missing the point. A pal of mine casually enquired last week as to how the final placings might finish up this season, and two predictions of mine caused raised eyebrows – Liverpool to finish third, with Arsenal down in eighth (apologies to all Gooners who must be sick of that number already). After today I'm revising that view, and would be unsurprised if they finished somewhere in the 9-12 bracket come May – lots of pretty football, little in the way of end product, too many passengers and a lack of mental strength, both collectively and as individuals. Hardly a combination with success written all over it.
This bunny's considered thoughts are that Arsene Wenger is a manager who defined a previous era, but now looks lost having not won a trophy in six years. His squad is alarmingly absent of steel, leadership, tacklers, winners and players with a competitive edge. With Thomas Vermaelen, easily their best defensive player, in the side, the backline looks vulnerable as it did when Liverpool cruised to a 0-2 victory at the Emirates. Without him, we're into full-on Keystone Cops territory. Wenger appears in the last two seasons to have made it his personal mission to replace Arsenal 'legend' Gus Caesar several times over, with the inevitable result:- a rearguard possessed of an exquisite combination of indecision and an impending sense of calamity.
Everyone with even a vague interest in football knows that Wenger needs to sign defensive re-enforcements before the transfer window closes on Wednesday. The killer question may not be as to the availability of funds, since it appears that they are certainly there after the sales of Cesc Fabregas and Samir Nasri. Perhaps a more burning issue is – does Wenger actually want to purchase an ugly centre half in the Phil Jagielka mould, along with a holding player who can provide much-needed steel in midfield? Or does there remain this misguided sense of footballing principle telling him that such an addition would somehow be 'wrong'? If shipping eight, even with a depleted side against the champions, does not spell out in black and white what the solution is, then nothing will.
My hunch is that Arsene, brilliant as he once was, may have crossed a line where his idealism is no longer applicable to 'real football' and has gone into what could best be described as a 'late period Malcolm Alison' phase. The god-like status of that famous back four of the 1990s rockets with every passing week; they always put up a fight:
In reality that is only just over half the true scale of the problem. It's a story that has of course been magnified after their midweek win over Udinese and qualification for the Champions League had appeared to paper over a few cracks. In that sense, we're fortunate that a much more positive tale had already aced it.
When I say positive, I am of course assuming that there are no fans of Partizan Belgrade reading this, since their take on Thursday night's events may vary somewhat. Anyway, Shamrock Rovers became the first Irish side ever to reach the group stage of a major European competition when they scored a shock 1-2 victory against the Serbian champions on their own patch to complete an equally unlikely 3-2 aggregate victory.
Pat Sullivan's superb dipping volley from almost 30 yards out and Stephen O'Donnell's ice-cool penalty in extra time decided the outsome of what was evidently a dramatic game in which both sides could have nicked it:
The reward is a guaranteed six games for manager, former Hibernian and Northern Ireland midfielder Michael O Neill, and his players home and away to Rubin Kazan, PAOK Salonika and the might of Tottenham Hotspur.
Shamrock are already faced with a dilemna as to whether they should stage the home games in their group at Tallaght, the tight and compact ground where the initial 1-1 draw with Partizan was achieved, or move the fixtures to the Aviva Stadium/Lansdowne Road, saving the trouble of installing temporary seating to meet UEFA requirements and netting a tidy sum in the process.
As an outsider looking in, it would appear to come down to a straight choice between maximising potential revenue or the chance to progress further in the competition. Nobody, not even Spurs, will see a trip to Tallaght on a cold Thursday night as a foregone conclusion, and one gets the feeling based on last week's efforts that Shamrock will put up a far stronger fight against Harry Redknapp's side than a rather pathetic Hearts did. They will of course go into the group as rank outsiders, but it would be unwise to totally count them out if they can use the Tallaght experience to full effect.
Still, all of this is something of a sideshow for now and it's worth explaining why that victory in Belgrade is such a significant achievement, both for Shamrock themselves and club soccer in the Republic of Ireland as a whole.
In 2005, Shamrock were relegated after entering examinership and being bought out by a group of its supporters, the 400 club. Promotion back to the top flight was achieved at the first attempt by the club under fan ownership, then O'Neill was appointed as manager in 2009. After a second-placed finish in his first season, they secured their first title in sixteen years the following year, as well as knocking out Bnei Yehuda of Israel to land a high profile Europa League tie with Juventus. The current season had already seen Flora Tallinn defeated in the first stage of Champions League qualifying before going down in a competitive two-legged affair with FC Copenhagen. This brought them up against Partizan, the outcome of which was not a bad consolation prize.
Something I remember quite fondly was keeping an eye on the qualifying phases in various European competitions before the 'proper' football season kicked off, hoping to see someone from Wales, Northern Ireland or the Republic progress to the first round proper. In European terms, clubs from those nations could all be lumped into the bracket of 'cannon fodder', often drawing sides from Eastern Europe or Scandinavia, with heavy defeat a fairly frequent occurrence. The victories were rare and invariably the product of favourable draws as opposed to any genuine and measurable improvement. All of this changed in the last decade, as the League of Ireland moved to the summer and many of its top sides went professional.
Perhaps the first sign of real progress to the wider football world came when Shelbourne stunned Hadjuk split to reach the final qualifying round for the Champions League:
With half an hour to play in the second leg of their tie with Deportivo La Coruna, the aggregate score remained goalless before the Spaniards finally broke Shels' resistance, eventually prevailing 3-0. 2006-07 was another solid year, with Derry City winning home and away against IFK Gothenborg, then anihalating Gretna of Scotland 5-1 on their own turf before themselves achieving a scorless draw at home against a European powerhouse in Paris St Germain. Meanwhile, Cork City, who had previously made headway in the InterToto Cup, eliminated the seeded team Apollon Limassol in the first stage of the Champions League.
There have been further successes, such as St Patricks Athletic upsetting Swedish side Elfsborg in 2008:
and this is just the natural next step in what has been several years of progress for both Shamrock themselves and the League of Ireland in general. On the same night that the remaining Scottish representatives in Europe (namely Rangers, Celtic and Hearts) were knocked out, Shamrock stayed alive in style. Regardless of what happens from now, their current continental exploits are guaranteed to continue until at least December, and who's going to bet against them lasting slightly longer than that?
Take care and I'll see you soon.



August 30, 2011 at 12:27







August 30, 2011 at 13:44







August 30, 2011 at 12:22







August 30, 2011 at 11:48




August 30, 2011 at 00:49







August 30, 2011 at 11:39







August 30, 2011 at 11:47







August 29, 2011 at 23:20







August 30, 2011 at 15:35










August 30, 2011 at 11:45







August 29, 2011 at 22:19










August 30, 2011 at 02:28







August 30, 2011 at 11:44







August 29, 2011 at 21:28







August 29, 2011 at 21:09




August 29, 2011 at 20:33










August 29, 2011 at 20:31







August 29, 2011 at 19:49










August 29, 2011 at 19:51










August 29, 2011 at 19:54







August 29, 2011 at 19:57










August 30, 2011 at 00:45




August 30, 2011 at 08:41




August 29, 2011 at 19:35







August 29, 2011 at 23:51







August 30, 2011 at 11:41




August 29, 2011 at 19:33







August 30, 2011 at 00:46







August 30, 2011 at 15:28




August 29, 2011 at 19:04







August 29, 2011 at 19:28







August 29, 2011 at 21:23




August 29, 2011 at 23:46