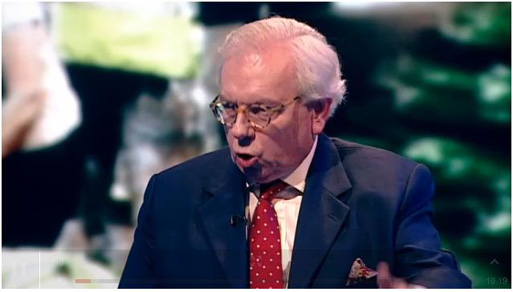 Go on, just for a laugh. Adopt a fetching lisp, dress in a fey fashion, admit to past employment as a Roman Catholic trainee priest – and try and get yourself a job as a child minder.
Alternatively, get yourself a broad Brummie accent, or even better, Black Country, a couple of tattoos, maybe a ring through your nose, and turn up for an interview with one of the private banks in London as a Receptionist.
There you are, as 'white' as the driven snow – and they won't want you. Nothing to do with the colour of your skin – it will be to do with the culture and reputation of the groups you are publicly identifying yourself with.
David Starkey could have pointed this out on Newsnight last night, and although the multi-culturalists would have condemned him – 'the way you speak, your accent has nothing to do with your ability to do the job' – he certainly wouldn't have been condemned as racist.
The Guardianistas are in meltdown this morning – on Twitter and Facebook, the main stream media are noticeable only by the cloud of dust at their heels. Utterly outraged that the BBC – their BBC – should have allowed this 'racist' air time to expend his views that Black Street Culture had been adopted by underclass white kids and was largely responsible for the riots.
Note: Black Street Culture. Not Black Culture en masse. Not Black persons en masse. Just Black Street Culture, that glorification of violence and materialism acquired by brute force. From the music that depicts women as 'hoes' and bitches to be shared around, to the 'bling' jewellery and revelry in posing for pictures with fingers extended to imitate firing a gun; the street fashions for exposing your underpants; from the arrogant walk and sneering speech patterns identifying themselves with the gangsta culture of Jamaica – everything about that particular sub-species of inner city life, the Black Street Culture – is designed to cock a snook at the population which financially supports them in every way.
'There are no jobs for them' the apologists cry. No, there aren't, and who can blame employers? It is not that there are no jobs – find me your nearest Eastern European cultivating every aspect of his appearance to offend any potential employer. But they are right; there are no jobs for them. The three studs in the lip and the tattoo on the forehead tell the potential employer before you even open your mouth, that you didn't actually want the job in the first place.
'David Lammy sounds white on the radio' said Starkey to the sound of Guardianistas crashing to the ground in a dead faint.
I would dispute that he sounds necessarily 'white', I would say he sounds like a man who has adapted himself – or at least refuted the Black Street Culture – in favour of a persona that might fit in with his fellow MPs. Perhaps he studied fiddling his expenses at night school, who knows, but at least he grasped the idea of 'fitting in', not alienating. Not making your every utterance, your every movement, one of 'cocking a snook' at the rest of society.
Starkey further cemented his position as hallowed racist of the year by claiming that 'white kids were turning black' – pass the smelling salts Alice! – both his fellow commentators leapt on him; 'you're equating white with good and black with bad'.
No he wasn't, you tofu-knitting, yoghurt dressing, yoga hatted, lentil munchers – he was pointing out that if you 'talk the talk and walk the walk' of the Jamaican Yardies you are going to be judged by the uninterested casual observer as part of a culture that despises hard work, glorifies violence, and leeches off society – no matter what colour you are.
In much the same way that I look at, and listen to, Owen Jones and Dreda Say Mitchell and think – pontificating looney leftie's!
Neither use nor ornament, as my Nana would say.
The original interview is HERE.
August 14, 2011 at 12:20




August 14, 2011 at 00:31







August 13, 2011 at 22:31







August 13, 2011 at 22:26







August 13, 2011 at 19:22







August 13, 2011 at 20:24




August 13, 2011 at 19:08







August 13, 2011 at 18:43







August 13, 2011 at 18:16







August 13, 2011 at 18:56




August 13, 2011 at 17:28










August 13, 2011 at 20:31







August 14, 2011 at 07:50




August 14, 2011 at 09:09










August 13, 2011 at 16:39




August 13, 2011 at 15:26




August 13, 2011 at 15:07




August 13, 2011 at 15:02




August 13, 2011 at 14:53












August 13, 2011 at 14:06




August 13, 2011 at 14:05










August 13, 2011 at 17:10