Panic on the Streets of Tottenham – Enfield, Brixton, Walthamstow – I Wonder to Myself..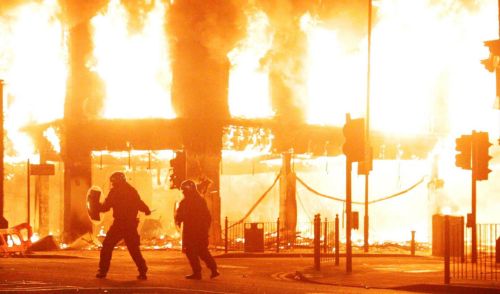 Violence, looting, buses and cars on fire, petrol bombs being launched at patrol cars – while what has happened between Friday and Sunday in North London is relatively small fry when compared to the riots of the 1980s, it has still left a permanent black mark on the lives of many whose homes or places of business have been destroyed.
Of course my heart goes out to them, and if I hear one more Statist commentator explaining how this is all a product of 'deprivation and isolation' then I swear I'll do an Elvis and shoot the television screen. Are these people seriously suggesting that it was need that drove thieves to break into Halfords and pinch themselves a mountain bike? Or smash their way into a sports shop and pick up some free trainers? This really was the revenge of chav Britain, against the mistreatment dished out to them by who or what, I really don't know. The one thing of which this bunny can be almost certain of is that Mark Duggan was stratospheres away from their rather empty minds when they took to the streets and shops, while some appeared intent on torching anything with wheels.
Insomnia left me listening to the BBC Five Live phone-in during the early hours of the morning. One of the better callers was a well-informed gent who originally hailed from Moss Side and therefore had some personal experience with this sort of thing. His solution centred around the police and 'influential members of the community' sitting down and establishing some sort of harmony again. On the surface this is entirely sensible since policing by consent is the only form of law enforcement that most of us will put up with for very long. The question that nobody posed and so was left unanswered is:- how do you police by consent where the 'influential members of the community' are largely made up of criminals? One suspects that the only honest answer to this question is – you can't, and some swift and effective action is needed at least until the area is back in the hands of its well-meaning citizens.
One of the other great 'explanations' for the idiocy of Friday through Sunday is that "this is what happens when people feel detached from their communities", as if the closure of a youth club or dreaded 'government cuts' have caused naturally law-abiding people to snap. The reality was exposed by another caller to this radio show who claimed that he'd seen murders go ignored and unreported in the part of London where he lived. Some may not believe it, probably because it means confronting a wider problem, namely that many of these communities are policed not by law enforcement working in consent with the law-abiding, but by the criminals themselves.
Faced with the choice, which arrangement are those of less than benign intent more likely to go for? Naturally, one of the rules of gang culture is that 'grassing' and the involvement of the police in turf disputes is not permitted. In my favourite book on the subject, 'Gang War' by Peter Walsh, one of the later chapters details the efforts of Mancunian villain Ken Keating to keep the policing of local crime in-house by patrolling the area in a van marked 'GRASSWATCH'. Quite hilariously, the scumbag then has to endure the 'heartbreak' of discovering that his son, Sean, has turned rat and become a police informant. This was later captured in a Channel 4 documentary, with excerpts used by Bob Mills in a particularly brilliant edition of his 'In Bed With MeDinner' programme – first person to say 'Shameless' wins a coconut.
The serious point of course is that rather than being 'detached' from their communities or victims of 'deprivation', many of those who operate in such gangs make a conscious choice to rule them by fear from a distance. The Met in particular may be something of a toxic brand these days following the blunders of the last few years and I don't go in for Anna Raccoon's blanket statement that law enforcement 'deserves our support'. No individual or group is worthy of blind faith or obedience regardless of their actions or performance, and so the challenge is for the police, in partnership with law-abiding local people, to reclaim the streets of our cities from gangs.
This does not mean 'zero tolerance' policing, but a clear and proportionate application of the law, with no concessions made to 'cultural differences' or any attempt to 'understand' the local criminal element. Only then can we eradicate the theft, violence, disorder and panic that they cause. Take care and I'll catch you tomorrow.
Daz Pearce – OutspokenRabbit
Photo credit Il Fatto Quotidiano