The Last Honky in Brixton.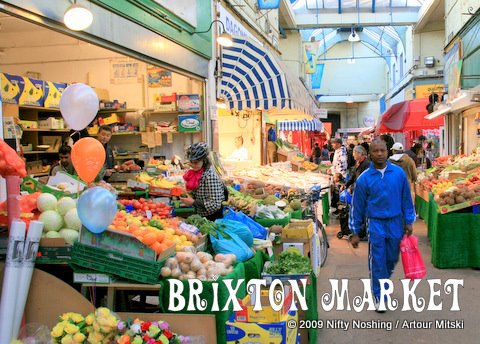 With impeccable timing, the IPCC informed the panting Sky newscasters that the 'firearm found at the scene hadn't been fired', just as Sky were preparing their nightly 'roll-up, roll-up, all the fun of the fair' broadcast of 'yoof, just like you' proudly carrying their new freebie 52" Plasma TVs home, unhindered by the Police.
It is hard to imagine a more irresponsibly curtailed news bulletin.
Nobody bothered to point out that the mini-cab driver had been exonerated of involvement and was 'shaken by what he had witnessed', which left the inescapable conclusion that the firearm could only have belonged to the saintly Mark Duggan…nor did anyone query whether it was reasonable to give the impression by default that Mark Duggan had died unfairly – do we really expect our Police to wait until they are fired at, by a man they are trying to arrest for gun crimes, who is currently holding a loaded firearm?
Sky was rewarded with another night of rioting to fill the rolling news…
I lived in the heart of Brixton through both the '81 and the '85 riots. I had arrived there after both a Quaker education in England and before that schooling in New Zealand. Segregated schooling, I might add, since there was no way in which we 'white kids' could possibly compete with the agile brains of the Maori kids.
I was thus hopelessly unsuited for the role of 'racist'. Any notion I had of colour prejudice was coloured (sic) by the knowledge that I was infinitely inferior to those with brown skin when faced with the task of working out the square root of 'x' in my head.
It took ten years of life in Brixton to knock that unfashionable view clean out of my skull. By the time I left I was spitting 'black bastards' along with the rest of the dwindling white community.
Fortunately I moved to Mildenhall where I had copious contact with that entirely different species which comprises the black US military community – then I finally understood that it was not being black which qualified you to be a 'bastard', it was being a young black Jamaican reared in the heady atmosphere of the Socialist Worker's Party daily broadcasts pointing out how disadvantaged you were.
In short, 'black bastard' only applied to a very narrow band of the immigrant population.
I had worked seven days a week, and saved, and avoided spending any florin that came my way, by all means possible, for seven years in order to build up the pot of £13,000 which was the princely sum demanded for a tottering pile of Georgian brickwork in the heart of Brixton. It was my pride and joy. Not for its investment value, but for the home which no one could take away from me – I had, as they say, a difficult childhood, hadn't actually laid claim to having a 'home' anywhere since I was eight.
I loved the atmosphere of Brixton with its street markets; the music pumping out of my neighbour's houses and shops that you would hear nowhere else in London; the fact that the local shoe shops were full of size seven shoes – eight, nine and ten too! Shoe nirvana for me…
My friends were both black and white. The black variety were first generation Windrush immigrants, some of the hardest workers God ever invented, and like me, determined to pull themselves out of the hole life had left them in. We worked hard and played hard – many nights spent playing backgammon in various cafes or dancing in the many clubs.
1981 changed all that virtually overnight. Suddenly the streets were full of black teenagers linking arms across the pavements to force me, or any other white person, to walk in the gutter. The abuse wasn't yet openly expressed, but the atmosphere had changed. Within weeks the muggings had started, then the 'steaming' – gangs of 20 or 30 overwhelming shop keepers and walking out with entire racks of leather jackets or hundreds of pairs of Levi jeans. The street markets had become a danger zone, not somewhere to idle away an hour or so. You could no longer be seen in the clubs – not as a white girl if you had any sense of decency.
My house was burgled. I didn't have a lot – but it had gone. I acquired an Alsatian who lived in the garden. During the '85 riots, the Police, in an early example of 'kettling', had corralled the rioting teenagers in a square at the back of the house. The only way out of that square was by scaling garden walls and breaking into one of our row of houses. The landlord of our local pub had been rescued in the nick of time by police, tied to a chair and doused with petrol, in one of his upstairs rooms.
I went to bed that night with a wood chopping axe under the pillow and the Alsatian by my side. It was terrifying. I had learnt to fear my neighbours.
I was burgled again. An opportunist thief; passport, jewellery, gold lighter, that sort of thing. The police arrived and I was suitably middle class and non-judgemental. Made them a cup of tea, calmly gave them a list of what was missing, failed to repeat the unsourced rumour that a young black man had been seen poking his head over the garden wall – it might have had nothing to do with the burglary. The Alsatian was chomping merrily on an enormous bone – animal unfortunately, not the burglars…
A friend brought round a new animal for my menagerie. Non-susceptible to bribery by bone. A Goose. I called him Honky. I had to catch him every week and persuade him into the bath to clean his feathers, Brixton wasn't the natural habitat for a Goose. Honky hissing, honking and flapping his wings proved a deterrent for all of two weeks.
I was burgled yet again – this time in broad daylight, from the main road side of the house, they had taken the front door clean off its hinges and left it lying in the hallway; three lanes of traffic streaming past in each direction, a bus stop right outside – and they had stripped the entire house of furniture, even dismantling a huge mahogany bed.
The same two policemen attended the scene. There was nowhere for them to sit, no kettle to make them tea, no nice middle class girl to explain the situation – just a screaming foul mouthed racist fishwife…. They barely recognised me!
The insurance money paid for a tiny cottage in Suffolk, and Honky and I moved out – thanks to the burglaries, all my possessions fitted into a small van – along with Honky in a sack. I had nothing left, no means of earning a living in Suffolk, no hope of selling the house in Brixton.
A few days later, Honky appeared looked bedraggled in the garden, surrounded by white feathers. I thought a fox had got him until I noticed what appeared to be a hernia – I called the local vet, thinking he had been injured in the sack. Old Mr Annear came out and peered intently at Honky.
'That b'ain't be a hernia, that be a bollock, an' that b'ain't be a Goose that be a Gander' he said, 'an' he be pining for Mother Caldwell's Goose o'er the river, m' dear'.
It took me years to get over my reputation as a daft Londoner who didn't know a Goose from a Gander; but the last Honky to leave Brixton in despair, and I, did finally rebuild our life. I turned the cottage into a tea rooms, and then bed and breakfast, then hired rowing boats out to anyone brave enough to step along the riverbank past Honky…
There will be many people facing a similar future today, having lost everything courtesy of that band of 'black bastards' who believe all the Trotskyist rubbish about their entitlement to everything they want with no effort on their part.
Many of the 'losers' will be of the same heritage, the same origins, as the 'black bastards' – and will be totally baffled at the mindset of the looters and rioters.
They are the proud Jamaicans who worked hard, studied even harder, occasionally found time to play hard. It's tough getting up for work at 5am every day when your next door neighbour is a drug dealer who holds noisy parties until 4am – but they persevere. They entrusted their children to the tender mercies of the state education system. More fool them – they'd have been better off putting their children on the nearest banana boat and shipping them back to Jamaica, where they would have had a completely black police force that understood their 'culture', a completely black teaching profession that understood their 'needs' – and shot on sight with real bullets if they had even thought of looting.
Is it too late? Can we put this shower of morons on a banana boat as an act of human kindness and send them back to Jamaica for a few years to immerse themselves in their 'cultural needs'? I imagine their parents would be as grateful as the rest of us.
*Honky died in 1986 following an unfortunate amorous misunderstanding with a well and truly spoken for and proudly heterosexual Swan cob…….



August 11, 2011 at 10:35







August 11, 2011 at 00:54




August 10, 2011 at 21:21







August 10, 2011 at 20:55







August 10, 2011 at 20:26










August 10, 2011 at 18:17




August 10, 2011 at 16:42







August 10, 2011 at 15:36







August 10, 2011 at 20:35







August 10, 2011 at 15:19




August 10, 2011 at 15:04







August 10, 2011 at 13:56







August 10, 2011 at 13:49




August 10, 2011 at 12:42










August 10, 2011 at 12:22