Professional Suicide and 'I want to be alone'.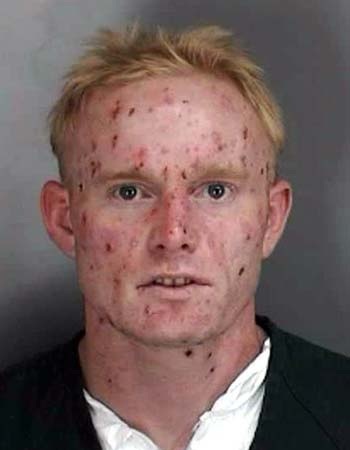 I like people who do things properly, put the research into the project, take their time, check everything out thoroughly – and then execute their task with skill and aplomb.
Thus I find Richard Handl an admirable man. Indeed, I take my hat off to him.
It's just a shame that Health and Safety had to get involved. Richard's fault of course, for enquiring whether their rules applied to him.
It must have taken considerable effort to amass radium, americium and uranium in sufficient quantities.
Having heated them up on his kitchen stove, his mission to find himself completely alone in a southern Sweden denuded of trees and signs of human or animal habitation was thwarted when the Police arrived, alerted by Health and Safety, and pointed out that it might take some time for them to find the exact clause, but they were sure there was something in the Swedish constitution that made it illegal to split atoms on your kitchen stove…..
It makes Sad's efforts to split infinitives look puny by comparison.
I was reminded at first of some of Ms Smudd's culinary experiments which have a similar scorched earth effect, but without fusing the neighbourhood into a large glass bowl. Mr G's Pilchard Curry denudes the area of human habitation, but the animals appear impervious to it. Nil marks to either of them, Mr Handl still reigns supreme.
There was a close contender in France some years ago; a subscriber to an internet forum innocently wrote one day that he had two large gas cylinders that he wished to turn into a barbeque – his brother in law was arriving from England shortly with oxy-acetylene equipment and he wanted advice on the best way of going about his task. The first respondent enquired whereabouts in France he was – Brittany was the reply – hmmn, said first respondent, I'm in Provence, too damn close – DON'T TRY IT! There was a whip round amongst those who lived considerably nearer to buy him a ready made barbeque.
First prize must surely go to David Hahn,
Hahn's first brush with authorities came in August 1994, after police stopped him during an investigation into neighbourhood tyre thefts. Officers found radioactive materials, chemicals, rocks, plastic and glass bottles and two exploded pipes in his car.
In a subsequent interview with a state health official, Hahn said he had been trying to produce energy and hoped it would help him earn his Eagle Scout badge. Hahn also acknowledged having a backyard laboratory in a potting shed at his mother's home in Oakland.
David's Father gave him The Golden Book of Chemistry Experiments. By age 12 he had digested his father's college chemistry textbooks; by 14 Hahn had been removed to the potting shed after his Father had discovered him manufacturing nitro-glycerine in the basement of the family home.
Authorities declared the potting shed a hazardous materials site and sealed it. In the shed, radiological experts found an aluminium pie pan, a Pyrex cup, a milk crate and other materials strewn about, contaminated at up to 1000 times the normal levels of background radiation.
After the moon-suited workers dismantled the shed, they loaded the remains into 39 sealed barrels that were trucked to the Great Salt Lake Desert. There, the remains of David's experiments were entombed with other radioactive debris.
Hahn received his Scouting merit badge for atomic energy in 1991…
David Hahn is now in the Navy, where he reads about steroids, melanin, genetic codes, prototype reactors, amino acids and criminal law. "I wanted to make a scratch in life," he explains now. "I've still got time." Of his exposure to radioactivity he says, "I don't believe I took more than five years off my life."
Let's hope the right Hahn doesn't find out what the left Handl was up to.



August 5, 2011 at 00:55




August 4, 2011 at 20:49







August 4, 2011 at 21:29










August 4, 2011 at 21:42










August 4, 2011 at 22:21




August 5, 2011 at 11:19










August 5, 2011 at 22:00







August 4, 2011 at 12:33




August 4, 2011 at 12:02







August 4, 2011 at 09:35




August 4, 2011 at 09:27







August 4, 2011 at 11:36







August 4, 2011 at 09:26







August 4, 2011 at 08:50