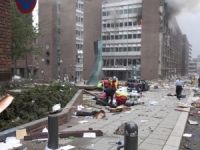 One of conservatism's most important insights is that all ideologies are wrong. Ideology takes an intellectual system, a product of one or more philosophers, and says, "This system must be true." Inevitably, reality ends up contradicting the system, usually on a growing number of points. But the ideology, by its nature, cannot adjust to reality; to do so would be to abandon the system. Therefore, reality must be suppressed.
If the ideology has power, it uses its power to undertake this suppression. It forbids writing or speaking certain facts. Its goal is to prevent not only expression of thoughts that contradict what "must be true," but thinking such thoughts.
But what happens today to Europeans who suggest that there are differences among ethnic groups, or that the traditional social roles of men and women reflect their different natures, or that homosexuality is morally wrong? If they are public figures, they must grovel in the dirt in endless, canting apologies.
So far so good.
But the above words are not mine, but the opening remarks of Anders Behring Breivik in his "manifesto", 2083 A European Declaration Of Independence. Following his horrific crimes, this document has been referred to as an "online rant" by the "politically correct media lackeys of the Marxist cultural relativists", as Breivik would see them.
It is certainly unstructured but it is far from a rant. In fact it moves seamlessly from abstruse political and philosophic discussion, as above, to debating the the relative merits of pure nicotine in hollow point bullets and instructing the reader you how to extract Ricin from Castor beans. On the one hand it reveals Breivik is a deranged criminal, but on the other, shows that his crime had a clearly political motivation.
But why did he do it? Was he motivated principally by religion, nationalism or racism and, if so, what was the logic in killing fellow Norwegians, people of his own faith, nation and ethnicity?
I think the answer relates specifically to the socio-economic make up of the Nordic countries.
Norway and Sweden are often held up as models of social democracy. They are countries with highly efficient commercial and industrial systems featuring a well cared for and highly educated work force. In terms of politics, the Social Democratic Workers Party in Sweden and the Labour Party in Norway have been dominant for almost 100 years. But although both countries have constitutional monarchies and left of centre governments, the real authority is invested in a ruling cabal of financiers and industrialists who make the decisions behind the scenes. It is a close knit ruling elite, the members of which tend to build their summer houses round the same lakes.
So whilst there are elements of the Nordic societies that look, from the outside, like a form of socialism, it is actually more like corporate paternalism. This produces a very controlled environment and, whilst there is a general culture of deference to authority within all organisational structures, liberal and egalitarian values are dominant.
But scratch the surface of this Fabian dream world and tensions begin to show. The Swedish people, for example, have a schizophrenic relationship with drugs, alcohol, gambling and sex, part of which is a relic of the influence of the Lutheran high church. They are outwardly reserved yet, strangely, have the most vibrant heavy metal scene in Europe. They have a suicide rate 50% higher than that of the UK. And whilst the state openly welcomes immigrants in many small towns you find local people patrolling the streets, in vigilante groups, ostensibly to protect their children from Somali drug dealers and rapists.
So, although Breivik was undoubtedly motivated by his religious and nationalist views, I think that ultimately, his quarrel was not with immigrants or Islam, but with the ideological hegemony of the Norwegian state, that denied the legitimacy of his deeply held views.
His attack, after all, was not on a mosque but on the supporters of a political orthodoxy and a didactic ideology that, he believed, was doing everything in it's power to suppress his reality.



July 28, 2011 at 15:49







July 27, 2011 at 10:14




July 26, 2011 at 11:59










July 26, 2011 at 11:23










July 26, 2011 at 11:53







July 26, 2011 at 12:58







July 26, 2011 at 10:50







July 26, 2011 at 08:39




July 26, 2011 at 02:11







July 25, 2011 at 21:22










July 25, 2011 at 19:09




July 25, 2011 at 16:41







July 25, 2011 at 16:00







July 25, 2011 at 15:48







July 25, 2011 at 14:13