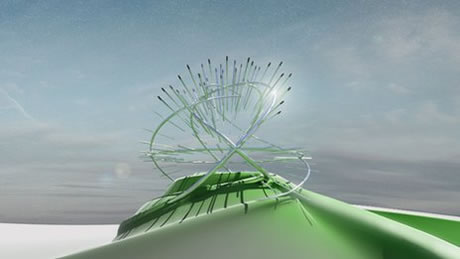 As Ms Raccoon languishes in the concerned ministrations of those determined to ensure her convalescence is full of fun and frolics, I thought she must need a little Celtic input to stimulate her emotions.
A couple of weeks ago it was announced in the Scottish press that a work of public art would be erected on the A74 at the England/Scotland border. The idea was generated by the Gretna Landmark Trust who appear to be relishing the challenge of erecting a monument which they hope will challenge The Angel of the North.
The winner of a competition to provide a symbol which included 'energy', 'innovation' and 'the river of identity runs deep' was Cecil Balmond and his contribution entitled The Star of Caledonia (pictured). His description of his creation:
"The Star of Caledonia is a Welcome; its kinetic form and light paths a constant trace of Scotland's power of invention and I am delighted to be collaborating with Charles Jencks to create an integrated idea of this concept in both landscape and form."
That's it then – sold to the woman with the blonde hair. Then reservations set in. What was the cost of this work of art? How would it look after a few years of being beaten by months of extreme weather? No price has been officially announced although sums of between £3 million and £10 million have been mooted. As for it standing the test of time, it may well do, in a rustic way.
It is hoped to have the artwork in place in time to welcome visitors from south of the border to the Commonwealth Games in Glasgow in 2014.
Do you like the idea of being welcomed to Scotland by this image? At my place I have a wee poll running and if you would like to give your opinion you can do so here.
July 25, 2011 at 20:59







July 24, 2011 at 22:44







July 25, 2011 at 15:56




July 24, 2011 at 06:51







July 24, 2011 at 01:55




July 24, 2011 at 00:48







July 24, 2011 at 00:25




July 23, 2011 at 23:08







July 25, 2011 at 15:52




July 23, 2011 at 22:16







July 23, 2011 at 22:16




July 23, 2011 at 21:54




July 23, 2011 at 20:25




July 23, 2011 at 18:57







July 23, 2011 at 18:46







July 23, 2011 at 17:54







July 23, 2011 at 17:27