News International – Something puzzles me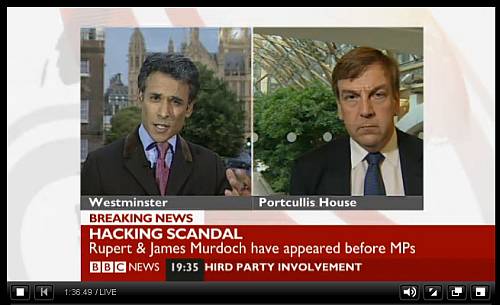 I have a question that those propping up the bar at the Raccoon Arms might be able to answer.
One would have to have been on a planet going around α-Centauri not to have been bombarded for the last two weeks by this business with News International and the News of the World.
Much of the coverage has been unremarkable, and a mere reflection of the media's self-obsession.
I doubt that the vast majority of the population was any more bothered than I about the intrusion of reporters into the voicemail boxes of 'celebrities' or even politicians.
The thing which propelled the whole thing to prominence and generated public revulsion was the revelation that the private investigator had not only broken in to the voicemail box of Amanda Dowler during the search for her, but had actually deleted messages there.
That his behaviour was thoroughly reprehensible cannot be in dispute.
The debate now seems to be about who knew what, and those that knew but failed to act seemingly being as guilty as the perpetrators.
What puzzled me, however, was the call by politicians — led by the leader of the Opposition to Her Majesty — for the resignation of the chief executive of News International.
What ever she might have done — I'm happy to let the enquiries take their course — surely the matter of who is a director of a corporation is the business of the stockholders … and no-one else.
Can any-one here advance an argument to the contrary ?
If so, I should be interested to read it.
July 20, 2011 at 19:55




July 20, 2011 at 19:45







July 20, 2011 at 15:30




July 20, 2011 at 12:53







July 20, 2011 at 04:06










July 20, 2011 at 19:58




July 20, 2011 at 00:15







July 19, 2011 at 23:07




July 19, 2011 at 21:31




July 19, 2011 at 21:10










July 19, 2011 at 22:17




July 19, 2011 at 21:01




July 19, 2011 at 20:59




July 19, 2011 at 20:58







July 19, 2011 at 20:40










July 19, 2011 at 23:20




July 19, 2011 at 20:37







July 19, 2011 at 20:56







July 19, 2011 at 21:27










July 19, 2011 at 23:22










July 20, 2011 at 13:43




July 20, 2011 at 11:11










July 20, 2011 at 13:50




July 20, 2011 at 00:59







July 20, 2011 at 13:41










July 20, 2011 at 17:27










July 20, 2011 at 18:00




July 19, 2011 at 20:37




July 19, 2011 at 20:29




July 19, 2011 at 20:06




July 19, 2011 at 20:05