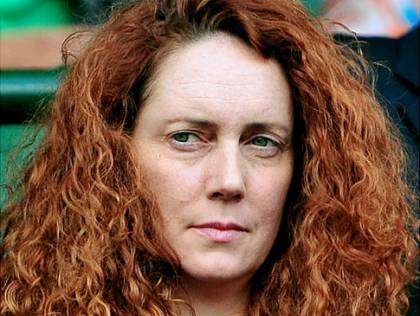 Men, beware, one glance at this face could turn you into a helpless cypher, craving only to commit crimes in order to have the chance of a second glance…if she opens the door for you, that's it, you are a lost soul…..truly 'the face that debauched a thousand wimps'.
Phew! First Murdoch fires an Exocet into the basement of the News of the World, then The Mail On Sunday decides to alienate its predominately female readership. We only need the priapic Daily Star to renounce any reproduction of the female form and we will have a hat trick of self immolation.
The journalist 'that dare not speak his name' – thus appearing as 'Anonymous' – in the Mail on Sunday oozes fear of women from every pore as 'he'* oils his way through several paragraphs of unintentionally hilarious venom directed at the very idea that a woman could be anything other than a sexual siren who only achieves in life by making free with that mythical gin trap he fears her vagina to be…
Tatchell on Thatcher didn't come close to this level of gynophobia. Pink News might well have baulked at publishing it.
Described as a 'Murdoch insider' – and sooo keen to remain so, under the leadership of a woman that a guarantee of anonymity was required before revealing his sexual hang ups – 'he'* describes the 'integrity free' organisation that he wishes to continue to pay his mortgage.
Apparently the Sun and the News of the World were bastions of integrity in the days when Clive Goodman was buying in the rubbish deposited in Elton's dustbin and hacking the phones of the Royals – that integrity only 'started crumbling' when Rebekah Brooks 'got her hands on them' – breathtaking chutzpah!
'Throughout her career', so even as a humble junior reporter eh? 'She has had one aim only: self glorification'. 'Self glorification' as any self respecting journalist could tell you, counts for naught in the hands of a hard bitten sub-editor – unless you have a vagina of course, in which case they will pass any old rubbish from you.
'When she took charge of The Sun, it was an abrasive, aggressive paper known for breaking big stories' – yes, dear – 'Freddie Starr ate my hamster' springs to mind immediately, a story subsequently admitted to be a fabrication by Max Clifford, closely followed by the million pound payment to Elton John for accusing him of paying rent boys for sex, and untold pneumatic 'photo-journalism' destined for the canteen walls and denounced by feminists everywhere as misogynist. This, then, is the integrity which crumbled when a woman was put in charge…
'Under her leadership, the News of the World and The Sun became crammed with trivia'.
If you have managed not to fall off your chair laughing at that line – let me tell you that the line appears directly opposite the Mail On Sunday's banner headings – 'I dyed my hair' by Kim Kardashian and Kate Moss 'has a pair of shoes with Fu*k me' written in crystals on the sole' which may finish you off…..it has taken me several moments to compose myself and continue…
'When Prime Ministers spoke to Kelvin MacKenzie […] they were scared stiff of him.' Aha! Proper man to man communication – totally unlike Rebekah; 'When Prime Ministers spoke to Rebekah, they were love-bombed.' She didn't terrorise them like wot a proper man would? Gracious!
'She had the same, craven relationship with public relations practitioners. […]They would think up a headline and story and The Sun and News of the World would run it, word for word. Some of them were complete fiction.'
Whoa! lad, you mean not like when dear Kevin, so 'fit', so 'masculine', was running the paper and the Freddie Starr story was credited as being the first example of a PR agent inventing and placing a story…
'Meanwhile, proper stories by proper journalists were buried deep inside the paper.'
Ended up between the 'walk in bath ads' and the bingo page, did we petal? Ah Diddums!
'She is feminine and feline, and uses it to the full. One theatrical swish of her Pre-Raphaelite hair and hardened Cabinet Ministers would swoon'.
It Woz Her hair Wot Won it! The great and the good, surrounded by every pretty girl the lobby can chuck in their path, overcome with emotion at her hair! Why if that was all it took, every journalist would have Kevin Keegan locks, and spend their evenings in a henna bath instead of hacking phones – what a revelation! (Are you bald, my 'anonymous friend', by any chance?) Men have to work hard to get to the top in a male dominated world, to terrorise like wot Kelvin did – women just have to shake their flame-haired tresses!
'What she does have – in abundance – is an ability to get what she wants. Mainly from men. And they would do whatever it took to please her – including phone hacking.'
Serious journalists like yourself, my 'anonymous friend', throw integrity to the wind, not for career advancement, not for a scoop, but for a shake of the temptresses tresses?
Truly, women should be locked up, no man is safe from them; they suck you into that vagina, you poor helpless saps, and you are diverted forever from the true male path of integrity driven stories like 'The Truth' – written by your idol Kelvin – (claiming that Hillsborough fans urinated on members of the emergency services and picked the pockets of crushed victims).
'And no one was better at handling Rupert Murdoch than Rebekah. When she was with him, she would do everything for him. She would make sure his glass was topped up, grab the right people at receptions for him, keep those who he didn't want to see out of reach, open doors for him. Everything.'
Ah, the 'Everything', did she shake her vagina at him too? Is that the real secret of her success?
Poor Rupert, an innocent sap, prey to the wiles of feminine charm, putty in the temptresses hands – for no one had ever opened a door for him before, or topped up his drink, introduced him to anyone – no man would do that.
Why any self respecting man would leave the CEO of the company he worked for with an empty glass, talking to himself in some forgotten corner, knowing no one, nursing the bruised nose he got when the officer junior slammed the door in his face.
I have rarely read such misogynistic nonsense, such naked fear of women – whatever possessed the MailOnSunday?
Pray for the author, if a disgruntled hack on the MailOnSunday ever reveals their identity, they will be a laughing stock.
* (If 'it' be a she, then the psychological problems are deeper than I feared!)