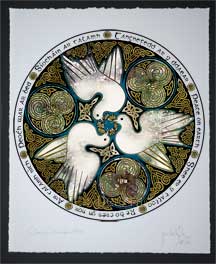 As a Quaker, I have mixed feelings about a man being forced to kill another man. It may be true that because I have mixed feeling about being forced to kill another human being, that I am a Quaker. Chicken and Egg.
Michael was jailed for seven months on Tuesday because, having served in the Navy for 6 years as a medical assistant on submarines, he refused rifle training when he was to be deployed to Afghanistan.
Whilst I wholeheartedly support the right to be a conscientious objector, I freely admit that my first reaction on reading the Guardian article was 'shouldn't have joined the bluddy Navy then, should you Pal?' I was totally unsympathetic towards his predicament.
It seemed morally questionable to have accepted the secure employment, the training, the benefits of being service personnel for six years and then only reveal your moral objections to military action on the eve of deployment to active duty. (Though if anybody could outline the military tactics behind deploying a submariner in the middle of the Kabul desert to me, I would be grateful!)
Michael hadn't refused active service on religious grounds; he is an atheist, so his objection was on political not moral grounds. He had read the Wikileaks reports and believed that he would be barred from treating Afghan civilians.
War is possibly an even more emotive debating ground than religion.
There is a majority opinion in most countries that boys must grow to be 'men', must fight to preserve their borders and protect their women and children. 'Where would we be', the argument runs, 'if everybody squealed – ooh, I couldn't kill anybody, not I'.
It is usually presented in those terms; 'they squealed', they displayed 'girlish tendencies', they are not 'real men'.
My own Father, a Seventh Day Adventist, (don't ask, I have no idea!) solved this conundrum during the last war by signing up early and becoming one of the youngest Captains – in Bomb Disposals. It ruined his mental health, but allowed him to believe that he was solely saving life, not taking it. He could, as a member of the Seventh Day Adventists, have legitimately claimed Contentious Objector status, the law allows for that. Curiously, most Seventh Day Adventists who did claim conscientious objector status, were subsequently deployed into bomb disposals – perhaps dear Papa gave them the idea. The Militia Ballot Act of 1757 was passed specifically to allow Quakers to be excluded from military service and it has since been extended to include other faiths.
That was a war time situation though, all hands on deck etc. What of Michael's situation – quietly coasting along in the Navy, deployed under the seas, trained in the arts of manhandling a stretcher through narrow bulkheads, and suddenly presented with an SA80 rifle and told to practise killing people that he didn't believe should be killed?
Do any of us have the right to force a man to kill another man? Do the arguments of the 'greater good' overcome the damage done to an individual forced to take such an action – not in the heat of the moment, to protect those nearest and dearest to him, something that I would do myself if the occasion arose – but coldly, cynically, 'train your rifle on that person and kill him, our political betters have decreed that you do so'.
The Judge Advocate, Alistair McGrigor, told Michael, 'Members of the armed forces cannot pick and choose which orders they want to carry out'. Fair enough, an army is all about discipline. Should that discipline extend to forcing a man to carry out an action which he feels will damage his mental health due to its moral repugnance to him?
International Law is surprisingly partly on Michael's side. The United Nations Commission on Human Rights resolution 1998/77 officially recognized that 'persons [already] performing military service may develop conscientious objections.' The US Supreme Court has effectively ruled that, whilst you may 'develop' a conscientious objection, it cannot be selective. You must object to all military service, not just be country specific.
Had Michael developed a desire to join a particular religious group, he would not be facing this prison sentence; it seems that, as an atheist, he is excluded from all the exemptions he might have sought refuge in. Moral objections are only for the established church members it seems. Do atheists not have morals?
Does that seem reasonable to you? Do you think he should have been marched at gun point and ordered to disembowel the nearest Afghani? I can't help feeling that given the limited use a reluctant submariner combatant would have been in the Kabul desert, the Navy could have found another way of dealing with Michael Lyons.



July 15, 2011 at 02:06




July 7, 2011 at 21:40




July 7, 2011 at 03:29




July 6, 2011 at 20:37




July 6, 2011 at 18:57




July 6, 2011 at 17:46










July 6, 2011 at 15:44




July 6, 2011 at 15:26




July 6, 2011 at 14:55







July 19, 2011 at 11:47




July 6, 2011 at 13:55




July 6, 2011 at 13:45







July 6, 2011 at 12:59







July 6, 2011 at 12:58




July 6, 2011 at 12:30









July 6, 2011 at 12:09