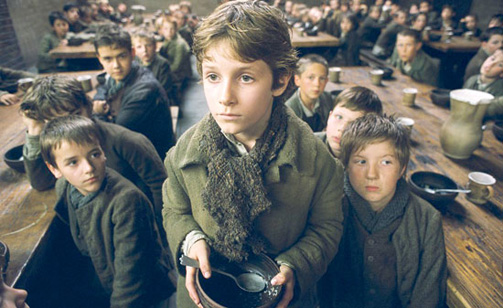 Is it worth the waiting for?
If we live 'til eighty four
All we ever get is gru…el!
Ev'ry day we say our prayer –
Will they change the bill of fare?
Still we get the same old gru…el!
I think the tax payer should feed my Mother, free of charge, for the last 20 years of her life.
I think they should heat her house, pay her rates, clean her room, wash her sheets, provide someone to play Bingo with her, make her tea in the morning, make sure she's tucked up in bed at night.
I shouldn't have to pay for any of these things, I shouldn't have to dip into her savings for a slice of Christmas cake, and I definitely shouldn't have to sell any of her assets, why they almost belong to me already – I've had my eye on them for years.
It's quite outrageous that she should be expected to support herself if she can – I mean the people who can't already get help from the tax payer – why shouldn't she?
Even if she doesn't want to live in her house any longer, I shouldn't have to sell it, should I? It should stand empty until I decide what I want to do with it. People who don't have houses, don't have to sell them, why should she?
If I had a heart attack the NHS would feed and house me free of charge, isn't that what they are for? Isn't that what we fought the last war for, so that people who couldn't afford a Doctor didn't die of heart attacks?
Just because she didn't have a heart attack? She should have to feed and house herself, already? I should be deprived of the £250,000 the lovely house that my dear departed father bought 30 years ago, will bring?
It's outrageous I tell you, absolutely outrageous, it would break her heart if she knew, and on, and on, and on they whine….
Every media organ is full of tales like this, that Andrew Lansley, expecting people to feed themselves; it'll be the end of this government.
Meanwhile, over in Horn of Africa, tens of thousands of children are walking for weeks across a parched landscape, without their parents, in the hope of reaching food before they die.
The malnourished children, some of whom become separated from their parents on the way, are now arriving at the camps in northern Kenya at a rate of 1,200 every day. At the largest, built for 90,000, there are now nearly 370,000. Many have covered hundreds of miles on feet that are bare and bleeding. Some reach their goal barely able to stand. Most are exhausted, and dehydrated. All are hungry.
Some children whinge over nothing, some don't have the energy to whinge.
It's a rum old world.



July 6, 2011 at 12:54







July 6, 2011 at 09:22




July 6, 2011 at 01:57




July 5, 2011 at 22:38




July 5, 2011 at 22:16




July 5, 2011 at 21:11







July 5, 2011 at 19:26







July 5, 2011 at 21:50




July 5, 2011 at 18:25







July 6, 2011 at 05:39