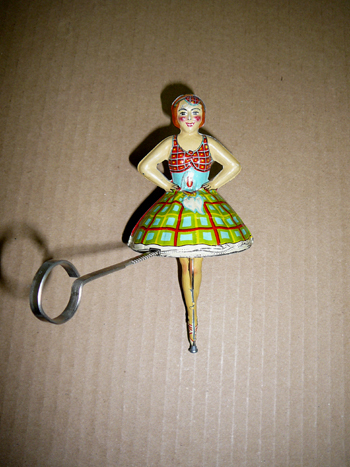 Could there be a more emotive firecracker tossed into the flagellation that is the New of the World hacking scandal? A more despicable, heinous act than accessing 'Murdered Millie's' phone messages? – for she is one of us, adopted by the news reading public, 'Our Millie' resides with Baby 'P' and 'Our Maddie' in the national index of outrage – we feel the pain of her family as they strive to believe that she is still alive, deleting her overfull inbox herself.
Until 'Our Millie' hit the headlines yesterday afternoon, the only paper serving up serious coverage of the hackgate scandal was the Guardian, and the New Statesman, with the BBC providing a reluctant left flank covering fire. The Guardian has enjoyed 13 straight years of gorging itself on Public Sector advertising to keep itself afloat, all other media organs must rely on 'hot stories' to keep the advertising flowing in. They couldn't afford to poke the hornet's nest that they themselves resided in.
I have written before of my own involvement in the unsavoury trade that was obtaining information for the Fleet Street boys. We didn't hack mobile phones – they hadn't been invented, we surely would have done had they been – and thought nothing of it.
As a story broke, the calls would come in from both sides of 'the street'; our task was the duplicity, the lies, the falsehoods that would elicit information so that the whiter than white Fleet Street boys needn't waste time chasing fruitless leads, but could present themselves at the door of the vicar's cousin, the victim's father, the adulterous wife, and obtain the all important exclusive first person account for the next day's press.
I was married to a New of the World journalist; I know first hand the drinking that goes on to numb the senses and allow yourself to sympathetically extract the tearful account that will permit your victim to humiliate themselves for the delectation of the rag reading public who are keen to know the colour of the vicar's underpants, that he once shagged his Mother-in Law – wow! What a story! – that allows you to present yourself at the Editor's desk to be patted on the head with your job preserved for another month – Good lad! A corker! Sucking the toes of the Duchess of York indeed! – first class stuff!
Do you imagine for one moment that they stand in front of that desk and say 'actually Sir, I don't deserve the credit, that £500 expenses you sanctioned went to a seedy little man in a first floor back office over the change bureau in Oxford Street, he did all the leg work for me, I didn't ask how he did it, and he wouldn't tell me if I did, but he tracked down the school that the Mother in Law worked in, and when I stood outside her classroom and threatened to tell the world everything, she burst into tears and made me promise not to say he had bedded her too'…..
That is not to say that the Editor is unaware, he was once that terrified journalist too, terrified that he will lose his foothold in Fleet Street, terrified that another exclusive will never come his way, terrified that the Sutton and Cheam Guardian is the only future for him and his mortgage. He knows. They all know. They all drank like fish.
Do you imagine that the Private Detective agency who took that £500 would ever say how easy it was to obtain that address? Would explain how to do it to the Editor to save him the expense again?
Do you imagine that the young girl – yeah! That was I! – busy telephoning her way round every school in the area until she found the teacher called 'x' would ever have returned the £50 that was her share for the task set? Would have gone home, bereft of the rent money, but satisfied that her morality was preserved. Not a chance.
The entire edifice that was Fleet Street, 'the news', is based on information that others would prefer you didn't have – that is why it becomes news, not a press release. Changing its name to Canary Wharf won't have changed anything. Canary's sing when they are fed, and they have always been fed. HERE and HERE.
'Missing Millie' was just that when her mobile was 'hacked' – the phrase du jour to describe the difficult task of entering '1234' into a phone before her number to see whether she had had the wit to change the default password. A missing teenager, not much of a story, unless you can add a weeping parent, a shifty looking boyfriend, a distraught best friend. Your job depends on you doing just that.
Could there be a more despicable, heinous crime than doing that? Yes, there could.
It would be the act of disinterring her memory and redistributing her as 'Murdered Millie phone hacked' for political purposes.
Yes, the journalists deleted a spam message from an employment agency – and told the Surry police what they had done straight away. It was no secret. No scandal. No political football.
Now we have the foam flecked, syntax garbling John Prescott, whose phone number once appeared in a sheaf of papers found in the office of a private detective, rolled onto the evening news to whip up outrage against the coalition government 'who have allowed this to go on for far too long', pictures published of David Cameron attending Murdoch's summer party – hey! He must have known too! Murdoch must have whispered over the canapés – didn't he employ a spin doctor who had once worked for Murdoch? Game, set and match.
'Murdered Millie's' phone hacked, messages deleted from dead girl's phone, perversion of justice, all on Cameron's watch. Pile in boys, 'Murdered Millie' might just revive the moribund Labour party.
13 years the Labour party had to investigate the hacking scandal; by their own admission, they were too scared to for fear of their own dirty little secrets being uncovered. They knew of the payments to police officers. They knew Millie's phone had been accessed. They knew of Prince Charles's humiliation at the hands of the 'Tampax tapes', of Diana's affairs, they knew of the methods employed – and they said nothing.
"It's utterly disgraceful that they've let this scandal run on for as long as it has. No more cowardice – we want action."
No, they are not talking about the 13 years that they let it 'run on for' – they are talking about the 12 months that it has taken a different administration to prise the facts loose. And they are presenting it as a political football to boot into the 'enemy' goal post.
It's all because Cameron attending Murdoch's summer party, all because Rebecca Wade asked her 'friend' Cameron to intervene when it looked as though she might be fired – do you really imagine she didn't ask a host of Labour politicians to intervene as well?
It's all Murdoch's fault, he knew Millie was murdered, he knew his journalists has cynically deleted evidence in respect of a crime, course he did Prescott, course he did – and if you are very lucky, you might be able to imprint that message on the public consciousness and prevent another despicable media organ falling into the hands of the right wing press and leave the Guardian and the New Statesman to peddle your pernicious lies alone.
Millie won't have died in vain then, will she? We'll forget the mental picture of the fat Prescott in his socks and suspenders grunting over his unfortunate diary secretary pinned to his desk, we'll only remember the honourable ex-deputy prime minister rolled onto the 6 o'clock news to explode with faux outrage at the cynical Tories and their criminal hacking of a dead girl's mobile.
The cynical exploitation of 'Murdered Millie' and the hypocritical glee of the spitting, snarling left wing politicians offend me far more than the journalist who accessed the voicemail of a missing teenager. In fact if Prescott appears again, I'm going to put my boot through the screen.



July 12, 2011 at 18:16




July 7, 2011 at 05:39







July 7, 2011 at 09:30




July 6, 2011 at 15:49










July 6, 2011 at 22:52




July 6, 2011 at 14:17




July 6, 2011 at 13:04







July 6, 2011 at 12:51




July 6, 2011 at 04:36







July 5, 2011 at 23:18







July 5, 2011 at 19:27




July 5, 2011 at 19:14




July 5, 2011 at 15:16




July 5, 2011 at 14:41







July 5, 2011 at 14:19







July 5, 2011 at 14:47







July 5, 2011 at 13:41










July 5, 2011 at 14:02







July 5, 2011 at 13:00







July 5, 2011 at 12:19