Zombie Apocalypse Horror!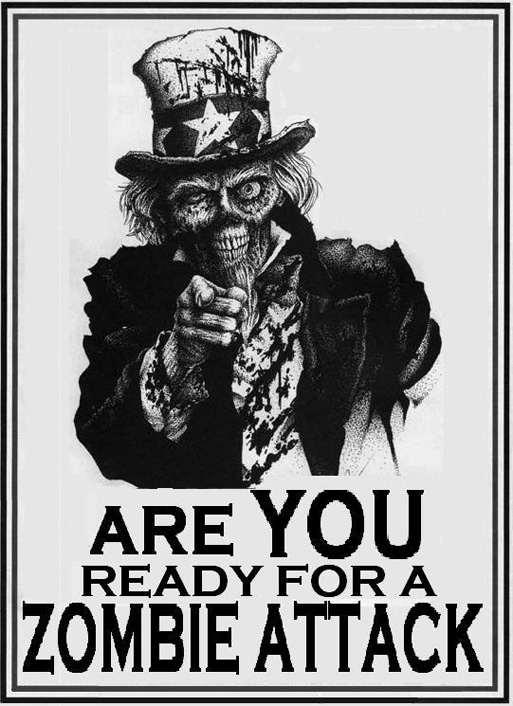 Dear Brothers and Sisters of the Blog,
I have been away for a little while, beset with issues which needed my complete attention. However, I have now managed a little time off and accordingly render this small offering. I propose to dip my toes back into the calm but deep waters of La Raccoon's blog with a gentle, nay, whimsical topic.
The Zombie Apocalypse Horror!
As La Raccoon's resident Fortean I was much interested by reports about a month ago that Leicester City Council had received a Freedom of Information Act request from "a concerned citizen" about the state of its preparation in the event of an attack by Zombies. The Council was forced to admit that the state of its preparations was poor.
The request was generally treated as a joke by the media, and indeed in a spirit of fun the city centre was subsequently invaded by a horde of 150 "undead".
However, perhaps the "the concerned citizen" was more prescient than the press gave him or her credit for. What truth in the Zombie myth? Indeed, what is the Zombie myth?
Untangling the Zombie etymology and folk lore is a complicated business. Many years ago when I was at college, we fashioned cocktail called "the Zombie". Essentially it comprised of a pint of mixed spirits and a dash of orange juice and consuming one was an instant route to a shambling gait and catatonic state. However, in a sense it was true to a particular strand of the Zombie phenomenon.
According to the font of all knowledge (Wikipedia) the word "Zombie" derives from Haitian Creole ("zonbi") and also North Mbundu dialect of Angola ("nzumbe"). In this context it describes a person in a drugged or hypnotized state who is still ambulant and able to respond to external stimuli. The concept of the zombie seems to derive from voodoo practice in which a spell is cast over the victim.
However, some have suggested a scientific explanation for the voodoo zombie phenomenon. Harvard ethno-botanist Wade Davis travelled to Haiti in 1982. As a result of his research, he suggested that a person might be turned into a zombie by the administration of potent deadly toxins, specifically tetrodotoxin, a powerful neurotoxin found in flesh of the puffer fish coupled with a dissociative drugs. The victim would be rendered paralysed and in a state of death like suspended animation, and typically buried, only to be dug up, traumatized beyond imagination. In the belief that they had died and had been returned from the dead by the witch doctor, and still being controlled by the application of mind altering drugs, the victim would become a willing and passive slave.
There are other theories along similar lines, but I cannot say whether there is any truth in any of them.
However, as all good Zombologists know, there is a different analysis of the Zombie phenomenon. Bluntly put, in this strand of Zombie lore, the Zombie is exactly what Hollywood's Night of the Living Dead or our own Shaun of the Dead portrays, namely a form of living corpse, shambling about attacking and devouring the living and threatening to overwhelm civilisation if unchecked: the Zombie Apocalypse Horror!
The fons et origo of this concept is to be found in Max Brooks' well known book "The Zombie Survival Guide".
In this seminal work Brooks suggests that the Zombie phenomenon is caused by a virus he terms "solanum". The virus spreads by contamination by infection via an open wound (typically the Zombie's bite), rendering the victim brain dead typically within about 20 hours, but resulting in re-animation as the undead within about 24.
Brooks describes many of the attributes of the Zombie. All active or conscious brain function has ceased and the neurons that allow it function it are destroyed by the virus. Nevertheless the Zombie has motor control, albeit poor, resulting in the familiar slow, staggering gait.
Sight is also poor, but the undead seem to have a highly developed sense of smell and hearing. It is clear that they have no sense of feel or pain which is one of the reasons they are such formidable adversaries. Although in a technical sense the Zombies are dead, Zombies do not decompose as they human body does. The Solanum virus has a quasi embalming effect on the Zombie's flesh.
Zombies have no capacity to reason, feel emotion or recall. The only vocal skill is to utter the traditional moan.
The motivation of the Zombie in eating the living is unclear, since they do not digest food and the assumption is that they have no sense of taste. However, it may be that the desire of the Zombie to bite and eat the living is simply the vehicle or mechanism of the solanum virus, which like all viruses is genetically programmed to spread and replicate itself.
Brooks describes a number of strategies for dealing with a Zombie outbreak and methods of killing them. He points out that the only sure way to kill a Zombie is to destroy the remaining brain cells by destroying the head or decapitation. Thus swords, axes and shovels are all very helpful accessories, as are heavy calibre weapons that can be aimed at the head from a distance. A chain saw may seem a good idea, but as Brooks rightly points out, the weight coupled with the proximity to the Zombie needed to use it of use can be problematical.
Brooks goes on to describe a number of survival strategies useful in the case of a Zombie infestation, surviving an attack and wiping out and outbreak, such as hiding or running away, but of more particular note is Brooks' final chapter. In this Brooks gives details of notable Zombie outbreaks, or alleged outbreaks, through history.
Consider this:
329 BC, Afghanistan
"An unnamed Macedonian column built by the legendary conqueror Alexander the Great was visited many times by Soviet Special Forces during their own war of occupation. Five miles from the monument, one unit discovered the ancient remains of what is believed to be Hellenic Army barracks. Among other artefacts, there was a small bronze vase.
Its inlaid pictures show:
one man biting another;
the victim lying on his deathbed,
the victim rising up again; and back to
biting another man.
The circular nature of this vase, as well as the pictures themselves, could be evidence of an undead outbreak either witnessed by Alexander or related to him by one of the local tribes".
Or this:
1893 A.D., Fort Louis Philippe, French North Africa
"Yet another recorded attack in zombie history. It is most recognized because of the French Foreign Legion's bravery, valour, and will power. This attack is most memorable because of its duration. It is the longest assault by zombies ever recorded (and survived). The brave men of the French Foreign Legion stood their grounds for AN OUTSTANDING 3 years! Although these men…did survive 3 whole years, their ranks were thinned amongst the years because of many failed attempts to climb over their defensive wall and run for help. Those brave men were surrounded by their attackers and eaten. The remaining men only survived because of the fact that their fort was built around a well, and that they had a multitude of supplies and ammunition. Although the situation seemed dire, the men had 1 last ditch effort. Their plan was to equip all the remaining men with all the supplies they had left and open the gates, and let in the undead scourge. Colonel Drax was the man to open the gates. He did so and ran to his remaining allies. As the undead chased Drax, he was pulled away to safety by his allies. By letting all the zombies inside the fort, the remaining survivors manoeuvred themselves outside the fort and forced the gate shut, thus trapping all the zombies inside Fort Louis Philippe. After trapping the zombies inside, the remaining forces dispatched all zombies outside the fort with hand-to-hand combat. After the ghouls were dispatched, the forces then marched 240miles to the nearest oasis at Bir Ounane.
Outstanding enough, but 50 years later, a U.S. Army B-24 gunner passenger named Anthony Marno was just returning from a night raid on German troop concentrations in Italy, when his aircraft was running low on fuel over the Algerian Desert. They landed near what looked to be a settlement so they investigated. What they found was Fort Louis Philippe. An excerpt from Marno's journal says "What we found inside looked like a kiddie's nightmare. We walked to the courtyard and found skeletons, mountains of them! Good thing none of them were in the well huh?" Marno and his crew were picked up by a group of travelling Arabs. When the squad told the Arabs about their findings, they said nothing and disregarded what they said.
No later expedition was ever mounted due to fear of infection."
Or this:
1987, Khotan, China
"In 1987, reports of rioting, martial law, and widespread violence towards large unarmed mobs turned the attention of the United States government to a nuclear power plant in Xinjiang, China. The People's Republic of China offered many different stories at first, but none that matched the brutality of the reports coming in, as well as the grave danger of a meltdown of the plant due to collateral damage.
It is rumoured that when the US spy satellites manoeuvred over the site, they took pictures of tanks and soldiers firing into lumbering crowds that ripped soldiers and civilians alike apart with their bare hands for no apparent reason. It was unclear why the mob was attacking the power plant, but some dissidents have suggested that the Chinese were using a site around or within the power plan to attempt to weaponize the solanum virus. These rumours have yet to be confirmed, as the Chinese government continues to strictly control press activity and investigations covering the event."
Or finally this:
1998, Zabrovst, Siberia
"Jacob Tailor, an acclaimed documentary film maker for the Canadian Broadcast Company, arrived at the small Siberian town of Zabrovst with the intention of photographing an intact…sabre tooth tiger carcase. The body of a man in his late twenties, whose clothing matched that of a sixteenth century Cossack, had also been found…"
The report continues with an account of how Tailor left some of his crew at the town whilst he returned Toronto. That was the last time they were heard from.
"When Tailor returned by helicopter with the rest of his film crew…he found all twelve buildings at the site deserted. There were signs of violence and forced entry, including broken windows, overturned furniture and pieces of flesh on the walls and floor. A scream brought Tailor back to the helicopter, where he found a group of thirty six ghouls, including local villagers and the missing members of his advance team feasting on the pilots. Tailor did not understand what he was seeing, but knew enough to run for his life…"
Then follows a detailed account of how Tailor and his cameraman, soundman and field researcher endured a three day siege, holed up on the top floor of a farmhouse, fending off the besieging ghouls until discovering how to systematically kill them with an axe, and latterly, a sledge hammer.
"It is reported that Tailor was able to film the siege, but such of the film as has been released has been derided as a hoax, and Tailor's career has been ruined and credibility shot…"
Mr Brooks' work is clearly intended as a satire. But is it a satire with an element of truth? Is there truth of any of these accounts? My researches, such as they have been, have opened a world of Zombie conspiracy theory on the internet such as besets all such topics. But I cannot find any reference to Jacob Tailor outside the usual conspiracy/zombie believer sites. Nor indeed can I find a Siberian town called Zabrovst. I leave the conclusions to the reader.
On that note, I depart subject to two footnotes.
First, Zombies have contributed to medical science in terms of modelling a response to a viral outbreak. If Zombies do exist, there are reasons to be concerned.
According to a 2009 Carleton University and University of Ottawa epidemiological analysis, an outbreak of Living Dead's slow zombies "is likely to lead to the collapse of civilization, unless it is dealt with quickly." Based on their mathematical modelling, the authors concluded that offensive strategies were much more reliable than quarantine strategies, due to various risks that can compromise quarantine. They also found that discovering a cure would merely leave a few humans alive, since this would do little to slow the infection rate.
On a longer time scale, the researchers found that all humans end up turned or dead. This is because the main epidemiological risk of zombies, besides the difficulties of neutralizing them, is that their population just keeps increasing; generations of humans merely "surviving" still have a tendency to feed zombie populations, resulting in gross outnumbering. Interestingly, the researchers explain that their methods of modelling may be applicable to the spread of political views or diseases with dormant infection.
And on May 18, 2011, the Centers for Disease Control and Prevention published an article on Rear Admiral Ali S. Khan's blog instructing the public on what to do to prepare for a zombie invasion. While the article did not claim that such a scenario was likely, it did use the popular culture appeal as a means of having individuals prepare for all potential hazards, such as earthquakes, tornadoes, and floods.
Second, I think this evening I may relive my college days and rejoin the Living Dead. Zombie cocktails, anyone? Right, four parts vodka, four parts rum, two parts scotch….
Gildas the Monk